INTERNET
Published: 2008-02-20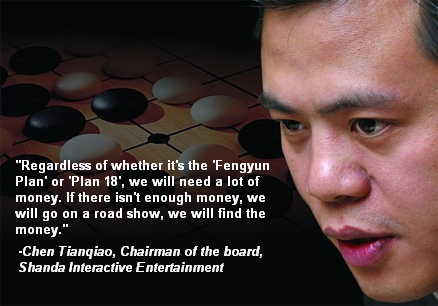 From Corporation, page 25, issue no. 55, February 18th, 2008
Translated by Zuo Maohong
Original article:
[
Chinese
]
For the past few months, Chen Tianqiao, chairman of Shanda Interactive Entertainment, has methodically held monthly meetings with other Chinese online game companies, scouting for potential aquisition targets. A major online game provider in China, Shanda has reportedly come into contact with hundreds of companies in this way. Most of them, however, have been disappointing.

Like other giants in the Chinese gaming industry who have been largely unable to see through deals of late, Shanda has made no big acquisitions since buying out Chengdu-based Aurora Technology Development last year. Prices are simply too high.
Last year was dubbed a "springtime for China's online game industry"--companies such as Netease, NetDragon, PerfectWorld, and Ztgame made huge windfalls in successive market listings, and with over ten billion yuan at their disposal, they unanimously claimed that "acquiring outstanding domestic online game developers" would be their first priority after listing.

"Money can't always be kept in accounts. There's pressure," said Tang Min, vice-president of Ztgame. For him, the only two ways for his firm to maintain growth after listing were through the games themselves and the capital markets—namely through acquisition.
Ztgame CEO Shi Yuzhu backed up this strategy: "Capital attracted in the IPO will mainly be used for acquisition. We'll never turn down a good project."

Liu Luyuan, president of NetDragon and CEO of TQ Digital, also expressed a preference for acquisitions, and said that 49% of capital financed by the stock market would serve for acquisitions and cooperation with other firms.
Despite the saber-rattling, there have actually been a scant few acquisitions since the Aurora Tech deal, which set the bar high for subsequent buyouts.
According to one former employee of Shanda, the company paid a massive premium in the acquisition of Aurora so as to raise the threshold for its competitors seeking to close their own deals. The maneuver was also aimed at stirring up game developers as part of a calculated industry shakeup.
One source said Aurora's technical elite had already jumped ship to work for Ztgame prior to the acquisition, making the overvaluation even more pronounced.

"Plan 18" is what Shanda has called the regular monthly meetings where it scouted for new acquisition targets The company's spokesman Zhuge Hui said it was backed by a one-billion-yuan fund, and through it, the company had established in-depth communication with around 80 targets, ten of which it might invest in.
The "Fengyun Plan", launched separately by the company's president Tang Jun last July, was another attempt to acquire promising online game developers and operators.
In an interview, Tang told the EO,"I'm thinking about how to spend two billion yuan as soon as possible. But the quality of applicants has yet to improve, so we haven't have the chance to invest."
So far, only two investments have been made under the "Fengyun Plan"- the acquisitions of Aurora and Xiamen-based Onwind Games, costing some 100 and 10 million yuan respectively.
But the excitement in the industry is still palpable. At the Chinese online game providers' annual conference, one company head told the EO that its online games had 60,000 registered users, and that he was there precisely to find investors. "[The company] should be acquired for at least five million yuan," he said.
"Maybe they hit the wrong button on the calculator," said a source close to Shanda regarding small and medium size gaming companies overshooting their values.

Ye Youzhong, CEO of Kaixin Investments, said that online game companies had recently overvalued themselves by over tenfold, making investments in them unprofitable when considering that the current price-to-earnings ratio of listed Chinese gaming companies is around 30. He said that if bought for a price of 12-15 times their real value, it would take a full three years--including the market listing process--before the investing company saw any profit. Moreover, he added, a lot of these companies had no chance to be listed in the first place.

iResearch Consulting Group, which focuses on online media market research, recently released a report showing that 80% of the market share of Chinese online games have been dominated by ten big companies. Many game developers were basically struggling to survive, and risked going under if they failed to find investment, the report suggested.