EARTHQUAKE RECOVERY
Published: 2008-05-22

From Corporation, page 27, Issue no. 368, May 20, 2008
Translated by Ren Yujie
Original article: [Chinese]

The moment the ground beneath his factory shook, worker Li Hongqi ran for the door. "If I had waited just another two seconds, it would have been over," he said.

As he fled, the building behind him collapsed into ruins like countless others in Sichuan province.
Li's was one of more than ten major companies based in the disaster zone to have been significantly impacted by the May 12 earthquake.

Assessing the Damage
By the morning of May 16, 65 listed companies affected by the erthquake had reported on their conditions.
Dongfang Electric was also seriously damaged. Its subsidiary company and Li's employer, Dongfang Steam Turbine Plant, stood in Hanwan County, Mianzhu Town, only 30 kilometers away from the epicenter.
Factory buildings, dormitories, and a school at the Dongfang Steam Turbine Plant collapsed, with three hundred students buried. Five to six thousand workers were working in the factory when the earthquake began.
Neighboring businesses such as the China Railway No. 2 Engineering Group supplied rescue facilities, food, patrols and diesel fuel to Dongfang Steam Turbine Plant. They also sent professional rescue troops to the company.

Sichuan Minjiang River Irrigation Hydropower is one company that had not reported its losses on May 16. Based in Dujiangyan town, half of its assets were located in tributaries of the Mingjiang River. Its Futang hydropower station in Wenchuan town was located at the epicenter of the earthquake.
Mianyang and Deyang town were within 100 kilometers from the earthquake epicenter. Several list companies in both were also impacted.
Sichuan Changhong Electronics Group, which was a pillar of Sichuan businesses, stopped production in Mianyang. He Kesi, the company's spokesperson, said on May 14 that the date at which employees would return to work was still uncertain because of the interruption of electricity and communications. Changhong delayed its plasma screen production plan due to transportation problems.
Sichuan Hushan Electronic, also with operations in Mianyang, similarly ceased production there.
In Deyang town, Sichuan Jinlu Group Company suffered unprecedented losses. Peng Lang, the vice-chairman told the EO that their main manufacturers had stopped production. At the end of May 15, direct economic losses for the company had accumulated to 90 million yuan.
GOMO Appliance retail locations in Sichuan were destroyed, and its storehouses in Mianyang collapsed.
Listed companies based in Chengdu and Chongqing were impacted little. Mr. Wu, from the corporate service center of the Chengdu High-tech Zone, told the EO that no people were injured nor factory buildings collapsed because Chengdu was farther away from the earthquake epicenter, and most of buildings there were constructed recently.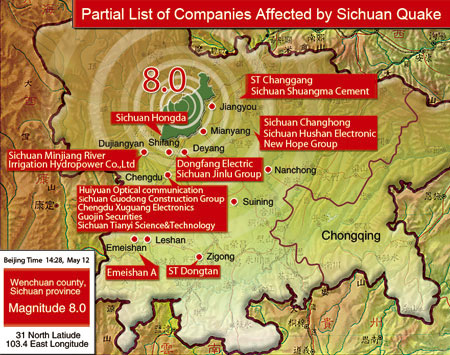 Recovery
While rescuing the injured, companies in Sichuan and Chongqing were trying to recover production gradually.
For New Hope Group, though 18 factories in the group met with disaster, .some of the less damaged ones have resumed production since May 14.
Mianyang Xiwang Foodstuff Company recovered production on May 15. The same day, Chengdu Huarong Chemical Company said it would try its best to recover production within seven days, and Xinle Plastic Cement Factory said it would try to recover resume within 15 days.
Sichuan Changhong was also eager to resume operations. He Kesi said on May 15 there were two premises: the first, that water and electricity should be in normal supply, and the second, factories buildings should be repaired.
Most companies in Chengdu had resumed operations since May 14, and stores and markets also have opened.
"Stability is Paramount"
Within 21 minutes of the earthquake, the Shanghai index had already fallen 1.1%..

The next day, 66 listed companies from Sichuan and Chongqing vanished from the stock market listings. The Shanghai and Shenzhen exchanges announced that trading for a those companies, which were located in the disaster area, was suspended due to a lack of contact with them. A day later, half of them had resumed trading.
It was reported that Shang Fulin, the chairman of China Security Regulatory Commission (CSRC), called the principal office of the Sichuan Security Regulatory Commission on May 12 and 13 to check the status of the disaster. The Commission demanded the stock exchanges to improve emergency management mechanisms and to protect the stability of the stock market.
A fund manager revealed that they were asked to try not to sell out the stocks and maintain the market stable.
A manager from Dacheng Fund told the Economic Observer that institutional investors agreed with the idea that "stability is paramount". Chinese fund managers displayed great initiative in maintaining financial stableness after the disaster, he said.