Published: 2008-04-02
The EO takes stock of some of the latest Chinese periodicals.

Controversy over Chinese Cultural City
China Newsweek (中国新闻周刊)
From Cover Story, page 26 – 40, issue no.364, March 24, 2008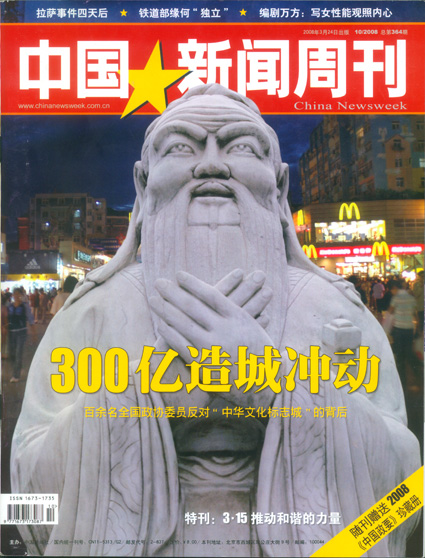 A controversial proposal to spend 30 billion yuan to build an iconic Chinese Cultural City was put forward during China's top legislative sessions in March. The proposed project – which intends to promote Chinese traditional culture and "strengthen national cohesion" – would be built in Shandong's Qufu, the hometown of Confucius. Local government has set up an official website to promote the idea and hopes to see its completion by 2010.

Critics described the project as white elephant, and said the money could be put to better use by developing medical insurance or compulsory education in rural areas. They went on to call for more transparency in government spending to avoid the unnecessary wasting of public funds. Netizens too joined in the fray, bombarding those involved as the project's "strategic planners". Meanwhile, some experts from famed Chinese universities listed as consultants to the project have distanced themselves from it.

Editor's note: This year will be the first time mainland Chinese enjoyed national holidays for three traditional festivals – namely Qingming (tomb visit day), Duanwu (to commemorate an ancient patriot), and Mid-Autumn Festival, approved by the State Council late last year. In a country where most national holidays are related to the rise of socialism, these revived celebrations (officially) symbolize a return to tradition. The proposed cultural city project and the holidays bear a similar tone, indicating Chinese are increasingly seeking cultural and spiritual representation from their own land and history, perhaps motivated by newfound self-confidence as the nation grows stronger and a sense of melancholy in view of rapid modernization.

Affordable Housing for the Needy
China Fortune(中国财富)
From Cover Story, page 16 – 38, March 2008 issue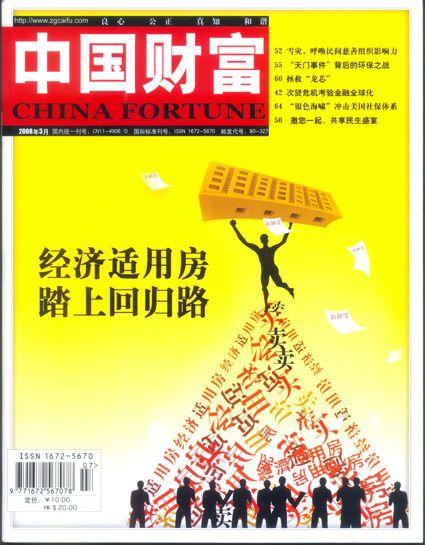 The concept of affordable housing – property built and sold at low profit margins to benefit those otherwise unable to find housing – in China was initiated in Shenzhen in 1989. But over the years, many such projects in major Chinese cities have instead been abused by the wealthy and public servants through insider trading: they bought units in bulk and rented them out or resold them for much higher profits. Meanwhile, people in need of housing have been waiting in long queues in vain.

The magazine's feature series examined a few case studies in Shenzhen and Beijing, and listed several reasons that these projects have failed, including lack of verification processes for purchasers, rampant document forgery, corruption, and projects which were spearheaded by profit-oriented developers instead of public-interest institutions. In response, the State Council late last year issued a circular on supervising the development of affordable housing, stressing the need for the system to return to helping financially challenged groups resolve housing problems.

Editor's note: The new government circular has redefined which groups are eligible for affordable housing, but questions remain as to how to verify the income levels of home buyers since the country lacks databases and tracking system to ascertain one's earnings and assets. In addition, as many Chinese academics have pointed out, as long as land resources remain monopolized and the rural-urban household registry system persists, the pressure on housing supplies and real estate prices would be here to stay.

The Bottleneck of Overseas Chinese Literature
New Weekly(新周刊)
From Culture, page 98 – 100, issue no.271, March 15, 2008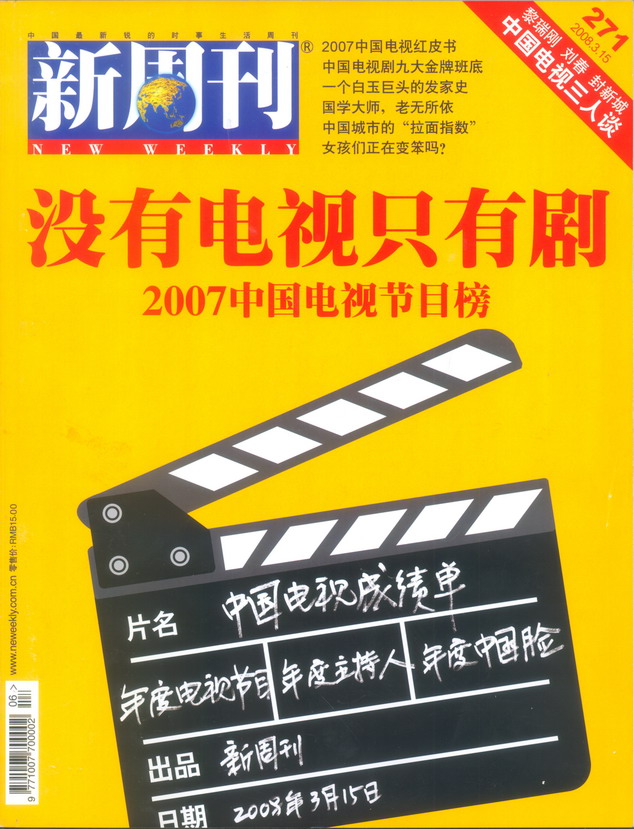 If winning awards is the benchmark to rate the success of a writer, then it is easier for overseas Chinese writers to attain success – said the magazine's cultural reporter, who rolled out names like Yang Yi, Ha Jin, Gao Xingjian, Qiu Xiaolong, Yan Geling and Hong Ying – all of whom have migrated abroad and swept up international awards in recent years. The reporter, however, pointed out that most of these overseas Chinese writers had some common formulas in gaining foreign recognition.

According to the magazine, three major strategies deployed by the writers include producing works that serve as "cultural catalogue", namely by marketing an exotic culture to draw foreign attention. The other tactic was to go along with the mainstream value system in host countries, writing stories that common Chinese were familiar with but attached with values agreeable to foreign readers. Another best-selling theme was to highlight cross-cultural experience, drawing from personal experiences in cultural conflicts and the process of assimilating as a matter of survival. The writer believed that these successful strategies could also become a creativity bottleneck for these overseas Chinese writers.

Editor's note: Taking for granted the geat extent that writers and publishers' decisions on what to write and print affect the range of consumers' choice, we can say that what is put on the shelves not only helps shape readers' impression of a place and a culture, but at times, also promotes stereotypes. Repeated themes of best-selling novels have also caged the image of certain cultures – the reviled caste system or the quintessential spiritual search in India, the political and cultural repression in China, victimized women in Afghanistan... Though these themes are based on reality, the urge to meet mainstream and politically correct values at times also limits choice and voice.

Wang Xiaofang: I Was Ma Xiangdong's Secretary
Southern People Weekly (人物周刊)
From News, page 41, issue no.114, March 21, 2008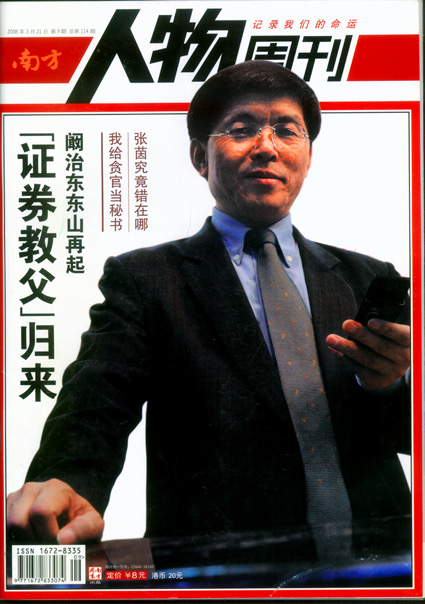 After Ma Xiangdong, the former vice-mayor of Shenyang was sentenced to death for corruption, his secretary, Wang Xiaofang, rose to national fame with fictionalized accounts based on his two years working for the disgraced Ma. Southern People Weekly looks into Xiao's past, and introduces readers to the flurry of literature – six published titles with hundreds of thousand copies sold - he has produced since his first book.

It was during the darkest hours of his life at the age of 40, when he was deserted by colleagues and friends, and his family members' jobs were affected, that Wang started penning books that revealed how high official circles functioned; calling into play his experience as a secretary who used to help his boss in preparing for advanced examination, setting up dates for extra-marital affairs, encounters with secret society figures and other juicy details.

Editor's note: Wang Xiaofang said that he is not willing to live in Ma Xiangdong's shadow for the rest of his life—but everything he has done to this point has essentially been a gift from Ma. The brisk sales of Wang's fictional works stem from solely from his revealing of the closely-guarded world of officialdom in China, an underexplored domain that transfixes Chinese. It is a pitty that he doesn't make more confessions or reveal more actual facts regarding his experiences, and that he refrains from embarking on any substantive rethinking of Chinese politics in his works.

History's Changing View of the Capitalist Class
Spring and Autumn Journal (炎黄春秋)
From Viewpoint, page 15, March 2008 issue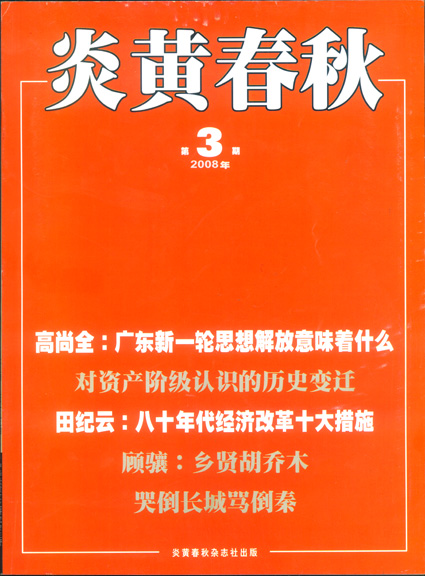 In the end of the 1970's, Wang Zhen, then one of China's vice-premiers, visited the UK and discovered that the living standards of its citizens, even those without work, far exceeded those of China's elite. Shortly thereafter, he became a tenacious supporter of Deng Xiaoping's reform and opening up movement.

Starting from this anecdote, Qin Zijun argues that from a historical perspective, the relationship between socialism and capitalism has evolved from one of stark polarity to a much more blurred and complicated one. Underscoring his argument, he points out how legislators in China drew lessons from the failures of communism around the world, including how they sanctioned more socialism-friendly labels for the capitalist class to protect their role in Chinese society--labels which can be found in China's constitution, for example.

Editor's note: Anything ending with "ism" has the potential to be highly sensitive in China. For a long time, politicians, businessmen, and academics alike distanced themselves from the concept "capitalism" in discussions, and especially made sure not to "take (the wrong) side" (站边 or zhan bian). At several points in Chinese history, being labeled as "against socialism, for capitalism" could spell the end of one's career. More rethinking and discourse on "what exactly are real socialism and capitalism", and a more rational assessment of the essence of ideologies have emerged in Chinese academic and political circles, clearly an encouraging progress in attitudes.