SICHUAN EARTHQUAKE
Published: 2008-05-27
Translated by Ren Yujie
Original article:
[
Chinese
]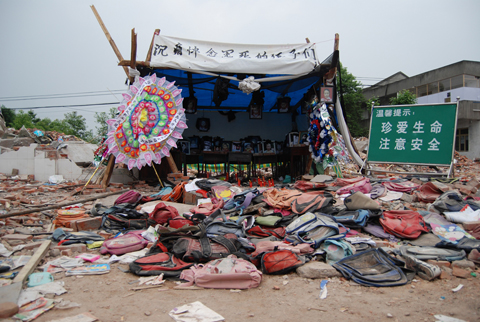 It was an unusual memorial, set amidst the ruins of what once was a three-storey primary school.
Piles of torn and dusty school bags were laid in front of the makeshift structure, evoking haunting memories of children unable to escape from the collapsed building during the May 12 earthquake in Sichuan. Flowers and candles were placed inside to pay respect to over 120 Fuxin II primary school children killed.
The memorial was set up by mourning parents from Wufu Town, Mianzhu county, one of the worst hit areas where to date, the death toll stood above 10,000, about one-sixth of the total killed in the 8-magnitude quake.
One large banner placed near the altar read: "The kids were not killed by natural disaster; they died from a dangerous building"; another banner stated: "We firmly believe the [Communist] Party and [Chinese] government will act against the injustice done on the children".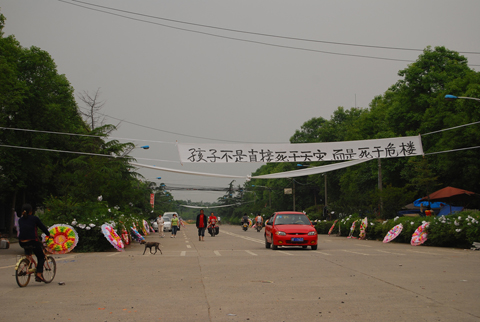 A banner reads, "Our children were not killed by an earthquake, but by a dangerous building"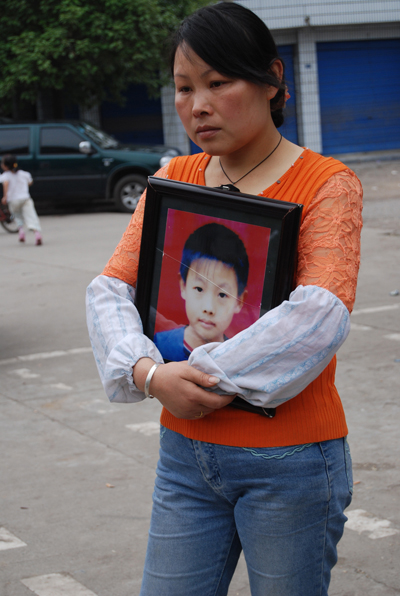 One parent claimed the school, built in 1989, had been declared as unsafe since 1996. Some parents picked up bricks from the ruins and showed the reporter how easily they crumbled when pressure was exerted on them.
Another parent pointed towards some exposed iron rods supposedly made to support the structure, and said: "The iron rods are so thin, we won't even use that to build our own houses, what more a three-storey building."
The mourning parents demanded the government investigate the matter thoroughly.
In fact, the collapse of many schools during the earthquake had attracted high-level attention.
Officials from the Ministry of Education and Ministry of Construction said related departments had set out to investigate the reasons behind collapsed schools. They assured the public that if negligence or quality control problem existed, tough actions would be taken against those responsible.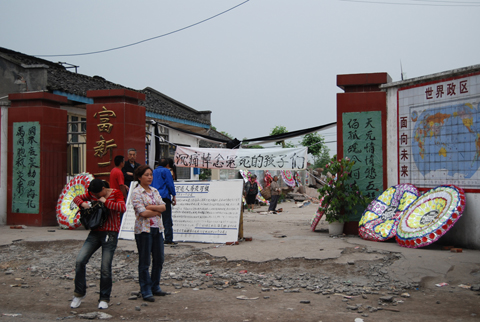 Mourning parents set up an altar in memorial of the children they lost.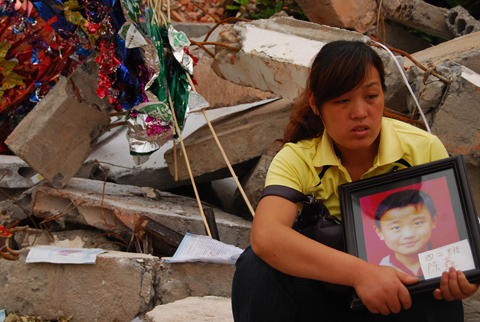 A heartbroken mother mourning by the ruins of the collapsed school building.