TOURISM
Rebuilding a Ghost Town
Published: 2008-09-17
From Nation, page 13, issue no. 384, Sept 8, 2008
Translated by Ren Yujie
Original article: [Chinese]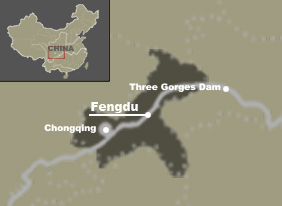 As the ancient county of Fengdu, rooted in ghostly and mystic legends, is bracing for its cultural sites to be submerged under water by the Three Gorges Dam project, its local authorities have proposed to spend 700 million yuan to build a "Ghost Town Themepark" to revitalize its drooping economy.

Fengdu, officially classified as a poor county, is located upstream of the Yangtze River in Chongqing municipality, southwest China. In recent years, the county has banked on its many relics and sites associated with ancient Chinese ghost stories to lure in tourists.

Since the Three Gorges Dam project started, Fengdu's old town center and major roads have gone under water, but the "ghost district" located on higher ground was spared and continued to draw in on average 1.7 million tourist per year.

However, these cultural remnants - once loathed as superstitions and denounced during the Cultural Revolution, only later to become prized tourist assets - would also drown as the reservoir's water level prepared to raise to 175 meter by late September.

"Without this thousand-year-old ghost culture and these relics, without this ghost town and the legends attached to it, we could have been even poorer," said a local.

Though officials from cultural department have given the green light for the 700-million-yuan Ghost Themepark project, scheduled to be completed in 2012, debates have flaired up among local communities, some skeptical of such huge investment could bring returns as anticipated.

Economic Opportunities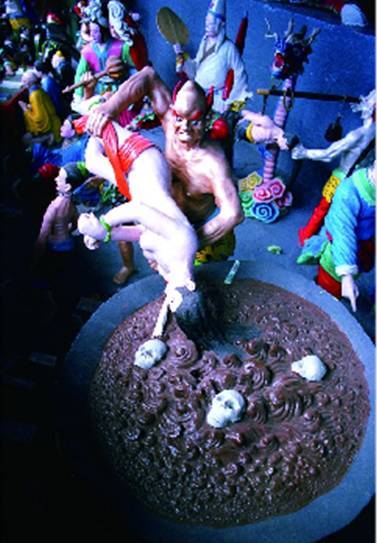 The "ghost district" of Fengdu was listed as a national heritage protection site back in 1982. Ten years later, it was named a famous historical cultural town by the Sichuan provincial government, and by 2000, it was classified as national level top grade tourism site and the best scenic spot in Chongqing municipality.

Last year, it received some 1.7 million tourists, and if based on the calculation of 100 yuan consumption per visitor, tourism revenues would amount to 170 million yuan per year. The county's local government total revenue for 2007 was only slightly more than 200 million yuan.

"Before the Dam project, the (Fengdu) old town center was located at the foothill of the 'ghost district'. There was a lot of human traffic around here, fetched by boats coming to and fro that docked at seven nearby piers," one local tourism official told the EO.

Things changed after the old town center was submerged. Only two piers were left today, and now, hectic construction and damming works were ongoing near the "ghost district" in preparation for the further rise in water level later this month.

Signs to the tourism sites had collapsed, one ancient bridge built during the Ming Dynasty was in ruins, one ancient temple's roof was leaking while another had turned into a harzadous building and condemned with a heavy padlock.

Local officials admitted that limited resources with developmental potential had led to high unemployment rate at 7.74%, and said the livelihood of migrant population due to the Dam project was hanging in uncertainties.

Thus, the proposal to build a whole new Ghost Town Themepark to replace the soon-to-be-submerged ghost district was seen as a poverty alleviation project, which was projected to draw in tourism investment and create jobs.

One insider from the local tourism bureau told the EO that the project could directly create 5,000 jobs, and indirect tourism-related job opportunities were estimated at 12,000.

Another insider from the Fengdu Development and Reform Commission said the local authorities hoped to accelerate tourism development to draw in three million visitors and 600 million yuan in anual tourism revenues in the near future. He added by then, jobs directly tied to the industry would amount to 10,000 and indirect job creation could reach 30,000 to 40,000.

The EO learned that Chongqing Traffic and Tourism Investment Group would be the major investor for the themepark project, as the local government lacked the financial capacity for such huge project.

Centuries-Old Ghost Legends
Stepping into the 2000-year-old Fengdu was like stepping into a mystic world recorded in the ancient Chinese text.

Li Daoyuan, a geologist from the days of Northern Wei Dynasty (386 - 534 AD), once recorded in his book, Commentary to the River Classic that Fengdu was ranked 45 among the 72 most blessed places in Daoist beliefs, which revered nature and ancestor spirits.

Another ancient text, Journey to the South, recited the story of one deity in the Daoist tradition, Huagangdadi, had stormed the hell in Fengdu three times to save his mother before he turned immortal. Fengdu was often mentioned in legends as the prison of the underworld.

In Voyage to the West, which told the tales of Chinese admiral Zheng He's seven expeditions to the Pacific ocean and beyond, had a chapter on the admiral passing through Fengdu and all the ghostly stories he encountered there.

Legend also had it that during the Han Dynasty, several high ranking officials who were well-educated and skilled in astronomy, were disillusioned with the dictatorship and came to Fengdu to practice mystic arts in the mountains. Later, they were appointed by the heaven's ruler, Jade Emporer, to become the admistrators of hell.

An ancient bridge in Fengdu's "ghost district" that has existed since Ming Dynasty (1403-1424 AD) was named Nai-he-qiao, which according to legends, was the bridge mortals had to cross before their re-incarnation. By crossing it, the mortals would forget all their experiences and memories of past lives, and thus ready for a new beginning.

One spot, called Gui-men-guan, which literally meant the gateway to hell. Many structures and relics believed to have links to mystic practices or legends were destroyed during the Cultural Revolution, as they were viewed as encouraging superstitions.

Even today, with a proposal to rebuild a ghost town, debates were still ongoing as to whether or not such a project would perpertuate superstition.