SICHUAN EARTHQUAKE
Published: 2008-05-19

China has come to a standstill at 14:28 on May 19.

The nation marked the one-week anniversary of the Sichuan earthquake with a three-day mourning period. At 2:28pm today, the Chinese public dropped everything to stand in silence when the clock struck the same fateful moment that scarred the nation one week ago.

Chinese had come out in force to gather in public places and squares in cities and towns across the country. In Beijing's Tiananmen Square, thousands had gathered an hour before the official time to observe the moment of silence, as circulated by the State Council notice on Sunday.

Since Monday morning, Chinese flags have been flying at half-mast to mark the beginning of the mourning period from May 19 to 21. According to a circular from the Chinese State Council, all public amusement would be suspended during that period, and Chinese embassies and consulates around the world placed condolence books for comments. The Olympics torch relay would also be suspended for three days.

The siren in the Tiananmen Square went off on the dot at 14:28, the public, many carrying white flowers and donning black attire, stood head-down in silence. The scene was ubiquitous elsewhere in the country, with cars on the roads pulled over, sustaining long horn blasts; trains halted in stations and issued sirens.

As the nation stood in silence, the shrilling of sirens lasted for three minutes as if sending waves of condolence to those resting beneath. EO reporters in Tiananmen Square said when the moment of silence had ended, many refused to disperse, instead they broke into singing the national anthem.

"Many people have broke into tears, but they also shouted Go, Go, China, Go and waving flags. These remarks are responded by waves of hand claps," said Zuo Maohong, an EO reporter at the scene, adding the silence a moment ago was replaced by the cries and sobs of an emotional public.

Meanwhile, in southern province of Guangzhou, all activity in one of the busiest parts of the city came to a grinding halt. Cars voluntarily pulled to a stop and workers in the offices stood up to observe the moment of silence. Some even stood in the drizzling rain as the siren wailed.

The Chinese stock markets also suspended trading for three-minutes in response to the mourning.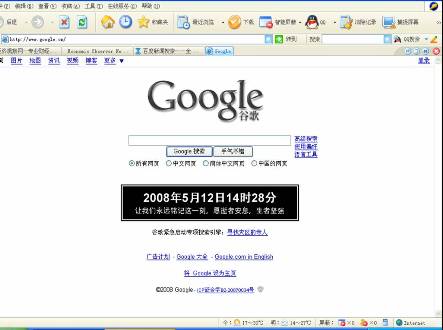 The mark of respect for the dead also spread through virtual spaces on the internet. Since Sunday, messages had been circulating among netizens to call for all instant messages (IM) users to log on as invisible at 14:28, so that their status icon would turn grey as a sign of mourning.

Major Chinese search engines and news portal had also changed the design of their mastheads and main page designs, adopting black as the main color as a sign of mourning. These include Google China, Baidu, the state media Xinhua and the most popular news portal Sina.