Botswana's well-known political and economic stability is based in sound governmental policies, including "beneficiation", a strategy for turning natural resources into shared national wealth by ensuring that a portion of Botswana's natural resources stay in the country longer, so that value can be added through local companies, local skills, and local expertise.

One excellent example is the new diamond sorting facility in Gaborone, the largest and most advanced such facility in the world. Officially opened on March 18, 2008 by His Excellency Festus Mogae, former President of Botswana, and Nicky Oppenheimer, Chairman of the De Beers Group, the building serves as the home of the Diamond Trading Company Botswana (DTC Botswana), a unique 50/50 joint-venture between the government of Botswana and De Beers.

Although Botswana is already the world's largest producer of diamonds by value, the new technology-driven facility will establish Botswana as the world leader in the sorting and valuation of rough diamonds. In fact, the vast majority of De Beers' global production will be aggregated at DTC by 2009.

The beneficiation strategy being driven by the government of Botswana is anticipated to stimulate the development of this new industry in Botswana and create approximately 3,000 new jobs within the country. The jobs, primarily in diamond cutting, polishing, and sales and marketing, will account for a 30% increase in diamond industry jobs for Botswana.

Many additional investment opportunities will result from this gravitational shift of the rough diamond industry from historical centers such as London and Antwerp to Botswana. These "downstream" opportunities will include infrastructure development such as hotels and transportation, equipment supply, jewelry manufacturing, banking, security, and information technology. All of these new opportunities will support Botswana's economic strategy to generate jobs for citizens and derive maximum return from the use of the country's natural resources.

Botswana produces 22% of the world's output of gem diamonds by value, and revenue from diamonds represents 33% of the country's GDP. The wealth generated from diamond revenues has been used by the government to build and develop healthcare, education, and transport. In the four decades since diamonds were discovered (1966), Botswana has transformed itself from among the poorest countries in Africa to one of the most democratic and wealthiest on the continent, with one of the world's highest average annual growth rates (9%).

At the opening ceremony, former President Mogae commented that the DTC Botswana will bring with it increased employment and training opportunities for the country's citizens. He also noted, "It will further provide government with another significant revenue stream to finance further development, and it will raise our nation's global profile [as we] become a benchmark brand of local excellence."

Other Opportunities for Investors
The Botswana government's support for downstream industries created through beneficiation of its other natural resources is creating other opportunities for international investment. These include:

Glass manufacturing:
Raw materials for glass manufacture like silica sand, quartz, quartzite, limestone, and soda ash are available in abundance in Botswana. Based on material analysis studies undertaken by the Botswana Export Development and Investment Promotion Agency (BEDIA), solid investment opportunities exist in the manufacture of numerous types of glass, including float (window), automotive, container, decorative, domestic, tableware, and fiber glass.

As of this writing, the Botswana Development Corporation, Botswana's primary agency for commercial and industrial development, is currently working with Chinese investors in the establishment of a float glass manufacturing business worth USD 82.9 million to be located in the northeastern city of Palapye. BDC will invest USD 47.5 million, of which USD27.5 million will be loan financing, USD 4.6 million redeemable preference shares, and a corporate guarantee of USD 15.4 million. The glass plant in Palapye has targeted limestone sand around Mmamabula while Botswana Ash (Pty) Ltd will provide the necessary soda ash.

Leather and leather products:
The cattle population in Botswana is estimated at 2.5 million, goats and sheep at 2.1 million. About 80% of the national herd is kept under a communal system while the remaining 20% is raised under a commercial system. About 300,000 bovine hides are produced annually, half by the Botswana Meat Commission (the national abattoir) and half by municipal abattoirs.

A versatile tannery capable of processing all types of hides and skins including cattle, small stock, and game has been set up to produce crust and finish leather from hides produced in Botswana. Tannery Industries Botswana has both a large, modern retanning plant, which started operating in December 2006 in Lobatse, south of Gaborone, and a finishing plant in Phakalane. State-of-the-art effluent treatment facilities protect the environment.

Investment opportunities in the leather industry include manufacturing of upholstery leather, automotive leather, garment leather, shoe uppers, bags, wallets, belts, and other high-value accessories.

Copper – Nickel:
In the past, Botswana mined copper and nickel and produced copper-nickel matte, a concentrate that was shipped outside the country for refining. Now with the help of investors from the private sector, Botswana has created another beneficiation project, the Botswana Metal Refinery at the Tati Nickel Mine. Construction on this USD620 million state-of-the-art refinery was begun in early 2007 and is expected to be completed in the third quarter of 2009. It will create about 3500 jobs, of which 500 will be permanent.

This will be the first commercial refinery to use the new Activox processing of copper and nickel ore, which simplifies and reduces the process. The Activox process will increase Tati's reserves by 97% and so extend its life-of-mine by at least five years, to 2016, although there is potential for the mine to remain in operation past 2030. Annual nickel production will also be increased by 97% while total mine lifetime production of nickel will rocket 331%.Manufacturing requiring copper and nickel cathodes will be viable in Botswana upon completion of the project.

Botswana welcomes investment
The example of Diamond Trading Company (DTC) Botswana and the Botswana Metal Refinery shed an interesting light on the benefits of beneficiation to the global business community. The Botswana government is intent on supporting outside investment in downstream industries that will use its vast natural resources to create jobs and wealth in the country. Botswana is seeking Chinese partners in growth.

The dramatic and rapid development of Botswana's industries, both upstream and downstream, and the stable mix of good governance and effective management of its resources, also provides an excellent commentary on the role business can play in African development. Botswana is a prime example of how a country's natural resources can be turned into shared wealth in the African context.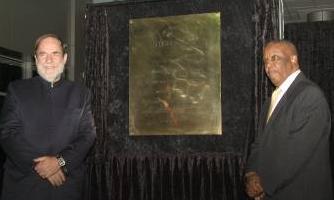 Former President of Botswana Festus Mogae and Nicky Oppenheimer, Chairman of the De Beers Group, at the historical opening of the Diamond Trading Company (DTC) Botswana in March 2008. The facility, located in Gaborone, is the largest, most sophisticated diamond sorting facility in the world.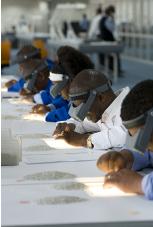 Local Batswana have been trained to the highest level in rough diamond sorting. The government currently allocates 26% of its budget to education, one of the highest allocations in Africa.