As China's leaders try to weather the global economic slowdown and maintain social stability, 2009 will be a key test of policy. The following leaders, departments, and challenges will shape the new year. This is part one of a two-part series.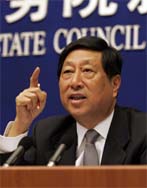 Zhang Ping, Director of the National Development and Reform Commission (NDRC)
"Rest assured that the 4 trillion yuan won't be invested in redundant, low-level construction."

At a press conference held by the State Council Information Office on November 27 2008, Zhang Ping said these words in response to public concern over potential over-investment in the future.

Key phrase: expand domestic demand

Core concerns: Given that China's economy experienced a sharp twist in 2008, the NDRC, as the country's most important macro-control agency, will encounter a severe test in 2009. China is currently unfolding a stimulus packages but export and domestic consumption still remain weak. Nevertheless, the most urgent problem is how the NDRC ensure that the 4 trillion yuan will be spent effectively.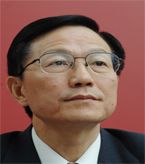 Xie Xuren, Minister of Finance
"The current loose fiscal policy is quite different from 1998's. At that time, there were no tax reduction policies, just mainly fiscal spending. However, the government has this time launched 13 tax reduction policies involving 500 billion yuan."

At a national fiscal working conference in early 2009, Xie Xuren used the above statement to describe current expansionary fiscal policy, and warned local treasuries of a reduction in tax revenue and a surge in fiscal expenditures.

Key phrase: tax reduction

Core concerns: China will continue to push loose fiscal policy in 2009. It will encounter more outstanding fiscal payment problems as it increases fiscal expenditures while cuts its taxes. It will be a balancing act for the Ministry of Finance to reduce taxes amidst a spending surge.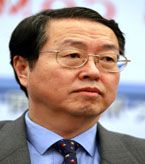 Zhou Xiaochuan, President of the People's Bank of China (PBOC)
"Compared with other countries, the Chinese economy has experienced a relatively moderate slowdown, but policy-makers still need to work out forceful policies and stimulus packages to prevent a large-scale economic slide."

Zhou said this at a conference held by the Bank for International Settlements on January 12.

Key phrase: predictability

Core concerns: China will continue to carry out loose monetary policy, but it's still very hard for the Chinese central bank to accurately diagnose domestic and international economic problems, and thus make timely countermeasures.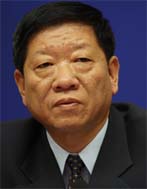 Yin Weimin, Minister of Human Resources and Social Security
"The present employment situation is still severe."

At a press conference held by the State Councul Information Office on Last November 20, Yin Weimin said the job market would tighten in the first quarter of 2009, but it would turn better from the second quarter on.

Key phrase: protect employment

Core concerns: China's employment situation became tense as countless private firms have shut their doors, causing over 20 million migrant workers to lose work since the financial crisis set in last Autumn. Even worse, millions of undergraduates have added pressure on the job market. In response, the Chinese government has adopted a series of measures to create and protect jobs, but whether these measures will work remains unknown.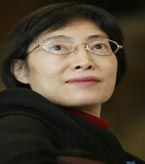 Hu Xiaolian, Director of the State Administration of Foreign Exchange (SAFE)
"The abnormal flow of cross-border funds will beget risks which could disrupt firms operations. It's still a tough road ahead to improve our international payment condition and guard against international economic risks."

Hu Xiaolian said these words at a national foreign exchange management working conference in early January 2009.

Key phrase: balance

Core concerns: The SAFE will work under the guidelines of maintaining growth, managing risk and balancing international payments. Maintaining growth means to faciliate foreign investment and support the use of the renminbi for China's international trade settlement pilot project. Managing risks means strengthening the monitoring and early warning system for international payments. The last point refers to further improving China's international payment condition and perfecting the management of cross-border capital flows.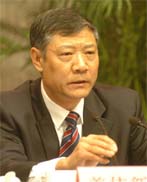 Jiang Weixin, Minister of Housing and Urban-Rural Development
"Local governments this year are not allowed to introduce tax and fiscal policies to stimulate the real estate market without permission from the central government."

At a national housing and urban-rural development working conference on January 9, Jiang Weixin said efforts would be intensified to build housing for lower-income groups. He also required real estate developers to be supported to deal with the changing market, and be able to sell house at reasonable prices.

Key phrase: guaranteed (or low-income) housing

Core concerns: China's real estate market was hit by the housing slump in 2008, setting off heated discussion on how to best help it get back on its feet. Some encouraged the government to loosen control over the housing market in order to fuel economic growth. Others held that the present housing prices were still high and that the government should prioritize providing housing for lower-income groups.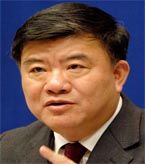 Chen Zhu, Minister of Health
"Let the people be resistant to disease, and should they be ill, let it be affordable to see a doctor and receive good treatment. These are the two ultimate purposes of our health care reform."

Chen Zhu interpreted the goals of the unfolding health care reform at a national traditional Chinese medicine working conference on January 12.

Key phrase: new health care reform

Core concerns: As the new health care reform scheme was approved by the State Council on January 21, reform of public hospitals, the establishment of a national basic medicine system, and the elimination of the practice of hospitals thriving by selling medicine, would begin to unravel in 2009.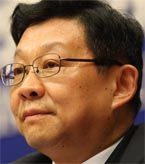 Chen Deming, Minister of Commerce
"I wish all our entrepreneurs will embrace a bullish year in 2009!"

Chen said this phrase to hearten up Chinese entrepreneurs on a television program entitled "Dialogue" that aired on China's central television station on January 10.

Key phrase: expand exports by every possible means

Core concerns: China will face an export slump unknown in recent memory during 2009. An export revival not only relies on domestic policy but also depends on global economic development. The suspense lies in what other policies the Ministry of Commerce will resort to to prop up China's exports and imports, and what it will do to increase commodity circulation and thus expand domestic demand.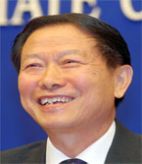 Li Rongrong, Director of State-owned Assets Supervision and Administration Commission (SASAC)
"We face a grim situation in 2009, so we should take all precautions to counter an extended global economic downturn. Our State-owned firms administrated by the central government will face a severe test in 2009."

At a conference attending with chiefs of all central-administrated firms, Li Rongrong said these words to analyze global economic situation and the difficulty that central-administrated firms would face in 2009.

Key phrase: a severe test

Core concerns: Central-administrated firms (CAFs) saw a year-on-year decline of 30% in their profits to 700 billion yuan in 2008. This is the first time that CAFs have suffered a profit decline since 2002. With both domestic and international economic prospects uncertain, how to promote the CAFs' performance will be a big test for SASAC.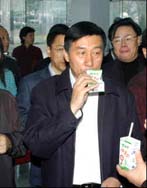 Wang Yong, Director of General Administration of Quality Supervision, Inspection and Quarantine (GAQSIQ)
"Guaranteeing product quality and food safety are our top priorities."

At a national quality supervision working conference on January 11, Wang Yong stressed that product quality and food safety were his agency's top priorities.

Key phrase: food safety

Core concerns: The poisoned-milk scandal exposed unspoken rules of business in China's dairy industry, and led to the resignation of Li Changjiang, former director of GAQSIQ. After public trust in the agency took a severe blow, the new director must find ways to restore it.