A local resident prepares to move his things (after a midday nap).
Red banners with slogans such as "The Earlier you Move Out, the More Rewards you Will Get" and "Cast Away Illusion and Make Practical Negotiations" hang from the blue steel fences that have been erected around the residential areas within the southern section of Nanjing's old city. The signs run all the way along Gutong street, which stretches along the length of the southern wall of the old city.
Trash, rubble and bricks cover the street; dust left by the wall-demolishing crews quickly vanishes into the air; small advertisements touting the services of moving companies and home appliance recyclers are plastered over the walls, doors and even the windows along the street.
These images give you a peek into the southern area of Nanjing's old city after the local government decided to go ahead with the demolition of many of the older residences earlier this year.

The work is part of a city reconstruction project that has been going on for years and involves the local government knocking down many old buildings - some dating back to the Ming and Qing Dynasties - and replacing them with modern residential and office buildings.
In October 2006, sixteen famous Chinese scholars jointly submitted a petition to the State Council, calling for a halt to the demolition of the old city. In late December that year, under pressure from central authorities in Beijing, the Nanjing municipal government agreed to cease the demolition project.
In fact, pressure from Beijing only resulted in a temporary halt. Now, the south area of inner city, home to many of Nanjing's poorest citizens, faces its fate.
In April, twenty-nine local scholars jointly signed a petition calling for the protection for Nanjing's cultural heritage and delivered copies to the Ministry of Housing and Urban-rural Development, State Administration of Cultural Heritage and the provincial governor. At the time these images went to print, they were still waiting for an official response.



Rubble left behind after the demolition.




Two locals take one last walk down an old street which is about to be demolished.




Another local resident prepares to move his belongings.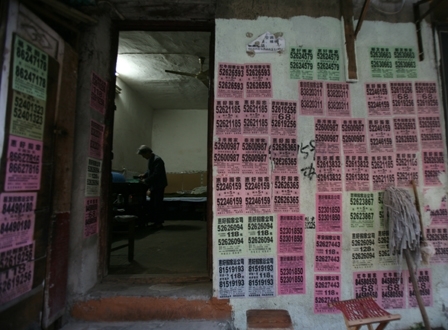 Flyers advertizing the services of moving companies are posted on the wall of an aged resident's house.




Residents still live close by the areas marked for demolition.




Local residents jointly wrote a petition calling on the government not to expel residents who have been living in the area for generations.




Two workers pack away the "Moved Out" stencil and spray paint.




A junk recycler waits for customers.




A bird's eye-view of the inner city




A bird's eye-view of the inner city II