News, page 7, Issue 452, Jan 11, 2010
Original article: [Chinese]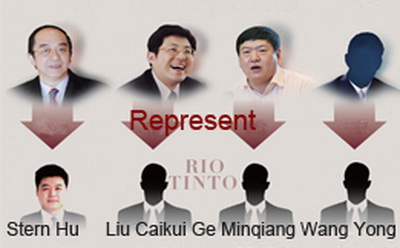 Chinese police have concluded their investigations into four employees of Anglo-Australian mining giant Rio Tinto who are currently being held on suspicion of illegally obtaining business secrets and taking bribes.

According to an announcement made by the Shanghai Municipal Public Security Bureau and reported by the Xinhua News Agency, the case has now been handed over to the Shanghai People's Procuratorate for evaluation and the prosecutor has a maximum of 45 days in which to decide if there is sufficient evidence to warrant taking the case to trial.

The four employees are Australian citizen Stern Hu (Hu Shitai), who before being detained by Shanghai's security bureau worked as an executive at Rio Tinto's Shanghai Office, and three local employees Liu Caikui, Ge Minqiang and Wang Yong.

The statement was made yesterday, just as the case entered a critical period, exactly five months after the employees were officially arrested and a deadline of sorts for investigators.

According to Chinese law, the investigation phase of a case should be wrapped up within two months of an official arrest, but in special circumstances the investigation period can be extended an additional three months. Furthermore, if the case involves a crime for which a possible sentence of over ten-years imprisonment is at stake, the investigation can be extended an additional two months, so that the suspected party maybe held for a total of seven months before being charged.

In effect, if the investigation of the Rio Tinto case was not wrapped up yesterday, it would have indicated that at least one of the suspects was being held on a charge that involved a possible sentence of over ten years.

A source close to local prosecutor revealed that the arrest of the above-mentioned four employees was approved by the First Branch of Shanghai People's Procuratorate and the investigation was carried out by Economic Crime Investigation Department of Shanghai's Municipal Public Security Bureau.

Defense Team

The EO learned that at present, defense lawyers for the four Rio Tinto employees have yet to see the case files, but they have contacted their clients several times.



Duan Qihua (Q.H. Charles Duan), founder of Duan & Duan Law Firm, will represent Stern Hu, the EO learned.
Duan is good at dealing with foreign-related legal cases. In addition, Duan is a member of the Shanghai Arbitration Commission and became the first Foreign Law Consultant for the State of Washington Bar Association when he took up the position in 1991.



Tao Wuping (right), director of Shenda Partners law firm, will represent Liu Caikui. Tao is also a member of the Shanghai Arbitration Commission and a standing member of Shanghai Bar Association.



Zhai Jian, director of Shanghai Zhaijian Law Firm, will defend for Ge Minqiang. Zhai is chosen as one of China's top ten criminal defense lawyers and now acts as director of the Criminal Law Research Committee under Shanghai Bar Association. Zhai acted as a defense lawyer in the high profile case of Beijing resident Yang Jia, who was executed in November 2008 after being found guilty of murdering six police officers during an attack on a Shanghai police station.

Zhai's colleague Zhang Peihong and Yang Bailin, director of Shanghai Huazun Law Firm, have been hired to represent Wang Yong. The EO learned that Yang specializes in economic crime cases and that in 2004 he helped establish a professional commercial investigation company called Shanghai Huazhen Commercial Investigation Company. In addition, Yang now acts as counsel for over 20 large companies including the Shanghai branch of COFCO Import and Export Company.

Tao Wuping said "As the investigation has concluded, the case will now be handed over to local procuratorate for evaluation to decide whether it should be brought to trial."

"This review should be wrapped up within 45 days and in my viewpoint, local prosecutors will probably bring the case to court" he added.

According to the law, the maximum sentence for the crime of obtaining business secrets is no more than seven years imprisonment. In addition, if non-state public servants take bribes worth over 100,000 yuan, they could face over 5 years in prison.

Cai Zhijie also contributed to the report.