Nation, page 15, Issue 453, Jan 18, 2010
Translated by Liu Peng
Original article: [Chinese]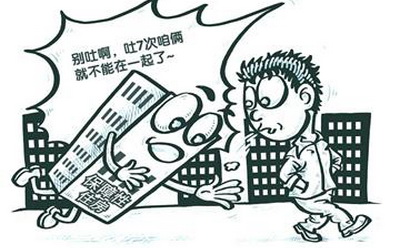 Plans to introduce regulations designed to instill a sense of civic virtue in residents of Guangzhou's low-income housing complexes by deducting points for unruly behavior, have come under fire from some quarters as impractical and discriminatory.

The regulations are being considered at a time when many low-income housing residents are worried that their neighborhoods may be in danger of turning into slums.

These concerns may not be groundless. A review of developments under consideration around the Tangde Gardens complex revealed that there were plans to construct 13,000 low-income housing untis in the three surrounding lots over the coming few years.

Anecdotal evidence suggests that there may be some merit to the claims as well.

"Some tenants neglect common decency," said one elderly resident surnamed Zhang, "they just throw their trash from their apartments into the street." Zhang added that he personally had been hit twice by the foul-smelling bags.

He also pointed to a rise in pick pocketing and drive-by motorcycle theft as signs of a breakdown in public order in the area. He recounted the story of one 20 year-old woman from Hubei Province who was killed by motorcycle thieves in the course of a robbery.

Li Zongyou, head of public security for the Guangzhou Municipal Land Resources and Housing Administration Bureau, noted that, as the amount of public housing in the city increased, administering and providing services to the rapidly increasing number of residents would be an important issue moving forward.

Li emphasized that the new provisional regulations were an attempt to get out ahead of any problems and nip it in the bud.

First of A Kind

The new regulations, the first of their kind in mainland China, list 29 separate offenses, divided into four categories ranging from "minor" to "very serious". Violators would be penalized with deductions of three up to 20 points, depending on the seriousness of the offense.

Tenants whose total deductions reach or exceed 20 points within a period of two years would lose their right to rent subsidized accommodations and be barred from applying for low-income housing for the following five years. Several other forms of violations, including subletting or failure to occupy one's apartment for than six months without due cause, would be grounds for immediate loss of renting rights.

Those tenants who committed only minor infringements would recieve a warning letter from their local housing service center detailing the possible consequences of further deductions. Any tenants who failed to make improvements would have additional points deducted.

Xie Xiaodan, director of low-income housing at the Guangzhou Municipal Land Resources and Housing Administration Bureau, said that such regulations were in line with prior administrative measures the city had enacted in order to help ensure public order in low-income communities.

"Detailing the different kinds of misconduct and defining their corresponding point deductions can help make tenants aware of what's unacceptable behavior and what consequences that behavior could bring," said Xie, adding, "It's a way for us to educate tenants and urge them to correct their mistakes."

"At the same time, new contracts for leasing and purchasing government-subsidized housing will clearly state that tenants should be conscientious and respect the rules. If they violate them, their case will be investigated and handled by the municipal low-income housing office," Xie said.

Public Debates

However, the new regulations have triggered wide public opposition, with some critics going so far as to say that the regulations "discriminate against the poor."

In an interview with the EO, Meng Hao, a member of the standing committee of Guangdong Provincial Committee of the Chinese People's Political Consultative Conference, widely known for his tendency to issue provocative comments, noted that many of the standards for behavior set in the new regulations were basic standards of social conduct, making the regulations' implementation somewhat of a red herring.

"Why is such a regulation only applicable to government-subsidized housing [instead of to everyone]?", Meng asked, "It would be hard to avoid the impression that anyone on the receiving end of government funds will have to dance to the government's tune. No wonder some people are saying the regulation discriminates against the poor. It's not without reason."

Wang Zechu, former member of the standing committee of Guangzhou Municipal People's Congress, believed that, although the government is well within its rights to ensure that low-income housing communities don't become slums, it shouldn't adopt a "father knows best" attitude towards the problem of anti-social behavior, but rather tackle it through less high-handed means, among them, working more closely with property management committees and including more detailed provisions in rental and purchase contracts.

Xie Xiaodan explained that the city government's administration of subsidized housing was still in its infancy, leaving a number of things left to be standardized.

Considering, however, the importance of government-subsidized housing as a public resource, he stressed that the government must do everything it can to make sure that it's distributed and used in a rational, fair and effective way.

Other commentator observed that the regulations were copied nearly verbatim from similar regulations in Hong Kong.

Hu Yuhui, an official with the Guangzhou low-income housing administration, tackled the issue directly, confirming that, in the course of putting together the regulations, the office visited Hong Kong twice to conduct field research. The visits were prompted by the highly encouraging results obtained in Hong Kong following the implementation of a similar system in 2003.

According to Hu, "By putting prevention and education first, and things like deductions and punishment second, we can tackle a lot of the city's low-income housing problems in an integrated way. We're also going to put into place a creative system of incentives that will reward households and communities for helping uphold the standards we're laying out."

Hu noted that it's entirely normal for a new public policy to trigger debate. A point deduction system to encourage good behavior in government-subsidized housing, as something previously unseen on the Mainland, is bound to attract widespread attention.

As for her attitude towards it all?: "It's only through debate that we reach consensus. It's through listening to the public that we're going to be able to properly implement these regulations."