News, cover, Issue 462, March 29
Translated by Tang Xiangyang
Original article: [Chinese]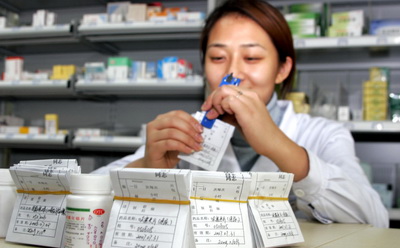 The high cost of medicine, which has been widely criticized among Chinese citizens for a long time, is going to be curbed this year.
The EO has learned from an exclusive source that one major part of China's health care reform, the tendering process for the production of national generic drugs, is coming to a close and the prices of the 307 generic drugs have dropped by an average of between 25% and 50%.
Additionally, public hospitals will be required to sell these generic drugs at wholesale prices, instead of being allowed to add their current mark-up of 15%.
It's estimated that this will save the Chinese people more than 60 billion yuan in medicinal fees in 2010.
According to Zheng Hong, Director of the Ministry of Health's Drug Policy and the Generic Drug System Department, China began establishing a national generic drug system last August. The highest rate of price reduction of the 307 generic drugs is up to 50% and the lowest reduction rate is 25%. For example, the drug prices in Inner Mongolia have been reduced by 32%; in Jiangsu 47.7% and in Hunan 53%, etc.
The price of Xilixin (西力辛), a drug produced by Guangzhou Baiyunshan Pharmaceutical Company, has been reduced from last year's price of 18.8 yuan to 9.77 yuan this year.
Compared with Beiyunshan, the prices of Inner Mongolia's Wulan Haote Zhongmeng Pharmaceutical Company's products have fared better, with an average reduction rate of about 30%. For example, this year's market price of their Xiaohuoluo pill is five yuan.
"This year the government has forced drug prices to decrease. The tendered price of the Xiaohuoluo pill has been determined to be five yuan; it's your decision whether to participate in the tendered price or not. Its production cost is two yuan and its distribution fee is four yuan more; manufacturers are destined to lose money," Zhang, general manager of a pharmaceutical company said.
Calculating Savings
The 307 national generic drugs are fully paid for by China's health care system. For the other non-generic drugs that are listed in the health care system catalog, citizens can only claim back a fraction of the total cost. In the past, the sales volume of generic drugs only accounted for between 8 to 10 percent of the total sales volume of the 2,151 drugs covered by the national health care system.
According to a source close to the Ministry of Health, the sales volume of the 2,151 drugs covered was approximately 286 billion yuan in 2009. If the sales volume of generic drugs accounted for 10% of total sales, the Chinese people paid 28.6 billion yuan for generic drugs last year.
According to the development plan of the generic drug system, this year the sales volume of generic drugs will amount to 143 billion yuan; half of the total sales of the 2,151 drugs. With generic drug prices being reduced by half, Chinese people will only pay 71.5 billion yuan for generic drugs, 42.6 billion yuan less than last year.
As the reform of public hospitals is carried out, hospitals will be required to sell generic drugs at wholesale prices, instead of being allowed to add the current 15 percent mark-up which accounts for nearly 20 billion yuan of sales. Adding the 42.6 billion yuan that will be saved because of reduced prices, a total of more than 60 billion yuan will be saved due to reform.
An unnamed source said, before 2008, the profit margin of drugs reached up to 80 percent; in 2009, it was approximately 70 percent. Of this 70 percent : 10 to 15 percent went to the pharmaceutical companies, 35 percent was given as bribes to hospitals by drug companies, hospitals profited by increasing the price of medicine by 15 percent, and pharmaceutical companies occasionally kept the remaining 15 percent.
"Hospitals do not necessarily have to accept the drugs that win the bid. Among the 2,151 drugs, it is possible to have dozens of different brands listed below a specific drug type. For example, for cold medicine, there are over 30 different products. The 2,151 drug varieties might contain thousands of different medicines," a source serving the marketing department of a pharmaceutical company said.
He said, only when a drug is sold by hospitals does its sales volume expand and do drug manufacturers and wholesale pharmaceutical companies earn money. That's why forging and maintaining a good relationship with hospitals is an important job for pharmaceutical companies.
Chain of Benefits
Confronted with thousands of varieties of medicine, hospitals must make a choice as to which ones they will carry. When the generic drugs chosen enter the hospital, the hospital will bargain down the tendered price by 15 percent and then add a 15 percent markup at the time of sale, thus the profit margin of hospitals is 30 percent.
After entering the hospitals, drugs need to be prescribed by doctors before they can profit, which is why drug representatives must also forge and maintain a good relationship with doctors who are authorized to make prescriptions by privately offering them 20 to 30 percent of drug sales.
In the implementation of generic drugs there is a focus on reducing the role of the middle man in distribution.
During the tendering process for generic drugs, distribution prices were also included. They will play a main role in reducing the cost of medicine since there will no longer be redundant distribution expenses.
But this is in an ideal situation; there still remains the question of whether the new system will be operated well. If local governments don't provide enough subsidies, hospitals might begin charging their 15 percent mark-up again to survive.
A source serving a pharmaceutical company said, if the new policy is well implemented, the 15 percent mark-up added by hospitals might be eliminated. But the 15 percent profit gained by reducing the tender price of drugs won't disappear; it may even be increased to 20 percent, further reducing the profit margin of wholesale pharmaceutical companies and forcing them to either rely on smaller profits to maintain their market share or to expand their business scale.
"We now have to sell 200 pharmaceutical products to earn the amount of money equal to what we gained by selling 100 pharmaceutical products before," a director of a wholesale pharmaceutical company said.
This time, it's the small-scale pharmaceutical enterprises that produce bulk drugs with low added-value that are mainly impacted by these reform measures. According to the development plan of the generic drug system, from 2010 to 2020, the entire population of China will be gradually covered by health insurance and drug prices will remain low since they will be paid for by the government. Because the quality of medicines produced by small enterprises cannot be guaranteed, a restructuring of this industry will begin soon.