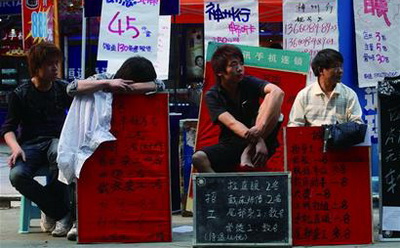 Due to the labor shortage enterprises are currently facing as the Chinese economy recovers, attention has been drawn to the plight of the new generation of migrant workers. The government is beginning to recognize the differences that exist between this current generation of migrant workers and that of their predecessors.
Migrant workers across the country will be provided access to affordable housing programs and public apartments will be constructed for them to rent, according to Yang Zhimin, vice minister of Social Security and Urban-Rural Development.
He also said, the ministry would move to standardize dormitories provided for migrant workers at construction sites across the country.
These policies echo the No.1 policy issued by the Central Committee of the Communist Party of China earlier this year which says the Chinese government is determined to solve the problems facing the new generation of migrant workers.
Statistics show that China's current migrant worker population is 150 million, among which, 100 million were born after 1980; they have been labeled the "new generation of migrant workers".
According to statistics provided by the National Bureau of Statistics (NBS), migrant workers are moving from eastern China to China's central and western areas; the number of migrant workers leaving their home provinces is decreasing, but they are still leaving their villages.
Compared with their parents who are viewed as the first generation of migrant workers, most of the new generation are more reluctant to return to their hometowns. When they return home to visit, they only stay for a brief period of time before heading back to the cities.
The new generation of migrant workers are better educated than their parents; 92.9 percent of them have junior high school diplomas, a rate 11 percent higher than that of their parents.
The labor shortage affecting many private enterprises across the country, starting last year, is mainly attributed to the new generation of migrant workers whose desire for consumer goods is much stronger than that of their predecessors. It is estimated that the new generation earns an average of 1,243 yuan per month while spending 478 yuan, a consumption ratio of 38.5 percent, while that of their parents is only 28.6 percent. The new generation of workers need higher wages to keep up with their rate of consumption; this indicates that the era of cheap labor in China is gone.
Unlike their parents who are usually content with their lot in life, the second generation of migrant workers feel a sense of inequality and discrimination. They are eager supporters of reforming the current political system that separates cities from the countryside and the unbalanced development between the two.
90 percent of new migrant workers have done little agricultural work over the past two years. Since many of them were born illegally, disregarding the one-child policy, they can not have their birth registered in their hometown and thus do not receive land rights. They do not know how to work in the countryside nor are they willing to do so; they like cities as well as their lifestyles there and are unwilling to go back home.
In the 1990s, the average salary of both generations of migrant workers was 800 yuan in Guangzhou city; now, with an inflated CPI, it has only risen slightly to 1,000 yuan; the income of migrant workers has been almost stagnant during the past decade.
Sheng Laiyun, vice director of an NBS department, said China should lift the ban on migrant workers and grant access to urban resident registration. Currently, migrant workers are unable to enjoy the same benefits as urban residents due to the current Household Registration System (户口)in place in China.
The Chinese government needs to continue to address the growing issue of migrant worker rights, otherwise China's cities will continue to fill with people who feel they deserve the same rights as the dwellers around them.

Links and Sources
The Beijing News

Economic Observer