News, Page 5, Issue 465, April 26, 2010
Translated by Tang Xiangyang
Original article: [Chinese]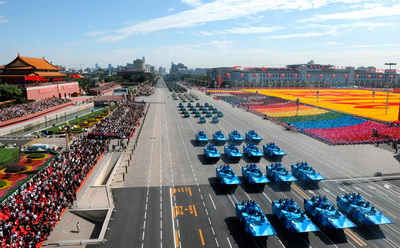 Starting 2011, centrally-owned enterprises working in the defense industry will once again have to start submitting a percentage of their profits to the State-owned Assets Supervision and Administration Commission (SASAC), after an exemption granted in 2007 comes to an end.

Other state-owned enterprises will also be required to start handing over a greater proportion of their profits to the commission than in the past, a source from the SASAC revealed.

Most of the country's 126 centrally-controlled state-owned enterprises or centrally-owned enterprises (COE) are already required to pass on between 5 and 10 percent of their profits to the SASAC every year.

Counting Down to the End of the Exemption

Several heads of companies that produce military equipment said that although they still had not received any news from SASAC, they were already mentally prepared for the news that they might be required to hand over a percentage of their 2010 profits to the central government in 2011.


In 2007 China's Ministry of Finance and SASAC announced a set of regulations in relation to the transfer of profits from COE. As part of the new rules, defense companies were classed in a third category of enterprises that would be exempt from requirements to pass on profits to SASAC for three years.

Now that three years has passed, an official at SASAC confirmed that "starting from next year, we will once again start collecting the profits of defense companies."

Other state-owned enterprises were divided into two categories. Resource-oriented enterprises, such as Sinopec and PetroChina, were in the first category and required to transfer 10 percent of their profits to SASAC. A second category was comprised of ordinary competitive enterprises was required to submit 5 percent of their profits to SASAC.

The past few years the profits of defense industry enterprises have been increasing. A head of one of the enterprises said, "all 11 of the defense industry enterprises under SASAC's control have gone from being loss-makers to being profitable, things are looking even better this year."

"China's defense industry achieved profits of over 50 billion yuan in 2009, and the value of total output increased by 28 percent", Cao Zhiheng, vice director of a department of the Ministry of Industry and Information Technology (MIIT) said earlier this month in Chongqing.

The profits of China's centrally-owned defense industry have also been said to have been growing at a much higher rate than the average rate of profit growth across all centrally-owned enterprises.

It still hasn't been determined what proportion of these defense companies' profits will be transferred to SASAC.

Enterprises working in the defense industry gained a profit of over 50 billion yuan in 2009, which means, they would have had to give at least 2.5 billion yuan to the SASAC if the required ratio was set at 5 percent.

According to statistics from a budget document published by the Ministry of Finance, 42.1 billion yuan in profits were transferred to both central and local governments from centrally-owned enterprises in 2009.

However, the head of an enterprise targeted by this policy shift said the ratio imposed on defense industry enterprises should be different from that of the other state-owned enterprises. "I prefer [the ratio] to be somewhere between 1 and 2 percent," he said. As defense industry enterprises bear the responsibility of safeguarding national security, he thought the ratio should not be too high.

"The profit of doing defense-related business is limited to only around 5 percent. If the SASAC requires us to hand in 5 percent, there will be no profit left for us," he said.

However, according to a defense industry expert, most of profits in the sector are gained from goods for civilian use such as airplanes and boats.

"Currently, products for civilian use account for nearly 90 percent of the profits made by defense industry enterprises," he said.

He suggested separating the profits gained by manufacturing products for civilian use and that by manufacturing defensive products; while the latter will be exempted from passing profits to SASAC, the former should be imposed with the ratio similar to that of the other state-owned enterprises.

Other COEs to Pay Higher Dividends

Other centrally-owned enterprises will be required to pay a greater proportion of their profits to SASAC.

Back in 2007, all COE were divided into three categories: Resource-oriented enterprises, such as Sinopec and PetroChina, made up the first category which are all required to pay 10 percent of their profits to SASAC, the second category was made up of ordinary competitive enterprises and are required to transfer 5 percent of their profits to SASAC and companies in the third category are exempt from submitting a percentage of their profits to the central government.

So far, it is not settled how much of the profits of companies in the first two categories will be required to transferred to SASAC in the future. An official with the Ministry of Finance said, the ministry would work with the SASAC on this issue.

"As for the details of the policy, it is the operating conditions of enterprises that will matter. Mature enterprises will have to pay more but struggling companies will still offered the support of preferential policies," an official with the SASAC said.

In the past, Zhang Wenkui, vice-director of the Development Research Center of the State Council, suggested that "For private enterprises at home or abroad, those in growth industries normally pay out about 10 to 20 percent of their profits in dividends, while mature companies pay out 50 percent of their profit in dividends. State-owned enterprises are some where in the middle and should pay a percentage that is about half way between the two."

As we understand it, currently local-level State-owned Assets Supervision and Administration Commissions take a greater proportion of the profits of companies under their supervision than that of the central commission, it's estimated that they require 20 percent of profits.

However, according to an official with the SASAC, the ratio may be moderately raised, but not to an "extreme" level.

He went on to explain his comments by saying the COE are currently at a stage where they need to strengthen their research and development and production capacity. This requires the investment of a large amount of capital.

"Though it may seem that COEs have gained a good amount of profit, their capability to develop sustainably is inadequate because they lack the advanced technology and products required. Currently, not one COE owns the technology and products needed to survive for the next 15 to 20 years. I think, that's dangerous," he said.

This article was edited by Rose Scobie

Links and Sources
SASAC: 2007 Announcement of Exemption for Centrally-owned Defense Indusrty (Chinese)
Gov.cn: Budget outlining the amount of dividends to be paid by COE in 2010 (Chinese)
Boston.com - The Big Picture Blog: Image