Introduction to the Economic Observer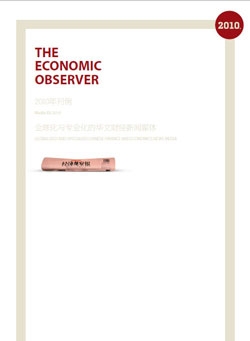 The Economic Observer (经济观察报 jīngjìguānchá bào) is an independent, weekly Chinese-language newspaper published in China since April 2001.
The newspaper is considered by many to be one of the top three economic-focused newspapers in China and is well-regarded for its independent editorial stance, in-depth special features and informed commentary.
Inspired by the British Financial Times, the Economic Observer is printed on salmon/peach-colored paper.
Although the newspaper's editorial offices are based in Beijing, the newspaper is actually registered in Ji'nan, the capital of Shandong province.
The newspaper is often listed as an original source by Bloomberg, Reuters and other international news wire services, in stories that discuss rumors of imminent changes to Chinese policy or other unconfirmed reports that may effect markets in the region.
About 300,000 copies of the newspaper are distributed throughout China's first tier cities each week.
The Economic Observer Online was relaunched in March 2007 and offers subscribers access to all the newspaper's content. However, most of the articles from each week's newspaper also appear on the website at no charge in addition to web-only content which includes commentary and op-ed pieces from guest columnists.
The newspaper's English-language website, features select translations from the weekly newspaper and the website; it also publishes original reporting and interviews.
Media Kit
For a detailed introduction to the newspaper and website, you can download the bilingual Economic Observer Media Kit for 2010 here.
The kit includes detailed price lists for advertising in the newspaper and also an extended introduction to the newspaper and our readers.
Contact Us
If you'd like to advertise in The Economic Observer newspaper you can contact:
Liu Bo 刘 博
Media Consultant
The Economic Observer
Bldg 11A, No. 47 Ande Lu Dongcheng District, Beijing
Post Code 100011
Tel: +86010-52271366-1151/1199
Fax: +86010-52271399
Email: liu_bo@eeo.com.cn
If you'd like to advertise on the Economic Observer Online, you can contact:
Wang Nan 王楠
Administrative Assistant
The Economic Observer
Bldg 11A, No. 47 Ande Lu Dongcheng District, Beijing
Post Code 100011
Tel: +86010 - 52271366 - 1146
Fax: +86010 - 52271368
Email: wang_nan@eeo.com.cn