Special Report, Page 13, Issue 476, July 5
Translated by Tang Xiangyang
Original article: [Chinese]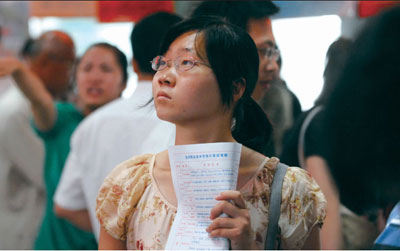 Wang Yanjun, a post graduate of Guangzhou Zhongshan University's medical college, has decided to work for a hospital located in Jiangmen, a small city in Guangdong Province.
"I've signed the employment contract. My heart is at peace now after struggling for half a year. Now I'm looking forward to working in Jiangmen," he said.
When he begun his study in Guangzhou three years ago, Wang Yanjun had planned to live in Guangzhou after graduation. However, three years later, during which both the prices of housing and commodities have doubled, the salary offered by local Guangzhou hospitals is even less than the salary offered by the Jiangmen hospital.
"I have no choice but to go," he said.
Unlike Wang Yanjun, Xiao Luo, a senior at the Beijing University of Chemical Technology, has never thought about looking for a job in Beijing. Instead he wants to return to his hometown in Hainan Province. He only submitted resumes to two companies and has now signed a contract with the Public Security and Fire Control Team of Hainan Province.
"Even if I get a job in Beijing, without a Beijing hukou [registration as a Beijing resident], I will not have any stable welfare benefits; I would face a great amount of pressure," he said.
As a graduate majoring in applied chemistry, he would most likely end up working in a science and technology park located in remote area if he chose to stay in Beijing. But, if he does the same type of job in a smaller city, he could earn a similar salary while benefiting from living expenses far below those of Beijing. Which is why Xiao Luo decided to return to Hainan Province.
"I will live a comfortable life there."
Xiao Luo's class consists of 35 students. A dozen of them have chosen to pursue a post graduate degree; six or seven have found jobs in Beijing and the rest have returned to smaller cities.
My Cos, a third-party educational consulting and evaluation agency, has published an employment report on Chinese graduates in 2009, which shows that 44 percent of the graduates from Chinese universities covered by the "211 Project", a government project aimed at promoting the development of China's first-class universities, had gone to work in cities at or below prefecture-level in 2008.
"This ratio will increase this year. Deserting big cities has become a trend," Wang Boqing, a manager at My Cos, said.
China Youth Daily surveyed 7,761 college graduates in 31 provinces in 2009 and found that 34.2 percent of graduates surveyed would move to provincial capital cities or well-developed small cities as their first choice, with prefecture-level cities as their second choice. Only 24.75 of those surveyed wished to stay in big cities like Beijing and Shanghai.

Opportunities in Second and Third Tier Cities
Xu Bo is a post graduate with the University of International Economics and Business. He has been offered a job by Deloitte Touche Tohmatsu, an accounting firm, but has chosen to return to his hometown Xian, the capital of Shanxi Province.
"Accounting firms began recruitment very early and I really wanted to stay in Beijing. So, when I received the job offer [from Deloitte Touche Tohmatsu], I signed the contract," he said.
However, Xu Bo is not an accounting major; he worried about his professional prospects with Deloitte Touche Tohmatsu, so he continued to look for more suitable opportunities and found one advertised by an aviation industry research company in Xian. He decided to apply and he was offered a job.
"This company had never recruited an international business major before. So, at first I was worried about whether I would be left on the fringes of this company." He later found that the aviation industry research company was in discussions with an American company to start a joint venture. They were in need of an international business major to advance early stage preparation, business negotiations, contract translation and other work related to the venture. Xu Bo believed he would gain many useful skills from working for this growing company.
As the central government determines to promote the economy of western China, more and more foreign enterprises and their counterparts in Taiwan and Hong Kong are moving to Xian; the city has gone through many changes.
Xu Bo decided to take the job and go back to his hometown.
Fudan University conducted a joint-survey with Shanghai's Education Commission which found that more than half of this year's graduates from universities in Shanghai have decided to leave Shanghai and over 80 percent of them are willing to work in Hangzhou, Ningbo, Nanjing and even the small polluted city of Hefei and other cities around Shanghai. The survey indicates, the main reason for their departure, aside from high housing prices, pressure from lack of social security benefits, and the poor quality of living in big cities, lies in the abundant opportunities that emerging regional economies provide.
"In recent years, while developing their economies, emerging regions have been short of talent. Thus these regions are offering sound welfare packages to attract college graduates," an unnamed source with Fudan University's Student Career Development Center said.
The Prosperity in Cities Can Not Guarantee Us a Good Life
"The prosperity in big cities can not guarantee us a good life," Xiao Lao explained as the reason for his leaving.
Fast pace living, severe competition, high living costs and inflated housing prices are all reasons college graduates are leaving big cities. Zhu Zhiyuan, deputy dean of the Shanghai branch of the Chinese Academy of Sciences, said 30 percent of his institution's research workers have left Shanghai in the past two years because of high housing prices.
A survey conducted by Zhilian Zhaopin, a recruitment agency in China, shows that almost 80 percent of employees working in big cities or other locations would advise college graduates to look for jobs in smaller cities. The survey also indicates, 76.2 percent of employees surveyed think about deserting big cities from time to time, and 80.8 percent are willing to move to smaller cities if offered a good employment opportunity.
Jin Lin is a Fudan University journalism graduate and works in Hefei, the capital of Anhui Province. Half of his classmates chose to work for media companies in big cities after graduation, but Jin Lin is satisfied with his life and his current occupation.
"In Hefei, I'm as good as gold. If stayed in Shanghai, I would not even be worth a speck of dust," he said.
Employment pressure is also a factor forcing college graduates to desert big cities.
Zhao Lin, a senior career counselor with Zhilian Zhaopin, said many universities were located in big cities and most graduates chose to seek jobs in the cities they attended university in. Graduates from universities in other cities, lured by the abundant opportunities in big cities, were also flowing there and causing severe competition for jobs.
According to a manager of Beijing City's University Career Center, 219,000 people have graduated from Beijing colleges this year, including 99,000 students who have a Beijing hukou. As of April, one quarter of this year's graduates, around 50,000, had found jobs, but only 8,780 of them had found jobs in Beijing.
Xiong Bingqi, an education expert and professor at Shanghai's Jiaotong University, said the trend for college graduates to desert big cities should be looked at from all sides:
"First it is the high cost of living, followed by employment pressure [that matter]. Additionally, the government has issued many policies to encourage college graduates to work in smaller cities, making them feel that moving to smaller cities will give them more opportunity to cultivate their professional futures."
Determined to Stay
There are still people determined to live in big cities. One example is Zhang Cong, a senior majoring in business management at Shanghai University. He has stuck to the idea of working in Shanghai, although at present, he has not received a single job offer.
"I have been studying in this city for four years. How can I just up and leave it?" he said.
In Zhang Cong's view, Shanghai has already become the biggest financial hub of the world and is also the most developed region in China. "China's social resources will by concentrated in big cities for a long time. They will have the best universities, convenient public transportation and an advanced medical system. Despite high housing prices and other drawbacks, big cities are still better than my hometown where information is closed off and opportunities are scarce."
Zhang Cong admits that competition in big cities is severe, "But the competitive environment is relatively transparent. As long as you are capable, you will not have a problem with taking care of yourself. But in some medium and small-sized cities, you are constrained by institutional mechanisms, and will have no access to your ideal position unless you have the right background or guanxi [contacts]; the situation is even worse for those who try to start their own business."
This article was edited by Rose Scobie