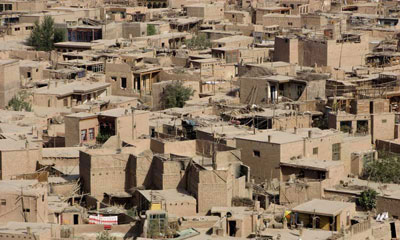 Nation, page 9, Issue 471, May 3
Translated by Tang Xiangyang
Original article: [Chinese]

As part of the central government's recently-announced plans to spur economic growth in the Xinjiang region, Kashgar, a pivotal freight station in western Xinjiang, has been chosen as the home of a planned special economic zone (SEZ) modeled on the SEZ of Shenzhen.
Deputy Commissioner of Kashgar Prefecture, Wang Yongzhi, says Kashgar felt the effects of these plans even before any official announcement. The yearly Kashgar Fair sold out its 1,200 booths and while organizers planned to offer Shenzhen city 40 of those, they had applied for 200.
At this time, Kashgar does not have enough hotels to accommodate this much interest.
Member of the Standing Committee of the Political Bureau of the Central Committee of CPC, Zhou Yongkang, visited Kashgar in February and said that the central government would make the city a SEZ and the National Development and Reform Commission (NDRC) identified Kashgar as a "key pilot area to be opened and developed" in May.

Du Ying, deputy director of the NDRC, said that Kashgar will enjoy preferential policies in addition to becoming a comprehensive reform experimental zone. The 50 square kilometre SEZ is planned to boost the city's economy and population to one million but also drive the economies of the surrounding cities and countries.

Kashgar connects the middle and south roads of the Silk Road and has been an important international business town since ancient times. With a border of 888 kilometers and four entry ports, it connects China with six neighbouring countries including Tajikistan, Afghanistan, Pakistan, Kyrgyzstan, Uzbekistan and India, creating an international market with 1.3 billion population.
Outdated equipment and underdeveloped infrastructure have greatly reduced the working efficiency of Kashgar's ports however. The central government plans to remedy this situation with comprehensive examination of equipment and improving the rail system.
There will be new railway connections linking China with Pakistan and with Kyrgyzstan and Uzbekistan that will provide China with an opportunity to gain a greater share of the Central Asian market, according to Wang Yongzhi.
At the moment, however, there is still no specific project for the Kashgar SEZ. The central government and its local subsidiary need to divide the Kashgar SEZ into special zones for customs, a tax-exemption area for the processing industry and the logistics sector and then the issue of preferential policies concerning land, tax and finance must be addressed.
According to Wang Ning, director of the Xinjiang Social Science Academy's economic institute, Kashgar is not rich in resources and has to rely on small and medium-sized enterprises (SME) to develop the local economy. He suggests providing preferential policies and reducing the cost of running business for those SMEs.
Currently, the central government has exempted enterprises in Xinjiang from corporate income tax for two years and they will only pay half of the required amount in the following three years.
Wang Ning has estimated that, if the central government doubles its investment in Xinjiang in the 11th "Five-Year Plan", as is intended, that will be a two trillion yuan investment in the local infrastructure or 400 billion yuan each year from 2010 to 2015.
Currently, the GDP of the whole Xinjiang region is only 427 billion yuan.
The central government has also planned to invest 50 billion yuan from 2009 to 2013 to build 13,000 projects of the Kashgar region. Guangdong province, designated by the central government as a partner assistant of Kashgar, will arrange 9.6 billion yuan in aiding the region from 2011 to 2020. The "partner assistance" program matches developed regions with the least developed areas to help them and improve living standards.
Private capital is flowing into the area as well; something an NDRC report identified as essential to solve societal and economic problems in the region.

Zhao Huanchen, board chairman of Shandong Daiyin Textile Group, has decided to invest 450 million yuan to construct a spinning plant with 100,000 spindles in Kashgar after a three-day investigation.
According to Zhao Di, deputy board chairman of Zhongkun Travel Group, the local housing price has been increasing continuously since Zhou Yongkang's visit to Kashgar in February from 2,000 yuan per square meter at that time to 3,000 yuan now. Zhongkun reserved 3,000 acres of land in southern Xinjiang and the price of land has been inflating rapidly due to the anticipation of the future SEZ.
This article was edited by Andrew Ward