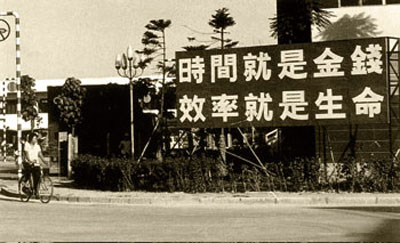 Nation, page 9-15
Translated by Tang Xiangyang
Original article: [Chinese]
The public is eagerly awaiting Shenzhen's political reform, but political reform in Shenzhen has already become a sensitive topic.
"Shenzhen is planning to reform the way its local government functions, not change the state system or existing government reforms. The latter is beyond the power of the Shenzhen government and requires approval from the central government," Yang Lixun, director of the Shenzhen Academy of Social Science's Social Development Research Institute, said.
Yang went on to say that the focus of Shenzhen in its first 20 years as a special economic zone (SEZ) has been promoting the local economy; however, since the mid-late 1990s, the reform of its social structure has been a new focus.
"Wang Yang a secretary of the CPC Guangdong Committee required us not to make Shenzhen a 'special political region', but to focus on the specific form and mechanisms of democracy, for example, integrating government agencies with similar functions," Yang Lixun stated.
Barriers to Reforming the Political System
In 2003 the Shenzhen government prepared to reform its administration by separating it into three parts: administrative, decision-making and supervising. However, this plan was misunderstood by the media to be a system of "checks and balances" and the Shenzhen government was forced to abandon the reform.
"Checks and balances refers to the separation of powers of legislation, jurisdiction and executive while Shenzhen only intended to separate their local government into administrative, decision-making and supervising bodies, in order to avoid combining 'players' with 'referees'," Yang Lixun said.
Yang said it was because of insufficient confidence that the original project failed in 2003. But this time, the State Council has approved the Plan for the Reform and Development of the Pearl River Delta and other related regulations in which Shenzhen is designated to be a "pilot area of comprehensive reform".
"During the past, Shenzhen was a 'special economic zone', not a 'special political zone'. But now that it is a 'pilot area of comprehensive reform', Shenzhen can try to reform non-economic areas," Yang Lixun said.
The State Council has approved seven pilot areas; each with a clear function. For example, the Shanghai Pudong New District is required to be an "open-economy"; the Tianjin Binhai New District has been required to focus on developing its financial sector; the Wuhan and Changzhutan pilot areas have been assigned to construct an energy-saving and environmentally-friendly society.
"The first task for the Shenzhen pilot area of comprehensive reform is to reform its political system," Yang Lixun said.
According to Shenzhen's 2010 reform plan, this year Shenzhen would start reforming large district level governmental agencies to serve as the basis of city-level reform.
However, half a year has passed, and district-level reform has not begun. Yang Lixun has attributed the failure to the difficulty of adjusting the positions of district-level officials. "The reform of district-level government is more difficult than city-level reform because it involves the relocation of a larger-scale of personnel."
In Shenzhen, a somewhat small-scale sub-district office will have nearly one-thousand public employees.
"In the past, it has always been the government who has reformed others, but now it is even 'reforming' itself." Yang Lixun said, do not think the reform of a political system as an easy job. Because it concerns removing some officials and eliminating some governmental agencies, the reform is in fact a "revolution".
Recently, the media has reported that the Shenzhen Science, Industry, Trade and Information Technology Commission has one director and 20 deputy directors as a result of the integration of governmental agencies with similar functions.
In reality, to reduce the obstacles of reform, Shenzhen has developed preferential policies for local officials: ordinary officials who work in the same non-leadership post for eight years will be allowed to retire at the age of sixty and have the retirement benefits of an official one-level higher than themselves; officials that have been in a leadership position for five years may also have the retirement benefits of an official one-level higher than themselves.
"Aside from the lateral reform of large government agencies, Shenzhen will also carry out top-down reform. The Hong Kong government only has two levels of government agencies; they are highly efficient and have low costs. But Shenzhen has four levels, city, district, sub-district and community workstation, and thus has more difficulty implementing reform," Yang Lixun said.
Shenzhen first plans to integrate sub-district governments with community workstations and with this foundation then eliminate district-level governments. Currently, the Guangming New District and Pingshan New District in Shenzhen have already become pilot areas of the integration of sub-districts and community workstations.
Continuous Attempts at Transformation
Shenzhen has been experimenting at reforming its political system since the 1980s. Some analysts say Shenzhen has been using its practices to push the Chinese government to reform its administration.
Shekou Industrial Zone of Shenzhen allowed employees to evaluate and elect executives of state-owned enterprises from 1983-1986, and even called the election of executives a "democracy experiment".
Early on in 1999, Dapeng Town in Shenzhen's Longgang District had its governor nominated by local citizens and then appointed by the local people's congress.
The Shenzhen Municipal Committee of the Communist Party twice tried to propose a "road map" and "time table" for reforming the political system- an act rarely seen in Chinese local government. They planned to have town-level governors directly elected by local citizens and even have some district-level governors directly elected.
Shenzhen is also the first Chinese city to require local officials to report their personal and family assets.
However due to complicated and "sensitive" reasons, the "democracy experiment" only existed in the Shekou Industrial Zone for ten years; the election model in Dapeng Town also returned to its traditional ways after three years and Shenzhen's two efforts to make a "road map" for its political reform have failed to get approval from the central government.
Driving Force of Reform
The driving force of Shenzhen's political reform is local officials who are worried about the SEZ losing its uniqueness as well as its ability to attract talent.
The Shenzhen government is facing many problems such as high costs and inadequate land and human resources. While 60 percent of Hong Kong's land remains undeveloped after 160 years of development, Shenzhen has developed all of its land in just 30 years.
"In the past, Shenzhen was a dream world and talent poured into the region, but now, with so many competing cities, Shenzhen is losing its attractiveness. Yang Lixun said, "Only by implementing reforms will Shenzhen maintain its development."
"As the market economy reform deepens throughout the rest of China, the special economic zone is not 'special' anymore," Huang Weiping, a Shenzhen University professor and an expert on the Shenzhen Special Economic Zone, said.
In 1994, Hu Angang, a Qinghua University professor, suggested to the central government that the policies on SEZs be adjusted because the whole country was developing a market economy. The central government took his advice.
In 2001, former Premier Zhu Rongji, stated in a press conference,"The special economic zone is not 'special' anymore; it no longer has preferential policies. The entire country is now the same."
From then on, the central government has been issuing preferential policies according to specific sectors rather than special regions.
Yet, the titles of China's five special economic zones remain.
In Huang's opinion, there are two reasons the government has chosen to maintain the titles. First, the term SEZ has already become a "brand". Second, the SEZ has never been regarded as merely an economic zone; it is an "experimental field" for China's reform and opening and modernization.
"Yet this ability is not monopolized by Shenzhen," Huang Weiping said. The central government's decision to make seven cities and regions, including Shanghai, Tianjin, Chongqing, and Chengdu new "pilot areas" put great pressure on Shenzhen.
Soon after, the development of the Plan for the Reform and Development of the Pearl River Delta (2008-2020) allowed Shenzhen to implement reform of problem areas and key fields and to make crucial reform breakthroughs.
Shenzhen then became China's only "pilot area of comprehensive reform".
Huang Weiping said the central government had provided Shenzhen with enough room to implement reform. Whether or not Shenzhen is really "special" will depend on if it is willing to take the right steps to lead the way for democracy in China.
This article was edited by Rose Scobie