News, Page 4
Issue 484, August 23
Translated by Tony Liu
Original article: [Chinese]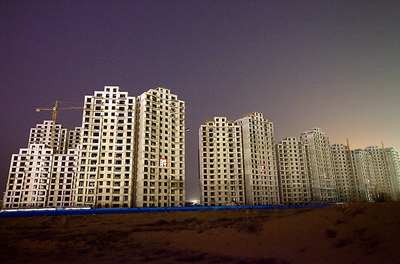 Has China's Ministry of Housing and Urban-Rural Development (MHURD) really been compiling a list of property developers that are hoarding housing for speculative purposes?
Bi Jianling, an official from the Ministry's Information Service Division, told the EO that the ministry does not keep such a list.
But an anonymous source from the MHURD revealed to the EO that a list does indeed exist, but it has yet to be sent to the Chinese Banking Regulatory Commission due to difficulties in agreeing on an exact definition of what constitutes property hoarding.
"The MHURD is careful who they include on the black list, as being 'blacklisted' will likely impact a company's financing abilities. Property developers that have not seriously violated regulations will not be included," the anonymous source told the EO.
The source also revealed, that if a strict definition of what constituted property hoarding was assumed, many well-known developers would have been included on the list.
It has been reported that the China Banking Regulatory Commission (CBRC) had previously asked the MHURC to compile a list of property developers that have been delaying the release of housing on to the market.
However, up until now, the MHURD had only provided the banking regulator with a so-called "white list" of property developers who have not been hoarding their properties.
The above source also said that the order to compile such a list was directly connected to the "ten regulations" issued by the State Council in April which were aimed at curbing soaring housing prices.
According to the April circular, the MHURD is responsible for investigating misconduct involving property hoarding and any other kind of interference with the market price for housing, the ministry is also held responsible for punishing any property developers found guilty of such actions.
Given that the housing regulators at local levels are responsible for investigating the property projects in their jurisdiction that violate regulations, the MHURD needs to source information about hoarding from these local regulatory organizations in order to put together the final list.
Although the MHURD is yet to provide a list to the CBRC, the EO has learned that the Ministry of Land and Resources, which regulates land use, has already given a list of property developers that are hoarding land to the CBRC.
Ding Zuyu, Co-Chief Executive Officer of China Real Estate Information Corporation, told the EO that every commercial bank has its own system for evaluating property developers based on their respective liquidity, liability and solvency.
However, banks do not always share their evaluations with each other. He added,"If CBRC were able to collect this information from China Union Pay, it would prove more useful than the list put together by the MHURD"

This article was edited by Ruoji Tang and Paul Pennay

Links and Sources
Time: Image