News, page 3, Issue 486, Sep 13
Translated by Tang Xiangyang
Original article: [Chinese]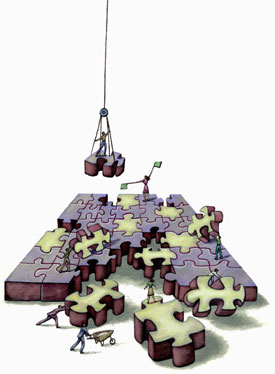 On September 6, the State Council issued its Guidelines to Promote Mergers of Enterprises (herein referred to as Guidelines). The new policy had been in preparation for a year by the Ministry of Industry and Information Technology (MIIT). The Guidelines require the automobile, steel, cement, machinery manufacturing, electrolytic aluminum and rare earth sectors to expedite mergers as well as restructuring projects.
Other sectors that are covered, but not specifically mentioned by the Guidelines include coal, non-ferrous metal and ship manufacturing, all industries with overcapacity problems.
Twelve ministerial agencies, including the National Development and Reform Commission (NDRC), the Ministry of Finance, the State Administration of Taxation and the Ministry of Commerce, led by the MIIT, are instructed by the Guidelines to promote local mergers by providing preferential tax policies and providing special loans, along with other measures.
According to an anonymous source from the MIIT, the MIIT will establish a ministry work team to implement existing policies and issue supplementary policies. The ministry hopes to raise the concentration ratio of key sectors in three to five years.
Local governments are drafting corresponding policies to promote mergers and will report them to the MIIT by the end of this year. All of this indicates that a merger spree dominated by centrally-owned enterprises (COEs) and local state-owned enterprises is just around the corner.
Local Government Response
Henan province's Ministry of Industry and Information Technology plans to begin inspecting local steel companies on September 10. The inspection will last until September 20. The companies will be organized into 10 categories according to the Operation Standards of the Steel Sector issued by the MIIT in July.
Only companies that have met the following standards will continue to operate: Blast furnaces built before July 2005 must have an effective volume of 400 cubic meters; the nominal volume of convertors and electric furnaces must be above 30 tons; the production capacity of crude steel of steel companies must have exceeded one million tons in 2009. An insider said that if these standards are enforced, many medium-sized and small steel producers will fail to reach them, and the over 70 companies belonging to the China Iron and Steel Association (CISA) will account for more than 80 percent of China's steel output.
According to an official from the Henan Ministry of Industry and Information Technology, inspection results will be reported to the MIIT. Companies that fail the inspection will be merged, restructured, or shut down.
The largest steel company in Henan province is Anyang Steel; its production capacity is ten million tons. According to the source above, the Henan government plans to restructure local enterprises, possibly by merging them with larger steel producers like Anyang Steel, with COEs also being a key partner.
Hebei province acted even faster. Before the State Council even issued the new policy, Hebei had already released a Notice to Promote Mergers of Large Companies, stating that Hebei province will support the merging and restructuring of 12 large steel companies, including Hebei Steel Group. The Hebei Ministry of Industry and Information Technology has also ordered its subsidiary agencies and officials to each select a local enterprise to provide tax and loan assistance to.
The steel sector is a pillar of Hebei's industrial economy. Hebei plans on restructuring the Hebei Steel Group, the Bohai Steel Group and the Great Wall Steel Group. The Hebei Steel Group will likely merge with small companies and restructured steel companies in other provinces to build an enterprise able to compete internationally. Currently, the Hebei Steel Group's production output ranks No. 2 in the country and the company is looking to become No.1 in the coming years.
Bohai and Great Wall are both newly founded steel groups. They have already been instructed by the government to purchase local steel companies and form enterprise groups, making them the guinea pigs of the national merger programs.

The government has also initiated the Project for the Joint Restructuring of Tangshan and the Great Wall Iron and Steel Group and plans to make four companies, Jiujiang Wire Rod Holding Company, Yanshan Industrial Group, Rongxin Company, and Xinda Company, shareholders in the Great Wall Group.
In small cities such as Wuan and Handan, private companies are merging all their assets as instructed by the Hebei Department of Industry and Information Technology. These Mergers are taking place among small to medium sized private steel companies whose capacities range from one million tons to three million tons per year. Wuan Steel Group has merged twelve small steel producers; Handan Zishan Special Steel Co. Ltd has co-established Handan Zishan Special Steel Group with other six steel producers.
In sectors such as cement, glass and machinery manufacturing, the Hebei government has selected one to three companies in every field to take part in a merger.
An official from the Hebei Ministry of Industry and Information Technology said the restructuring of the steel, cement, and machinery manufacturing sectors finished two months ago and the local government plans to report them to the MIIT.
Debate on Restructuring
The State Council has spent over a year preparing for the new policy. In August of last year, Li Yizhong, the head of the Ministry of Industry and Information Technology, said that they hope to raise the industrial concentration ratio of sectors with overcapacity in the next three years.
The six sectors covered in the new policy are industries with overcapacity and have been slow in completing mergers and restructuring projects.
The Guidelines issued by MIIT says it intends to solve problems such as redundant construction, low industrial concentration ratio, lack of innovation, and overall incompetence.
The restructuring of coal enterprises has made progress, especially from 2005 to 2006 when steel producers Bao Steel, Wuhan Steel and Anshan Steel were involved in mergers. Bao Steel was also involved in restructuring the Hebei Handan Steel Company, Baotou Steel, Guangzhou Steel, Hangzhou Steel and Xinyu Steel. In 2007, Hebei, Shandong and Shanxi integrated their coal resources, leading the beginning of an industrial merger spree.
Mergers that happened from 2005 to 2006 were cross-mergers dominated by enterprises while those in 2007 were guided by local governments. The cross-mergers have all failed.
The Guidelines clearly state that local governments should respect the will of the companies and follow market rules. Governments are not to irresponsibly or arbitrarily promote mergers of enterprises. Yet local governments have done precisely that in the most recent round of restructuring. "Judging from the past mergers in the steel sector, the participation of local governments makes it difficult to realize market-oriented mergers," said Chen Ling, deputy director of China Metallurgy Industry Economics Research Center.
Additionally, the new policy also requires the central bank, the China Banking Regulatory Commission and the Ministry of Land and Resources to support the reorganization of state-owned enterprises by providing special capital, merger loans, issuing bonds and offering land, encouraging enterprises to initiate cross-region and ownership mergers. The Guidelines also suggests that local governments sign tax-sharing contracts with each other and sort out accounting and statistical problems that result from the merger, such as added value of industrial output.
"The Guidelines are actually meaningless, but state-owned enterprises and government departments are very concerned about these two issues [tax-sharing contracts and accounting and statistical problems]. If government agencies do not resolve these two issues, it will be impossible to do cross-region mergers," said an insider from Jiangxi Xinyu Steel. Xinyu Steel has an annual capacity of ten million tons. Since 2007, Bao Steel has tried to merge with it but the merger plan has not been approved by the MIIT. "The Guidelines are intended to promote mergers of enterprises in the same province. It does little to promote cross-region mergers," said the above source.
COEs and state-owned enterprises are becoming increasingly powerful because of the mergers and reorganizations. According to a source from the All-China Federation of Industry and Commerce, this new policy will make mergers "government guided, and dominated by state-owned enterprises."
In 2009, represented by Shanxi, Shandong and Henan, all the provinces witnessed a series of state-owned coal enterprises merging their large or small private counterparts. Medium-sized and small private coal mines in the above three provinces have all disappeared.
The Guidelines say that the Chinese government will further open up the market to private capital, allowing them to invest in sectors and fields that are neither prohibited by laws nor administrative regulations and will loosen restrictions on the percentage of shares that private enterprises can hold.
The source from the All-China Federation of Industry and Commerce said the merger sprees are happening in sectors with issues of overcapacity. Small private enterprises would have difficulties in obtaining loans or other financial support. Consequently, it was impossible for private enterprises to be major players in this round of mergers and restructurings.
This article was edited by Ruoji Tang and Rose Scobie