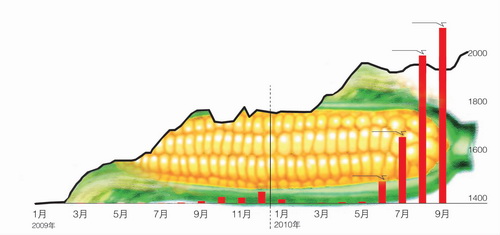 News, page 4, issue 495, November 22
Translated by Tang Xiangyang
Original article: [Chinese]
Doctor Fan Shenggen, director of the International Food Policy Research Institute (IFPRI), did not expect his comments criticizing China's soybean policy of having double standards regarding GM soybeans at a meeting in China to incite resentment from America.
After the meeting upon returning to IFPRI headquarters in Washington, he received numerous calls and emails from American governmental organizations, representatives of grain giants and grain associations, informing him his words had gone against WTO principles of free trade.
Fan Shenggen is also the director of the international agriculture and rural development research center under the Chinese Academy of Agricultural Sciences. An internationally renowned grain expert, he believes China has made a strategic error regarding soybean policy which has led to the defeat of China's non-genetically-modified (GM) soybean by its imported counterparts.
Actually, Fan Shenggen believes worries about China's corn sector are more urgent and realistic. China's corn imports increased by 56 times in the first seven months of this year on the level of the same period last year, totaling 282,000 tons. It imported 194,000 tons of corn in July, 148 times more than the previous July.
A Surge in Imports
Though this may not sound like much, this is the first time in 15 years that China has imported corn on such a large scale. The Financial Times has stated that, "the high growth rate of China's corn imports has triggered people's fears about the potential influence of China's grain safety on the global agricultural commodity markets."
Chicago corn futures have increased by over 50 percent in the past three months, reaching a historical high. Futures experts believe that this price increase is unreasonable and triggered by speculation.
However, other market players, the United States Department of Agriculture, and its Soybean Export Council and Grain Council, are full of high expectations. They even believe that China's corn market will be as huge as its soybean market.
According to public reports, Thomas C. Dorr, President and CEO of the US Grains Council said recently that American corn providers might use their many years of experience opening China's soybean market to open China's corn market and eliminate Chinese people's concerns about the safety of GM corn.
However, Chinese people's views on GM corn are still greatly divergent.
In April the media reported that the New Hope Group, China's largest private feed grain producer, imported a large amount of GM corn from America, which aroused public concern. Meanwhile, industry insiders are questioning the official figures on China's corn storage.
The EO has learned from an anonymous source with the Ministry of Agriculture that up until now, China has imported 1.5 million tons of corn from America and has reached an agreement with the Argentinean government to import 5.5 million tons of corn in 2011.
America and Argentina are the two largest corn exporters in the world and almost all of their corn exports are GM corn. America's corn exports account for 50 percent of global corn exports while Argentina accounts for less than 30 percent.
According to the above source, all of China's corn imports for this past year and planned for next year are genetically modified. China's largest state-owned corn importer is China National Cereals, Oils and Foodstuffs Corporation (COFCO) and its largest private corn importer is New Hope Group.
While the National Development and Reform Commission, the Ministry of Agriculture and the State Administration of Grain have attributed the explosion of China's corn imports to the price gap between foreign and domestic corn, an anonymous high-level executive of the China Grain Reserves Corporation attributed the high imports to the official corn reserves being less than those of wheat and rice.
Fan Shenggen hopes China will not make the same mistakes regarding corn policy as it did with soybean. Latest statistics show, the dependence on foreign imports of China's soybean sector has risen to 78 percent, and as early as several years ago foreign companies accounted for over 70 percent of China's oil processing capacity.
The Myth of China's Corn Reserves
China's corn output and consumption volume have both exceeded 150 million tons in recent years. Around 90 percent of corn is used for feed and industrial consumption. Compared with wheat and rice, it is easier for corn to be influenced by the macro-economy.
The National Bureau of Statistics has revealed that China's corn output reached 329.7 billion jin (a unit of measurement equal to 0.5 kg) last year, 3.9 billion less than that of 2008 while its corn consumption volume was 296.7 billion jin, a 7.8 billion jin increase on the level of previous year. A China Grain Net report has predicted that this year China will have a corn output of 330 billion jin.
Though it was widely believed that China's corn output would be greatly reduced last year due to the major droughts suffered by China's main corn production areas, data from the National Bureau of Statistics has shown that China's output still exceeded demand. However, the data was kept secret until May and its accuracy was widely doubted when it was finally released.
Since March, the price of corn has increased progressively following the price surge of garlic and mung beans. It reached such a high price by April that even the National Development and Reform Commission and the State Administration of Grain were surprised. To rein in the corn price, the central government started a temporary auction of corn reserves on April 13. However, despite the sale of all corn reserves up for auction, the price of corn kept rising.
In the last ten days of May when the auction of corn reserves had been halted, the central government revised the trading rules of corn reserves so as to prevent corn processing companies from blindly hoarding corn, and continued releasing corn reserves; the price of corn decreased slightly. But less than a month later the price of corn resumed its upward climb and in August reached a new historical high of 1,976 yuan per ton.
Although at that time the price of wheat and rice also increased, the EO has learned from the National Development and Reform Commission, the Ministry of Agriculture and the State Administration of Grain that the central government is more concerned about the increase of corn prices. These three ministerial agencies have released dozens of policies to rein in the corn price increase.
The Strength of Downstream Sectors
What continued to drive up corn prices despite the Chinese government's successive measures to tackle the increase?
While the National Development and Reform Commission and the State Administration have attributed the price rise to hot money, companies' hording practices and farmers' deciding to keep corn off the market, the EO has learned from many industry insiders that China's corn demand now exceeds its domestic output.
Whether or not reserves are adequate is only one part of the whole picture. According to a high-level executive of New Hope Group, the volume of corn consumption increases every year thanks to the development of the livestock industry and its demand for feedstuff.
Another market player is foreign companies. Based on statistics from the China Feed Industry Association, by the end of 2008, there were 153 feed companies registered in Hong Kong, Macao and Taiwan, and another 282 foreign feed companies operating in mainland China. Compared with their Chinese counterparts, foreign feed companies usually possess large-scale investment, are larger in scope, and have high-level technology; most foreign companies are strategic investors.
A source from a Chinese feed company told the EO, foreign feed companies frequently expand their business in China through two methods: one is by being sole-owners and establishing subsidiary companies nationwide, a method preferred by Cargill Inc. and CJ Feed; the other is by conducting mergers or buying shares of other companies, a method used by ABN and Nutreco.
According to reports, foreign feed giants, including Cargill Inc. and CJ Feed, have been exploring investment options in the interior of China for the past few years, including large-scale agricultural investment.
For example, the Chia Tai Group has established over 130 feed companies, accounting for around 20 percent of China's feed market. Other foreign feed giants, such as the ContiFeed Group, Purina and Cargill Inc., started establishing their position in China's feed industry long ago.
The main downstream sectors of the corn industry are the cultivation industry and the processing industry, which have also been targeted by foreign countries.
In March 2009, the Chia Tai Group started a project in the Pinggu Distrcit of Beijing to raise three million layer hens. With a total investment of 582 million yuan, they can produce one-fifth of the total egg consumption volume of Beijing. The Chia Tai Group has also signed a contract to invest in the cultivation of 1.5 million layer hens, 15 million chickens and 50,000 pigs in Xinjiang.
The recent increase in meat and egg prices has further promoted the increased demand for corn. Conversely, the price fluctuation of corn will directly influence the prices of the above products. Without a doubt, this trend will continue even after the Spring Festival.
Correction: The original translation of this article listed Continental Grain as one of the foreign feed groups who started establishing their position in China years ago. Continental Grain is now known as ContiGroup.
This article was edited by Rose Scobie