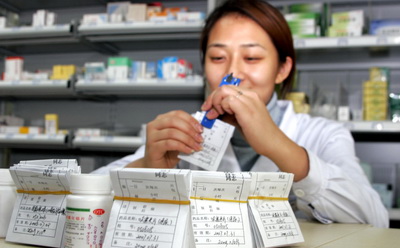 News, page 6
Issue 496, November 29
Translated by Tang Xiangyang
Original article: [Chinese]
The Shanghai government has delayed the publication of its list of "essential drugs", a list of drugs that the government will offer at low prices as part of a nationwide reform of drug pricing. The delay is said to be related to the lobbying of foreign pharmaceutical companies asking to be considered as potential suppliers of the drugs on the list.
Though Chen Yufei, vice manager of a Chinese medicine company, has succeeded in getting his company on the list, he is still worried due to news that foreign companies have been in negotiations with the Shanghai government for over a month.
"Until the list of suppliers is published, there is always a possibility for change," Chen said. He went on to say that currently 70 percent of drugs prescribed by doctors in first-class hospitals in China are manufactured by foreign companies. He is worried that the same would happen to the essential drugs market.
That might be possible. At the beginning of November, Chris Singer, executive vice president of the Pharmaceutical Research and Manufacturers of America (PhRMA) and President International of PhRMA, came to Beijing and tried to persuade the Chinese government to include foreign companies in the list of essential drug manufacturers. He said: "We are willing to contribute to the reform of China's healthcare system."
Rules of the Game
"It's difficult to predict the results of the negotiations between foreign pharmaceutical companies and the Shanghai government. But if they want to take part in and win the bidding, they may consider lowering their prices," said an insider from the Shanghai Municipal Health Bureau.
According to the new healthcare reform policies, the central government has listed 307 drugs as essential medicine and provincial governments may add some drugs based on their pharmacy practices. Drugs contained in the final list will be sold in healthcare institutions in counties, towns and communities at a shared low price and public health insurance will cover 60 percent of their sales cost. Essential drugs sold in second-level hospitals, will have around 50 percent their price paid by public health insurance and drugs sold in first-class hospitals, 30 percent.
Moreover, local governments have raised the ratio of healthcare agency expenses covered by public health insurance. For example, in Shanghai, the ratio is 70 percent, but those healthcare agencies have to promise their drugs are of a good quality and affordable.
"Foreign companies want to keep the prices of their drugs high because they are 'original research drugs' (ORDs). But the Shanghai Municipal Health Bureau does not agree; it has to consider the drug prices while making the list," the above source said. He went on to say that the National Development and Reform Commission was currently tackling the excessively high prices of drugs and it was unreasonable for foreign drug producers to sell those ORDs at high prices while their patent terms had already expired.
When Chen Yufei heard that the Shanghai Municipal Health Bureau and Social Security Bureau had excluded foreign companies on the initial list, he could not believe his ears because Jiangsu Province, a province near Shanghai, had recently just included dozens of foreign drugs in its list of essential drugs, cutting their prices by half.

"It's the local rules that will decide whether foreign companies will be covered," Chen said. Jiangsu Province evaluated all the drug producers by the prices of their products, their size, sales volume, and cases of adverse drug reactions.
Many international drug giants, including Merck Sharp & Dohme, Novartis, Johnson & Johnson, and Pfizer, have all lost to local medicine producers and did not make Jiangsu's list of essential drugs.
An anonymous source with the Jiangsu Social Security Bureau informed the EO that it was the sales volume, drug prices and cases of adverse drug reactions that led to the failure of foreign companies. Many international drug giants, including Merck Sharp & Dohme, Novartis and Johnson & Johnson, have been under investigation for bribery by the FDA in the United States and some of them have been punished with heavy fines. These foreign pharmaceutical companies have even had their products recalled many times.
"The purpose of establishing the list of essential drugs is to meet the demand of Chinese residents for essential drugs," the above source said. He said the central government and local governments all hope this "plot of land" will have a prosperous cycle of growth and encourage Chinese drug manufacturers to play a larger role.
The source said the essential drugs treat common diseases. Chinese drug companies, such as CSPC Pharmaceutical Group Limited (herein referred to as CSPC Pharma), Harbin Pharmaceutical Group Holding Co., Ltd, Yunnan Baiyao Group Co., Ltd, are able to manufacture drugs at a quality almost equal to foreign-manufactured medicine. Additionally, though their products are mainly copies, their prices are much cheaper than their foreign counterparts.
Despite these facts, Jiangsu Province still included some foreign companies in the list of suppliers of essential drugs. Chen Yufei has learned through some sources that the Shanghai government will also evaluate those medicine providers by their own standards that may be even stricter.
The Determination of Foreign Companies
As drugs manufactured by foreign companies have accounted for 70 percent of medicine prescribed by doctors in first-level* hospitals, Chinese medicine producers are forced to turn to second-level hospitals or even lower-level medical institutions. However, it seems foreign companies are determined to play a role in the essential drug market, even though that means they have to greatly lower their prices.
"On the one hand, 70 percent of the expenses of basic medical institutions will be paid by public health insurance. Even with a relatively low price, drug producers may still earn profits by selling large amounts of medicine," said a senior representative of Bayer Group.
Another aspect is, as China moves the focus of its reform of the country's healthcare system, the domestic market for medicinal drugs is expected to expand to 200 billion yuan within three years, a number which has attracted the attention of many foreign pharmaceutical companies.
Therefore, foreign pharmaceutical companies are determined to be included in the list of essential drugs. "What foreign companies keep stressing fiercely is that the Chinese government should pay attention to their global sales volume rather than their sales volume in China," Chen Yufei said. According to data provided by Multimedia Subsystem (IMS), the foreign pharmaceutical giants only account for 30 percent of China's pharmaceutical market.
Chen Yufei is frightened by foreign companies'determination, because "they are the best lobbyists."
"Even the cheapest antibiotics manufactured by foreign companies cost at least 20 yuan; some are even sold for 100 yuan. With abundant financial resources, foreign companies have left no place for Chinese-made medicine in the market," Chen Yufei said. He worried that as foreign companies entered China's essential drugs market, many cheap good quality Chinese drugs would get pushed out of the market again. Then, after a period of time, the prices of essential drugs would be increased and foreign companies would then account for a higher percentage of China's essential drugs market.
China has been witnessing an increasing market share of the world's pharmaceutical market, rising from 0.88 percent in 1978 to 8.255 percent in 2008. And the growth rate of China's medicine terminal market** has also reached 20 percent, far exceeding the average international growth rate of 4.8 percent. Sang Weiguo, president of the Chinese Pharmaceutical Association, has predicted that the sales volume of China's pharmaceutical market will reach 46 billion US Dollars in 2011, making it the world's third largest pharmaceutical market, following America and Japan.
* Chinese hospitals are classified into three levels of quality, with level 3 at the top and level 1 at the bottom.
** The term medicine terminals refer to the places where the consumers face the medicines directly, realize the exchange between currencies and medicines and the last step for the medicines to circulate from the manufacturers to the consumers.
This article was edited by Rose Scobie