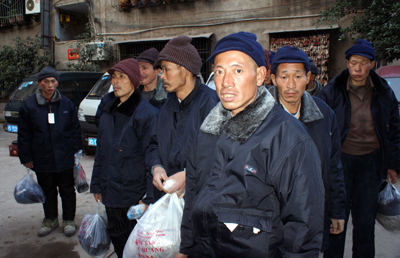 Issue No. 499, Dec 20, 2010, Cover
Translated by Guo Wei
Original Article: [Chinese]
On the afternoon of December 16, the Hunan Province Disabled Persons Federation vice chairman Ding Erzhong and his colleagues were waiting for the mentally disabled workers rescued from a construction materials factory in Xinjiang Province.
Police have uncovered that most of the mentally disabled workers that were abused were provided by the company Zi Qiang Dui in Xingfu Ba Village in Qu County. The mentally disabled workers employed by the construction materials factory in Xinjiang province did not get paid and were beaten by their employer.
According to reports, the provider of the workers was 46-year-old farmer Zeng Lingquan, the head of Zi Qiang Dui.
Director of the Qu County Public Security Bureau Liao Ruishan told the EO, Zeng Lingquan was arrested and charged with running an illegal business on December 13. His wife was also arrested on the same night.
During the police and media investigations, the 17 years of dismal history in Xingfu Ba village became exposed to the public.
Xingfu Ba Village
On December 15 our EO reporter arrived in Xingfu Ba Village, where Zi Qiang Dui had converted a primary school into a "training base".
When Zeng was arrested, there were still 16 mentally disabled, homeless people and beggars living at the training base. On December 13, the local government rescued them and transferred them to temporary assistance centers.
The training base now is deserted and in disarray, but iron railings and iron gates can still be seen around its balcony and exits, put in place in case the disabled tried to run away.
The EO met Zeng's mother Yu Bizhen in front of the training base, and Yu told us that she had been living by herself for many years, and did not really know what her son did; she knew there were 60 to 70 people living on the training base. She knew her son was arrested, but said she was too old to take care of her son's business.
In Zeng's office, there were three silk banners on the wall, which were all given for his "good deed" of adopting the disabled. Who would have believed that the adopted disabled men would meet the tragic destiny of being enslaved workers.
A nearby resident told the EO that Zi Qiang Dui had been in operation for seventeen years, and Zeng was generally admired by the local government.
Zeng Lingquan's Story
Zeng Lingquan was born on October 1st, 1964. Zeng was a pig farmer until 1993 when he "adopted" his first disabled worker. For the next 17 years, he and his wife ran Zi Qiang Dui and adopted disabled people. After basic training, the adopted disabled would be sent to work in various cities.
The first disabled worker he adopted was named Li Bing. Zeng met him at a farmer's market, and asked him to help with his pig business.
From then on, as his business expanded, he adopted more and more disabled workers. By 2000, Zeng already had 10 disabled men working for him, and he decided to change the name of his business from "Qu County Beggars' Adoption Team" to Zi Qiang Dui.
Zeng began sending his disabled adoptees to work in various cities in 1997.
Zeng and his company Zi Qiang Dui was generally appreciated by the local government and government officials often visited Zi Qiang Dui, bringing rice and noodles during festivals.
Zeng Lingquan was the boss of "Zi Qiang Dui" and his wife was the accountant. According to local government materials, the disabled men had been sent to work in cities all over China such as Shenzhen, Hunan, Guangdong, and Xinjiang.
Our reporter found a deposit reciept in Zeng's office which showed a 100,000 yuan deposit made January 27, 2007. The bank the slip was from a branch of the Agricultural Bank of China located in Beijng's Chaoyang District. We doubt the money was used to pay the salary of the disabled workers.
Our reporter gave the receipt to Luo Yuandong who is in charge of the Zeng's case for the Qu County Public Security Bureaur. Luo told the reporter two police officers have been sent to Beijing to rescue the disabled workers located there.
At the time his crimes were discovered, Zeng had just bought a new Honda car valued at 150 thousand yuan. The EO came across many people in the Xingfu Ba Village who were furious at Zeng's actions. Zeng's son who is currently enrolled in college said, "I tried to persuade them to keep away from disabled people, but they never listen to me."
Interview with Li Hongjie
Li Hongjie, one of victims, was "adopted" by Zi Qiang Dui; his hometown is in Hubei Province. Unlike many of the other mentally disabled workers, he could understand Mandarin and communicate with others.
According to Li's own words, Zeng Lingquan did not pay him for his work in 2009.
The EO had a fifteen minute long conversation with him, but unfortunately, we could not understand most of what he said.

EO: All of you were from Xingfu Ba Village, right?
Li: (nod)
EO: Were you from Zi Qiang Dui?
LI: Yes… (Hard to hear)
EO: Who provided you with your clothes?
Li: Here (Assistance Center)
EO: How long were you at Xingfu Ba Village?
Li: I got there in the first month of the lunar New Year and left after the sixth day of the first lunar month.
EO: What's your family name?
Li: Li.
EO: Do you know Zeng Lingquan?
Li: They are our managers.
EO: Do you have ID?
Li: I didn't bring ID when I got here. They made my ID, but never gave it to us.
EO: How much did you earn each month?
Li: I worked for them all the time and they had money, but they did not pay us. I thought they would pay us after all the jobs were done. We could do nothing, and they cheated us.
EO: What is your name?
Li: Li Hongjie. (Li wrote his name down)
EO: Where is your hometown?
Li: I am from Hubei Province, Xiaogan City, Luopo Village.
EO: How old are you?
LI: 43.
EO: Did your family send you here?
Li: We are. We are sent here by two managers. (Misunderstanding)
EO: No, I mean there. (Xingfu Ba Village)
Li: We used to live there, and then we got here. I do not know where the managers have gone. (Still misunderstanding)
EO: Did you live at Zi Qiang Dui? For how long?
Li: I did, but I left after the sixth day of the first lunar month. I went there after I came back from Xining.
EO: Where were you before you went to Zi Qiang Dui?
Li: Xining, working.
EO: What did you do in Xining?
Li: I was sent by Zi Qiang Dui to work there.
EO: How many people were sent there?
Li: Thirteen.
EO: Have you received your wages?
Li: They had manager take care of our life. I would ask them for my pay, but they just gave me my life.
EO: Did Zi Qiang Dui send you to Xining?
Li: Yes, a manager from Zi Qiang Dui.
EO: Have you called your family?
Li: We hope they give us some money. I can't go home unless I buy some gifts… (Indistinguishable)
EO: You hope to get some money to buy gifts?
Li: Yes, some money.
EO: Do you want to go home?
Li: Yes.
EO: You are from Luopo Village in Xiaogan City. How many people are in your family?
Li: I have five brothers and sisters, and two sisters are married.
EO: You are also married, aren't you? Where is your wife?
Li: My wife left me. I told her to just to take care of herself.
EO: Have you divorced with your wife?
Li: Official said the divorce. (Unclear response)
EO: When?
Li: 1990. They took me to the local government, asked us to divorce and we had to follow.
EO: Do you have kids?
LI: No. My marriage didn't last too long.
EO: How long were you in Xining?
Li: Ten months.
EO: What did you do there?
Li: Carry bricks, dig.
EO: How do you end up at Zi Qiang Dui?
Li: They had two persons in charge of catching people. Once you were caught, they would trap you in the base.
EO: Did you arrive in Qu County on the twenty-first day of the first lunar month?
Li: I was walking on the street and got caught by Zi Qiang Dui.
EO: So you got caught by Zi Qiang Dui on the twenty-first day of the first lunar month, and you were put in the training base?
Li: It was the twenty-first day of the first lunar month afterwards I was taken to a beggars shelter, but there several officers hit people, whipped people and made people kneel for long periods of time. We also became their accomplice and helped them to clobber the prisoners. Other people beat others more than I. I got hit by an official outside, who repeatedly hit me on the head. My head must be stupid because of that.
EO: When did you go to Xining?
Li: After 12 or 13 days, we took the train to Xining. We stayed in Xining for more than ten months. We helped to construct 6 or 7 buildings. We had 13 people divided into two groups.
It was very hard to interview Li. Not only was his accent obscure, but his logic was confused. After he told us his tragic story, he went outside, faced the camera and began singing loudly.
This article was edited by Rose Scobie