The Economic Observer has been publishing the EO Quarterly since 2008. The Autumn 2010 edition of the publication was included as a supplement to this past week's newspaper. Below you'll find an outline of the table of contents and brief introductions to some of the major articles.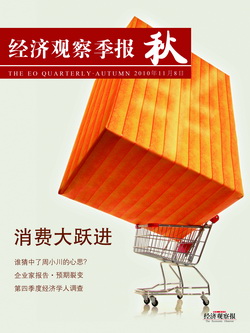 Table of Contents and Highlights

[COVER]
Domestic Consumption's "Great Leap Forward"
Cover story, page 10
Sun Jianfang (孙建芳)
The past few decades have seen significant gains in the material wealth and purchasing power of Chinese consumers. But these gains are only the beginning.
The newly issued draft for the 12th Five-year Plan includes ambitious plans to boost consumer spending. Consumer spending is currently accounts for approximately 35 percent of China's GDP, but is projected to reach 45 percent at the end of the next five year plan.
A key factor in raising consumer spending is household income. Incomes are on the rise, but the growth is not uniform. Individual incomes are growing faster in western parts of the country. Rural income is growing 4% faster than urban income growth.
But income growth will not necessarily transfer to increased consumer spending, especially since rural residents prefer to save.
Another key factor is social security spending. The government plans to investment significantly more in social programs to help low income families. The investment is aimed at both improving standards of living and lifting consumer confidence.
Finally, the consumer climate also influences consumer spending. Total retail sales of consumer goods is currently growing at around 17.5 percent per year, but this will likely climb to 21 percent over coming years according to the draft five year plan.
Consumer habits of urban and rural populations differ. Rural populations attach importance to education spending while urban populations prefer to spend on vacations, health, recreation and investments.

[REPORTS]
Who Predicted Zhou Xiaochuan's Surprise Interest Rate Hike?
Report, page 4
By Wang Shu, Wei Chengwu (王姝,韦承武)
Many second-half changes bewildered analysts. Hot topics included a possible double dip, the inflation, the macro-control policy, the currency war, capital flow, and the asset bubbles etc.
Analysts have done a good job predicting GDP increase. Economists agreed that domestic economic growth rate would slow.
No one, however, predicted the CPI increase. The CPI in the 3rd quarter was 3.5%, which is higher than most analytic companies. Shenyin & Wanguo Securities Research Institute believes that the high CPI is caused by excess liquidity. Most analysts also agree that exports will suffer a decline.
According to the stringent economic policies of the first three quarters, most analysts expect policies to relax in the fourth quarter.
None expected the interest hike, which though modest, appeared to contradict economic forecasts. Most investment banks acknowledge that the increase was aimed at controlling inflation, and there will be no need for additional increases.

More Reports:
Central Bank May Raise Interest Rates Again (page 6)

[QUARTERLY OBSERVATIONS]
The Effort to Block Hot Money (page 8)
Affordable Housing: A Turning Point for the Property Market (page 9)

[FEATURES]
Second and Third-Tier Cities: The Engines of Consumer Confidence (page 12)
The changing income and consumption habits of a vegetable farmer (page 13)
The Wealth Effect of Foxconn (page 14)
The Philosophy of Consumption: Spending Money to Make Money (page 15)
Changing and Unchanging Ways to Travel (page 16)
Henan's Migrant Workers Still Prefer to Save (page 17)
Western Farmers Spending Less and Less (page 18)
The Frightful Extravagance of Dongguan Bosses (page 19)
Pan Jiancheng: Rural Consumption Will Experience Rapid Growth (page 20)
Investment Opportunities in the Milk Industry(page 21)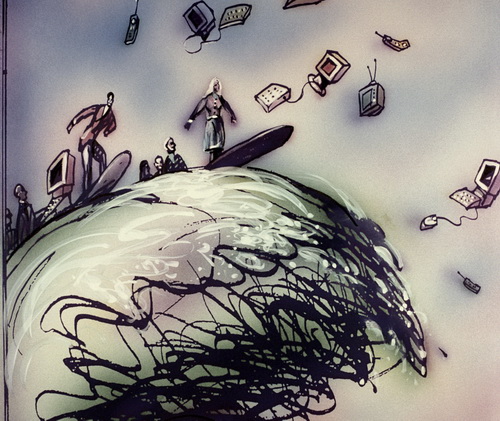 [THE EO'S SURVEY OF ENTREPRENEURS]
Economist's Forecasts for the Next Quarter
By Gai Hongda (盖虹达)
page 26
According to 3rd quarter reports, GDP reached 26.8 trillion, at a growth rate of 10.6% for the first 9 months of the year. The growth rate for the 3rd quarter was 9.6%. CPI rose 2.9% year on year.
The EO interviewed 24 CEOs from the technology and IT, consumer and retail, composite, manufacturing, and logistics sectors.
Entrepreneurs were asked to consider data from the 3rd quarter and the same time last year, and were surveyed regarding their expectations for the fourth quarter.

These are some of their responses: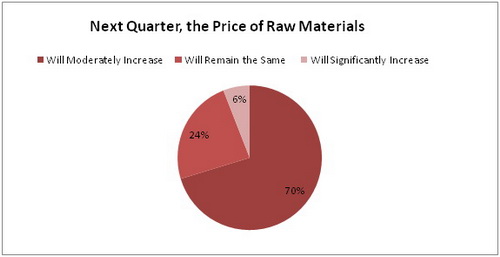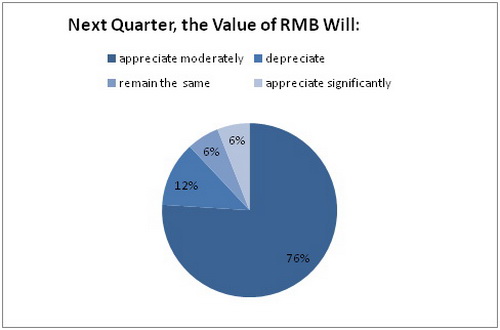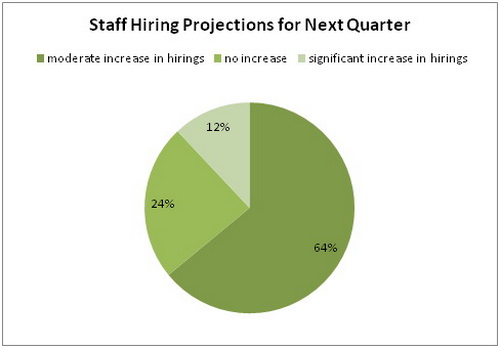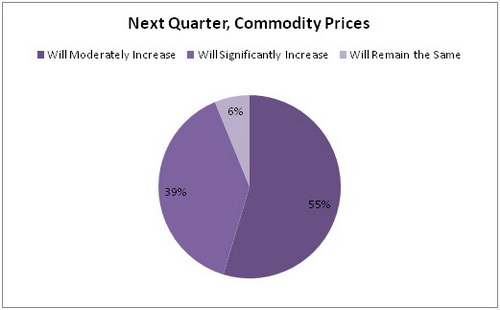 Of the entrepreneurs interviewed, 94% believed that the current rate of economic growth will continue through into the 4th quarter.

[CAPITAL FLOW]

Hot Money's Next Stop (page 29)
Fluctuations in the Price Copper (page 30)

[OBSERVATIONS]
Pan Xiangdong on resources and assets (page 32)
Dong Chen on "Rapid Growth and Cyclical Variations in the 4th Quarter" (page 33)
Ren Jianchang on Asset Allocation in a Balanced Global Economy (page 34)
Wan Zhiyong on Investment During Inflation and Economic Turmoil (page 35)

[4th QUARTER SURVEY OF ECONOMISTS]
By Kang Yi
Survey, page 36

Roughly 70 percent of the top surveyed economists expect the CPI to exceed the annual target of 3%, ranging from 3 to 4 percent.
Over half surveyed thought changes in monetary policy will be implemented in the fourth quarter.
Half also believe that government will tighten control over real estate policies.
Economic Tendencies:
72 percent of the economists surveyed believe that economic growth will slow in the 4th quarter to about 8 or 9 percent GDP growth.
Roughly 60 percent expected 2010 GDP growth to reach at 9 to 10 percent.
90 percent believe the economy will not experience a double dip.
53 percent of surveyed economists attributed the CPI rise to increasing domestic food prices.
55 percent of surveyed economists expect exports to maintain steady growth in the 4th quarter.
Potential Challenges and Problems:
The economists cited growth model reform as the biggest challenge facing China.
70 percent of surveyed experts forecasted further inflow of hot money.
40 percent believe that hot money is likely to further inflate property prices.

[COLUMNS]
Management of Capital Flow Must Accommodate Interest Rate Hikes, RMB appreciation (page 38)