Chunyun, 春运, refers to the Spring Festival travel season. During this year's 40 day travel period, 2.8 billion journeys are expected to take place.
How to Resolve "Spring Festival Anxiety"
On January 24, CCTV 13 aired a special report during which news anchor Bai Yansong expressed his views on Chunyun:
~People sacrifice their dignity for a chance to go home. They kneel in a long line to try to get train tickets. They don't dare to leave to go to the bathroom, nor do they expect a hot meal while they wait. They do not expect to be able to do things they do on an average day, because their biggest desire to go home; it outweighs their desire for dignity.
~If an alien were to witness the actions of China during the Spring Festival, they would be very confused and wonder: why does the most populous nation on earth migrate for 40 days?
~The reason large populations have to travel across large expanses of the country is due to the gap in wealth and the gap in opportunity. Beijing, Guandong, Zhejiang, and Shanghai are all rich. Because of the income gap, people from Beijing are not willing to become laborers, and those cities can only attract people from less wealthy areas. If the wealth gap was not so large, perhaps people from Sichuan could work in Chengdu, Mianyang, or Chongqing; maybe travel pressures during the Spring Festival wouldn't be so high. The lack of opportunities in less developed provinces also adds to the number of journeys taken during Chunyun. People leave home to find jobs in cities far away and have to travel long distances to return home every year.
Original Article: [Chinese]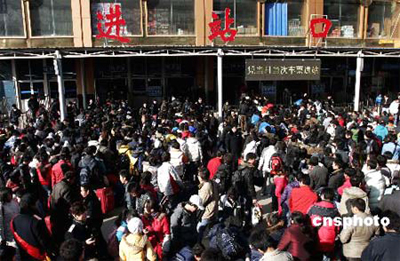 Will High Ticket Prices become the New Chunyun Difficulty?
This commentary originally appeared in Southern Metropolis Weekly
~It's rumored that the Ministry of Railways is planning to develop more high-speed railways to replace conventional lines to solve the difficulties faced by many trying to buy tickets during the Spring Festival period. However this plan gives rise to a new question: Will migrant workers be able to afford high-speed railway tickets?
~Bus and airline ticket prices are also rising. Though the government claims they are not raising prices but are simply adjusting ticket prices to a normal level, the fact is that it is becoming increasingly difficult and expensive for people to go home at the end of the year.
~If the government does not take measures to prevent price increases, the current difficulty of trying to obtain a ticket will be replaced with the new difficulty of trying to afford one.
Original Article: [Chinese]
Employing Migrant Workers Locally May Solve Spring Festival Travel Pressures
This commentary originally appeared in Da Zhong Daily News
~The difficulties of buying train tickets during Chunyun reflect one major social problem in China: The huge development gap between the western and central provinces and the eastern provinces, and the gap between rural areas and cities.
~Although many migrant workers have returned to their hometowns because of the national strategy of "promoting western and central provinces", still a large number of workers choose to work in other cities. The Chinese government has invested a large amount of money in improving rural infrastructure, but its efforts are far from enough to impel migrant workers to be locally employed.
~Accelerating urbanization and improving rural facilities are the only effective methods to solve Spring Festival transportation difficulties.
Original Article: [Chinese]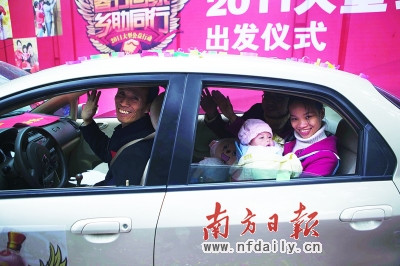 Rise in Vehicle Rentals Causes Safety Concerns
This commentary originally was published by China National Radio
~The difficulties in obtaining train tickets during Chunyun has forced many people to rent a vehicle to go home.
~College students and migrant workers also opt to rent a car or bus due to their relatively cheaper prices. However, convenient and cheap as it may be, renting a vehicle may bring about potential safety problems.
~Renting a vehicle from a travel agency ensures that the vehicle is of a certain quality and includes adequate insurance. But if the vehicle is rented from a private owner, passengers will be poorly protected on their way home.
Original Article: [Chinese]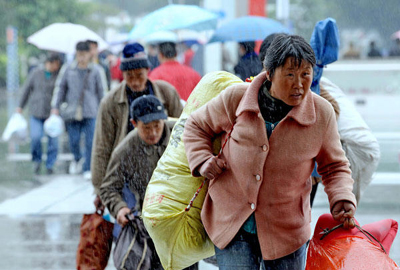 Income Gap Contributes to Chunyun Difficulties
The author if this commentary, Fu Weigang works at a think-tank
~While migrant workers are troubled by difficulties encountered during Chunyun, urban residents are busy arranging trips across the country or even going abroad.
~Why the differences? The current hukou system may serve as the first reason. It has prevented migrant workers from settling in the cities they work and does not allow them to relocate their families.
~Another reason is the huge income gap between rural residents and their urban peers. While the latter are able to travel abroad, the former can only try their best to buy a ticket home.
Original Article: [Chinese]
The Hard Road Home
This commentary was written by Xin Haiguang, a contributor to FT Chinese online, the former director of China News Weekly, the former vice-executive editor of CCIDnet, and a longtime affiliate of China Youth Media Inc. 信海光
~For many years, the biggest problem has been the number of tickets available. The price of tickets was never an issue until now.
~Why the change? We can identify two possible reasons. The first is that the average amount of disposable income available for buying train tickets has decreased, so tickets seem more expensive to buyers. The second reason is that ticket prices have gone up regularly, increasing the economic burden of "going home".
~China's GDP and tax income are rapidly growing. In China, people refer to the railway industry as the "the railway department", signifying that the industry has social and political responsibility, and not just an economic one. Travel in China is not only a form of consumer behavior. Railways should not only serve the needs of investors, but have a social obligation to the public.
Original Article: [Chinese]
Railways Under Pressure
This commentary written by Ren Junming was published in Huanghe News Online
~Chunyun signifies the difficulties of going home. Railways are in a terrible position because during the off season, they do not have enough passengers, but during peak seasons like the spring festival, and summer and winter vacations, they face the unbearable pressures of large crowds. The crowd has become a typical scene of Chunyun.
~We should increase the number of overnight trains, and they may be helpful in reducing the cost of fast trains and increase the number of real-name bookings."
Original Article: [Chinese]