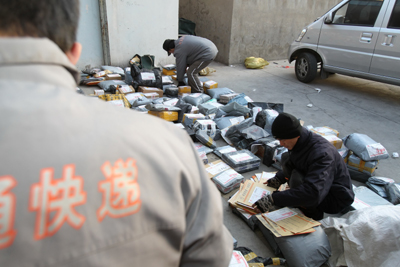 Corporation, page 27
Issue No.504, January 24, 2011
Translated by Guo Wei
Original article: [Chinese]
Mr. Huang, a thirty-year-old Beijing courier, has worked at SF Express for more than 4 years. He can earn 5,000 yuan a month on average. Compared to college graduates earning just 1000 or 2000 yuan a month in Beijing, Huang considers himself lucky.
Since 2007, couriers, or kuaidi 快递 employees, mainly in first tier cities, have seen an average annual salary increase of about 20 percent. The salary growth was the highest in 2010.
Salaries for express mail couriers are expected to continue to grow in 2011. The pay increases are changing not only the career expectancies of workers, but the cost structure of the express mail industry. As the Spring Festival approaches, new price increases have been announced.
Pay Raises
Mr. Huang works two residential districts in Beijing Xibahe; he collects and drops off express deliveries 50-60 times a day and earns 3 yuan per delivery. Because of the massive volume, he manages to earn four to five thousand yuan each month based purely on commission.
Mr. Huang's income has grown significantly in the past four years. In 2010, he earned 5000 yuan a month, 50 percent higher than his income in 2009. 2010 has been his best year by far.
SF Express is China's largest private express mail company. Its income was more than 11 billion yuan in 2010. As business expanded, labor costs rose. Currently, SF Express employs about 60,000 couriers. Human resource costs make up 50 percent of the company's total cost structure.
For domestic express mail, SF Express is known for speedy deliveries and high prices. Their couriers also earn more than other companies. China Express Consulting chief advisor Xu Yong says most couriers in China receive 0.3 yuan to 2 yuan per delivery, and a 500-1500 yuan base salary. They earn anywhere from 2000-4000 yuan per month. It is rare that anyone earns more than 5000 yuan a month.
Since 2007, salaries in the express mail industry have risen sharply, up more than 20 percent on average. This marks a dramatic increase from the 10 percent growth rate reported in previous years. In 2010, because of the labor shortage, labor costs in the industry have grown almost 30 percent, a new record in recent years.
Low recruitment rates and workers leaving the industry were the main causes of the cost increase. An insider with ShenTong Express says that the job is hard, and that younger workers born in the 80s and 90s are not willing to do the job. Meanwhile, policies encouraging migrant workers to return to their home provinces have been launched, further exacerbating the labor shortage. Luring new workers meant improving employee treatment and offering benefits.
But even with better conditions, express mail companies are facing a high turnover rate because the work is physically demanding and commands little respect. The labor supply cannot keep up with business expansion. Express companies are competing for employees with pay hikes, a move that is changing the industry.
A director with ZTO Express says that in the past, labor costs for private express companies could be as low as 10 percent of total operational costs. Now, labor costs make up at least 30 percent. In addition to wage increases for couriers, the salaries for managers have also increased, from 60,000 to 100,000 yuan a year to 200,000 to 500,000 a year.
Labor costs are continuing to increase rapidly in 2011. Expectations are that average pay increases will rise 20 percent in the coming year, and rise up to 100 percent in the next three years. Aside from the shortage of workers, government policies and social security policies have also contributed to rising labor costs.
Since January 1, the Beijing government ordered companies to provide insurance for medical treatment and work-related injuries along with pensions, and unemployment insurance, resulting in an average cost increase of 400 yuan or more per worker.
Who Benefits from the Cost Increases?
These days, demand doubles every year where Mr. Huang works. He cannot manage on his own. Xiao Li, a trainee, helps him out.
According to numbers released by the State Post Bureau, the express mail industry has grown at an annual rate of 22 percent during the 11th Five-year Plan Period. In 2010, the combined income of the industry was 57.3 billion yuan. Over 2.4 billion deliveries were completed by express mail, almost 3 times the number reported at the end of the 10th Five-year Plan.
Gong Tao, internal logistics director for Taobao Mall.com, an online shopping website, says that Taobao.com alone can make 600 to 700 thousand deliveries a day, and that the company expects to complete 2 million deliveries per day in 2011, the equivalent of the total number of daily deliveries made by SF Express or ShenTong Express. The capability of the express mail industry has been advancing for over ten years, but it is inadequate to meet the demands of economic development.
Commissions make up a large part of a courier's income. The more they deliver, the more they earn. Online rumors about couriers making over 10,000 yuan a month are clearly exceptions or exaggerations, but it is true that couriers earn well above the local average.
In Shanghai, a courier can earn up to six or seven thousand yuan a month, nearly equivalent to a white-collar salary.
One courier even bought his own car and hired his own employees to increase his job scale and commission.
But an insider from SF Express says if couriers take on too many deliveries, the quality of service may be affected. The company is taking measures to balance quality and quantity by taking internal measures like limiting the area a single courier is allowed to work.
Most employees of express mail companies are from rural areas and are unable to access the social security funds and unemployment insurance in their city of employment. Even when employees leave a company, they only receive 80 percent of their insurance premium, and are unable to retrieve the additional 20 percent paid by the company.
Since the margin of increase for delivery prices is small, higher incomes mean lower company profits. A director of ZTO Express says that labor cost increases far outstrip their profit increases. The profit margin for ZTO Express has now dropped to about 10 percent from 30 percent, which is roughly equal with transport logistics companies.
Costs of Transformation
The Spring Festival is fast approaching, and because of promotions from online retailers, the volume of express deliveries has ballooned. But many of the workers are hoping to go home for the holiday, making late January and early February a difficult time for express mail companies.
ZJX Express has encouraged their couriers to recruit people from their hometown to work for ZJX after the festival for a bonus. In 2011, ZJX Express aims to improve employee benefits and their work environment to ensure that workers do not leave the company.
A new round of price hikes has also been launched. On January 10th, ZTO Express raised its delivery prices: prices for standard size items will be raised 0.50-1.50 yuan per kilo, and 1.00-2.00 yuan per kilo for heavier items.
The EO has learned that companies like Yuantong Express are also planning price increases.
Raising prices is the main way to cope with high labor costs and labor shortages for express mail companies. Since last November, many domestic express mail companies began a series of price hikes. This was not limited to private express mail companies. Overland transport companies are also planning price increases to compensate for rising fuel costs.
Raising prices will transfer cost pressures and help express mail companies meet market demands.
For fear of losing business, the price increases will be small compared to the labor costs, and express companies will have to swallow smaller profits.
The express mail market is not standardized, and prices do not cover the real costs. China Express Mail Service Chief Consultant Xu Yong says current prices do not cover employee insurance and other benefits and are therefore lower than the real costs.
Xu Yong believes that this is bad for everyone. The company will not be able to recruit new staff, and the service quality will suffer. If companies do not have enough capital, affordable express mail will become a thing of the past.
Xu believes that prices have to increase by 50 percent or more to meet costs and ensure quality service.
This article was edited by Ruoji Tang and Rose Scobie