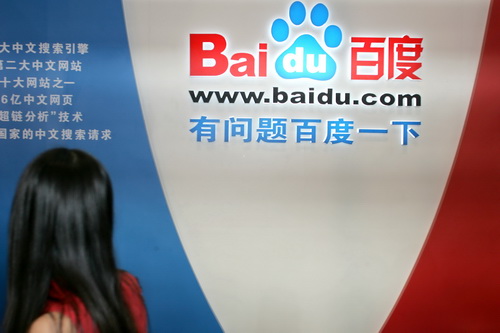 Issue 508, Corporation, page 28
February 28, 2011
Translated by Guo Wei
Original article: [Chinese]

"Won't do what we say? Let's get rid of him!"
What sounds like a line from a gangster film, has become increasingly overheard in the dramatic world of China's internet companies over recent years, with the character most often delivering the line, no other than the country's dominant online search engine Baidu.
If you refuse to buy Baidu's keywords or reduce the amount you devote to bidding for a Baidu ranking, than it's possible that your site will be blocked, that you rankings will plummet and that your site will "disappear" from the online world.
This can have serious consequences as all online business depends on traffic and once web users are no longer able to find you, it's all over.
The worst thing you can tell an online business these days is not "I hacked your site" or "we have your passwords," but "let's get rid of you."
Hudong.com (互动百科), the largest Chinese-language wikipedia-style knowledge sharing site, is facing just such a prospect of being "disappered."
On Feb 22, the company officically submitted a request for an investigation into the anti-monopoly behavior of Baidu Inc. to the State Administration for Industry and Commerce.
Hudong.com says that Baidu makes use of its dominant market position to alter search results so that users are unable to find results featuring Hudong.com.
Hudong.com has asked that the ministry order Baidu to immediately cease abusing its market position and to impose a 790 million yuan fine on the company.
Pan Haidong, chairman and chief executive officer of Hudong.com, hopes that Baidu will stop using these kind of underhand measures against Hudong.com and other Internet companies and simply allow the search engine to function as an impartial social device, reducing the manipulation of search results.
But reducing the amount of interference in determining search results would represent a huge threat to Baidu, as the company's business model is based on the manipulation of search results.

Hudong.com, which was founded in 2005, is often referred to as China's Wikipedia.
The website currently boasts more than 5 million entries that have been created by over 3 million users. Hudong.com claims that as a result of its competition with Baidu (Baidu unveiled a similar user-generated encyclopedic site in 2006 - 百度百科 Baidu Baike), the search engine has abused its dominant position and manipulated search results featuring hudong.com content.

What really worries Pan Haidong is, if the situation deteriorates, it could have a serious affect on their business operations.
Currently, only 10 percent of Hudong.com visitors are directed to the site via Baidu, the large majority of the remaining traffic comes from Google. These statistics seem to conflict with Baidu's dominance of the Chinese search market.
Why does Baidu manipulate search results? Baidu says that the quality of their user's experience is everything in terms of the continued popularity of their search engine.
If some one using Baidu can't find the information they're looking for, this would hurt the future development of the site. Even if the user was searching for something that didn't exist, they would still blame Baidu for not being able to find it. Therefore, Baidu does its best to satify users' needs and attempts to make sure that users find the results they want.
But aside from minimizing the time that their users spend searching for information they want, Baidu also has another purpose, which is to profit from their unique market position.
Of course, there is an even more extreme theory - that claims that one day Baidu will seek to invest or hold stakes in some of the companies that have benefited from the search engine's support.
According to online convention, the top result of any search will be clicked on by over 50 percent of users.
In this way Baidu possesses the a kind of utlimate "Whoever I choose to recommend, they will succeed" power.
Those results that appear further down the list are hardly ever clicked, while those that don't even appear are likely to be gradually marginalized.

Baidu's current main source of income is through a bidding plaform that allows customers to compete for an advertising position on the results page that Baidu users see when they search for a particular term and doesn't really have an impact on the nature of the search results themselves.
But this doesn't mean that the search results themselves don't have any commercial value.
Firstly, Baidu is always trying to promote its own products and features via the manipulation of search results, so that Baidu Post Bar (百度贴吧), Baidu Knows (百度知道), Baidu Archive (百度文库) will often show up in search results.
It appears that Baidu is thinking along the lines of, we already have this demand for search results, why not lead the traffic to our own websites.
It's also the case that the more attention that these various Baidu platforms attract, the more revenue they can raise from advertising.
This is why Baidu has been trying to enter the content market, buying stakes or entering joint ventures with various video and e-commerce sites. Baidu's goal is to direct users to their own sites and content and keep them there.
Another upside for Baidu is that through the manipulation of search results, the company find many willing "business partners."

Since 2010, Baidu has been attempting to find a way to profit from this manipulation of results, and has established an Open Application Platform that will allow Baidu users to benefit from the applications that developers are either willing to share with others or to sell - with Baidu getting a cut of the earnings.
According to iReasarch data, in the fourth quarter of 2010, Baidu's share of the search market had reached 83.6 percent.
Now, almost no websites dares to cross Baidu, as more than 30 percent, perhaps even 40 percent, of their traffic is directed to the site via Baidu, this traffic also helps to attract the ads that some small sites depend on for their survival.
This is why B2C e-commerce companies have had a hard time this year, as the amount they spend on advertising and promotion has skyrocketed, some of the owners of these e-commerce sites go as far as to say they've been "ripped off" by the huge rise in the price of keyword advertising by search engines.
As for Hudong.com, it doesn't even have the chance to come back into the Baidu fold and submit, as Baidu already runs a similar site that is in competition with them.
According to article 19 of China's anti-monopoly law, "if an enterprise has control of more than half the market share in any one sector, we can say that this enterprise has a dominant market position."
According to the lawyer who filed the application for an investigation on behalf of Hudong.com, Xun Dasheng, the antitrust law states "an industry player that possesses a dominant market position can not abuse its market dominance to eliminate or restrict competition."
Baidu manipulates search results involving Hudong entries so that they appear lower than they naturally would, this appears to be using the dominant position of the search engine to block or restrict competition with another of the company's products and Baidu's behaviour violates article 6 of the anti monopoly law.
Of course, taking on the formidable force of Baidu, no-one yet knows if Hudong.com will be able to win the support of government in forcing Baidu to once again return to producing real unmanipulated search results.

This article was edited by Paul Pennay
Correction: A few minor changes have been made to the text of this article after it was originally posted. We've also links to the relevant sites.