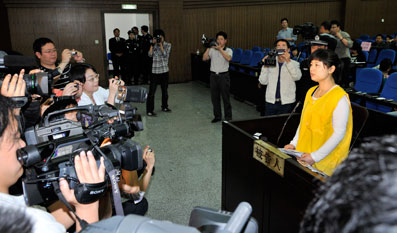 China's editorial pages and online forums have been buzzing with discussions about capital punishment in recent weeks.
Controversy surrounding two ongoing high-profile cases have served as the focus for the debates.
Though the case of Wu Ying (吴英), a young woman who is currently waiting the decision of judges from Zhejiang's Higher People's Court in relation to her appeal against a death sentence handed down by an intermediate court in December 2009 on charges of fund-raising fraud, is not quite as high-profile as the case of Yao Jiaxin, a music student from Xi'an who stabbed a cyclist that he had knocked down in his car for fear she would take down his license plate number, the case of the 30-year old business woman, who for a brief period was ranked by the Hunrun Report as one of China's richest women, has attracted plenty of debate in the country's financial press and other serious media outlets due to its implications for the widespread but illegal practice of raising funds outside the official financial system.
Arrested in February 2007, Ms. Wu was held for two years before she faced charges of embezzling nearly 390 million yuan from 11 people in what the China Daily described as "one of the country's biggest financial frauds committed by a woman."
Initially, Wu had been charged with illegal fundraising, which carried a maximum penalty of 15 years in prison and would've been heard at a district-level court. But as investigations proceeded, the charges were altered so that when the case came to trial, Ms. Wu was accused of fund-raising fraud (集资诈骗罪).
Despite Wu's denials that she had cheated anyone and that all the money she had borrowed had been invested rather than used for personal use, on 18 Dec 2009, the Jinhua City Intermediate People's Court found her guilty, sentenced her to death, stripped her of her political rights for life and confiscated all her possessions.
Just as the 10-day period for appealing her sentence was about to expire, Wu Ying decided to lodge an appeal.
On Apr 7 judges from the Zhejiang Higher People's Court presided over an appeal hearing took place in the No. 2 courtroom of Jinhua City Intermediate Court.
It's been reported that Ms. Wu switched her plea on the lesser charge of "illegally collecting deposits from the public" 非法吸收公众存款罪 to guilty. The high court is yet to rule on the the appeal.

Below we've collected some select translations from a variety of commentaries and editorials published in influential Chinese media outlets.

In an editorial published by the Southern Metropolis Daily (南方都市报) on Apr 9, the paper's editors argued that given the prevalence of private fund raising in China, it doesn't make sense to impose such a severe sentence on Wu Ying:

"If Wu Ying is sentenced to death, how should we deal with all those other people who are illegally accepting deposits and lending out at high rates? With at least one trillion yuan in funds being used for private financing in China, how many bank employees, guarantors and even public servants would be forced to go to prison?"
The editorial continues:
"the reason that private financing continues to exist in China is that the country's registered financial institutions have never been able to provide financing at the most basic level."
The editorial concludes by saying:
"Only by considering private finance objectively and establishing a fair system, will China's financial sector be able to develop in a healthy manner. One mistake
shouldn't cover up another, even if we severly punish Wu Ying, China's financial sector will not make any progress."
Original Article:
[
Chinese
]

Wang Shichuan (王石川), a media commentator, published a commentary in the China Youth Daily (中国青年报) on April 14 that questioned why so many officials wanted Wu Ying to be sentenced to death

Wang explained how according to members of the accused's family, Wu Ying wrote many letters that informed on others after she was sentenced, and many officials have been punished or prosecuted thanks to information that she provided in these letters. Wang asked if maybe the reason that some people want her dead is that they don't want her writing any more letters.
He went on:

"The case has unleashed a debate about illegal fundraising and private financing, in Zhejiang this kind of lending and borrowing is very common. As other commnetators have mentioned, the existence of these unofficial financing avenues are the tragic result of the systemic problems that plague the country's financial system.
Therefore, while we should continue to investigate the dozens of officials implicated in the case, we should be even more motivated to reform the financial sector
in order to avoid the appearance of another Wu Ying."
Original Article: [Chinese]


Shao Jian (邵建), a professor with the Nanjing Xiaozhuang College (南京晓庄学院), wrote an article expressing his doubts about the Wu Ying case in the Southern Metropolis Daily on Apr 11. The professor, after first acknowledging that he's no financial or legal expert, wonders why the court chose to sentence her to death after the first trial, since the maximum punishment for the charge of fund-raising fraud appears to be that a life sentence.
He also goes on to ask if she was actually charged with the most appropriate crime:

"Based on current Criminal Law, Wu Ying is definitely guilty. There are two crimes that could be accused of, one is article 192 of the criminal law, the crime of
fundraising fraud,the other is article 176 of the criminal law of "damaging financial management procedures"(commonly known as illegally financing).
The maximum sentence of the second crime is only ten years. Obviously the judge, considering the severity of the case, has referred to the first. However, what's
strange is that, if it is a fraud concerning hundreds of millions of yuan, there should be a lot of victims, just like all the petitioners who emerge when local
governments have a dispute over land. The fact that no such widespread appeals for compensation appeared in the media leads me to conclude that Wu Ying should not
be charged with breaking article 192 of the criminal law code but rather article 176. However, due to the amounts involved, the prosecutor felt obligated to go
beyond the sentencing constraints of article 176 and purse Wu Ying on the other charges."
Original Article: [Chinese]


Writing for the National Business Daily (每日经济新闻), Deng Yuwen (邓聿文), a legal scholar who works as a deputy copy editor of the Central Party School's Study Times (学习时报), sees China's "illegal fund-raising" laws as the core problem.
He writes:

"In this case, Wu Ying's activities clearly broke the law regarding private fundraising. But the problem is that the law about illegal fundraising is itself
controversial and increasinglycriticized by society."

"Because the 'crime' of 'illegal fundraising' as defined by the law not only sets a strict ceiling for private enterprises, but stunts their development and the
development of the entire private financial sector, the law is a direct denial of society's needs."

"These laws are meant to regulate finance organizations that have a substantial impact on society to safeguard financial stability and the nation's financial
interest, but they are also meant to reduce the number of legal restrictions necessary to regulate private enterprises and allow greater financial and
entrepreneurial freedom."

"Wu Ying's case will greatly impact on the future of private lending in Zhejiang. Whether Wu Ying's case will provide an opening to discuss the existence of underground
banking and the hazy legal position of private fundraising, we'll just have to wait see."
Original Article:
[
Chinese
]
Finally, in a commentary in
Time-Weekly (
时代周刊
)
,
Yu Deqing
(于德清) questions the motive behind the sentencing:
"Concerning the Wu Ying case, Associate Professor of Law at Hong Kong University Yu Guanghua said, 'Considering the relationship between economics and law, and the impact of criminal judgments on civil affairs, the sentence is supposed to send a message. It is mean to be a deterrent.' It's true that laws must have power as
deterrents of criminal behavior, or else they have no authority. But laws must also be just, especially in punishment. Sentences cannot be unreasonable. We cannot
apply the death sentence for the sole purpose of deterring crime."
Original Article:
[
Chinese
]

Links and Sources
The Economist: When fund-raising is a crime
Renwu Zhoukan: 揭秘吴英暴富神话:很少向人透露资金来源 (Chinese)
China Daily: Ex-rich list woman in $57m fraud


This article was edited by Paul Pennay