Nation, Page 9
July 5, 2011
Translated by Song Chunling
Original article: [Chinese link already removed from site]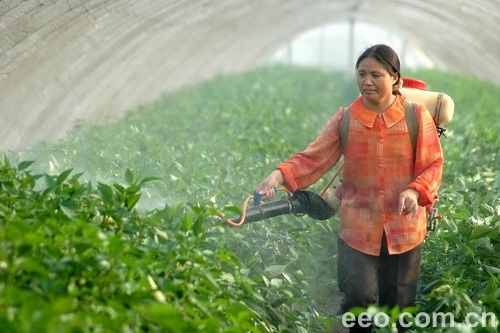 China has less than a tenth of the world's agricultural land, but has to feed a fifth of the world's population. Farmers met that challenge by piling fields with fertilizer and dousing them in pesticides. Now, they're dealing with contaminated crops and dried out soil.
The problem is most acute in Shandong province around the city of Shouguang(寿光) China's so-called"vegetable basket" (菜篮子), which supplies many of the tomatoes, cucumbers and egg plant consumed in Beijing
The Shouguang Model
For the last twenty years, farmers in the region have been erecting greenhouses with cellophane roofs so that they can gsrow vegetables throughout the year, and this "Shouguang Model" has been replicated across the country.
Growing vegetables under cellophane provides two harvests a year, but has also encouraged farmers to use more and more pesticides and fertilizer; Shouguang farmers use four times the national average.
The groundwater is already polluted, the soil is hardening, the number of insects is increasing and output is declining. Some greenhouses were deserted after the land became infertile and experts have been calling on farmers to change their methods.
One village has tried to deal with the problem is Sanyuanzhu (三元朱村), which had been one of the first to use greenhouses. The villagers started plantning eco-compliant vegetables (无公害蔬菜) in 2000, but the soil contained residue from pesticide and yields were declining. They had to bring in earth from Jilin Province at a 165 yuan a cubic meter.
"More fertilizer, more crops"
Liu Fu(刘福)is an experienced vegetable farmer in Luocheng county(洛城镇), Shouguang. He started planting cucumbers in greenhouses in 1998 and now has three greenhouses.
He says there weren't many insects in the first few years, and yields were greatly enhanced with a little urea fertilizer. He came to believe the mantra that "more fertilizer means more crops". Originally, he was using 20 or 30 kilograms each season, now he is using hundreds. He now spends more than 60 percent of farming costs on fertilizer.
At first, Liu could farm 30 tons of cucumbers a year, generating 70,000 yuan to 80,000 yuan - eight or nine times more than in the early 1990s.
However Liu's mantra doesn't work any more – he's using more fertilizer but output is falling and so is quality. "Outbreaks of insects and pests are three or four times more frequent [….] in winter, I have to use pesticide every five days, and once every two or three days […]when the vegetables have problems," he adds.
Overloading the land
"The root cause is accelerated growth," says Cai Yingming, an expert in fruit and vegetable cultivation. Greenhouse cultivation usually takes more fertilizers than growing crops in the open, while the mistaken idea that "more fertilizers means more crops" compounds the problem.
Liu spent 80, 000 yuan to build the greenhouses. Like him, most vegetable farmers use more fertilizers to achieve larger yields so they can pay for the cellophane-covered greenhouses that they've built.
From 1980 to 2008, less land was cultivated, but grain production grew by 50 per cent. Fertilizer consumption tripled, reaching 150 billion yuan a year, and was used far less efficiently than in developed countries.
According to research by professor Zhang Fusuo (张福锁), 5,000 tons of fertilizers were used in China in 2010. Fertilizers are overused for fruit trees, vegetables, wheat, corns, rice and especially "greenhouse vegetables".
In many villages near Shouguang, shallow groundwater is already not drinkable – with nitrate levels more than twice the norm - and wells sometime have to be dug to a depths of 200 meters.
A Breeding Ground for Pests
According to Song Jinyong(宋金勇), a doctor in the land hospital, the number of pests in greenhouses are more than three times the levels on agricultural land.
Many agricultural institutes have sprung up across Shouguang to develop new pesticides to cope with the new insects that thrive in the high temperatures, humidity and wind-shielded environment of the greenhouses.
We Need an Urgent Change
"There is very little agricultural training in villages and counties. Therefore most farmers in China wrongly believe that 'more fertilizers means more output," says Cao Kai(曹凯), director of the China Agro-technological Extension Association and land hospital in Shouguang.
Although farmers don't fully understand the problems with growing crops in greenhouses, they now have to search for solutions as the quality of their crops declines.
Not all farmers can afford to buy in black soil from northeast China, and some vegetable farmers experimenting with new methods such as swapping soil from nearby wheat fields and planting different types of vegetables. Others are using organic fertilizers such as chicken and pig manure.