By Wang Fang and Li Li
Corporation, page25,
Issue No.526, July 04, 2011
Translated by Zhu Na
Original article: [Chinese]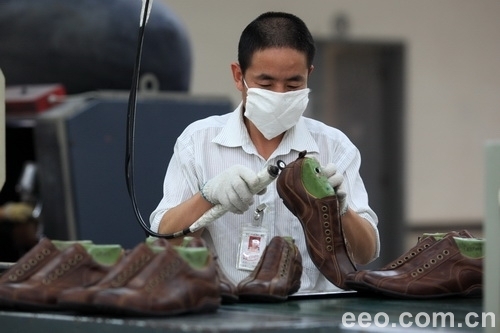 Sun Yafei, chief executive of online luxury retailer Fifth Avenue Globe Inc., constantly gets an embarrassing question from her customers – where are the branded goods manufactured?
Take Swarovski for example - the brand is from Wattens, a small town in Italy, but not many of its products are made there. After discovering the 'Made in China' mark on her newly-bought ornament, one Chinese customer asked Sun for a refund. Sun tried to explain to her that the majority of Swarovski's products were made in Southeast Asia, but the dismayed customer insisted on exchanging hers for one that was made in Thailand – anywhere was better than China.
Good enough for foreigners
Miuccia Prada, the designer whose grandfather founded the famous fashion house, once said that her favorite shoes were made by the Chinese.
International brands have been manufacturing on the east coast of China since the 1980s, and areas such as Jiangsu, Zhejiang and Guangdong now have thousands of skilled workers using the latest technology. Sun couldn't understand why demanding brands like Prada could accept Chinese made goods, but the Chinese themselves couldn't?
When her company wanted to establish its own clothing brand, her team spent a long time looking for the right Chinese manufacturer. She visited factories that made goods for the likes of Burberry and Armani.
One typical factory in the city of Xiamen (厦门) worked for 20 well-known international brands and only had only 100 employees. The workshops were dust free, staff wore gloves and masks and each process had its own quality checkpoint. Items with the slightest scratch were sent back. International brands set very high standards for Chinese manufacturers – Prada, for example, regularly inspects the workshops where its products are made.
Some of the manufactures that make goods for international brands also design products.
Sun has also visited workshops in Italy and was shocked to see how few people were involved in production – five people or so sitting around the workbench with a few sewing machines and a pile of cloth. When one person finished a process, he would pass it on to a colleague. Such basic workshops serve brands like Gucci.
Ahead of Italians
Yang Yelin, a member of the Guangdong Chamber of Commerce who has visited workshops in Asia and Europe, says that in some ways the Chinese ones are superior. Sun says that Italian factories that she has visited resemble Chinese ones from 50 years ago.
Fearful of anti-dumping lawsuits, some Chinese entrepreneurs have set up factories in Italy, but have chosen to employ Chinese-born workers.
Italian textile workers earn up to 35 euros an hour, with generous benefits and a job for life. Their employers can't afford too many, so they have to outsource their orders to other factories including those with Chinese manufacturers in Italy.
China's Gucci
Goods made in those factories still have the "Made in Italy" label, but in fact they're "Made in Italy by Chinese". Yang argues that Chinese brands suffer mainly because they lack the long history of their better known European and American peers.
Shi Jihong, the chairman of luggage maker Xinxiu Group Co. Ltd, estimates that at least 19 out of every 20 international brand handbags are made in China.
Paul Melkebeke, a local executive at Samsonite, one of Xinxiu's customers, said that Chinese suppliers and able to adapt to customer's demands much more quickly than rivals elsewhere in the world.
There are three production base for luggage and bag manufacturing in China - Pinghu in Zhejiang, Siling (四灵) in Guangdong and Baigou(白沟) in Hebei - Shi believes that China will eventually have its own high-end and luxury brands.