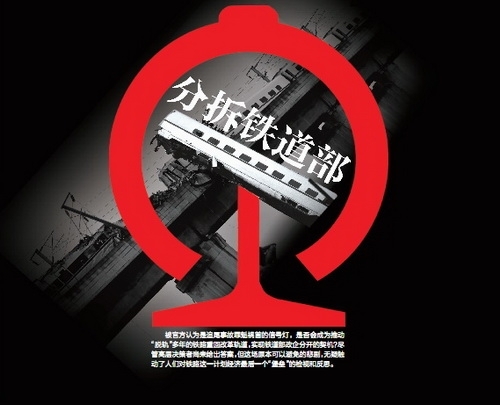 Editorial: Letter to Yiyi - When You've Grown Up
News, cover
Yiyi, when you've grown up and started to understand this world, how should we explain to you everything that happened on July 23, 2011? That train that would never arrive, it took away 40 lives that loved and were loved, including your parents. When you're grown, will we and this country we live in be able to honestly tell you about all the love and suffering, anger and doubts around us?
How do we tell you that, even as they'd declared there were no more signs of life in the wreckage and had started cleaning up the site, you were still there struggling in the crushed darkness. Do we tell you that, with the truth still far off in the distance, they buried the engine; that before any conclusions had been reached, the line that had given birth to this tragedy was declared open. They called your survival a miracle, but how do we explain it to you: When respect for life had been trampled, caring forgotten, responsibility cast aside, the fact that you fought to survive – what kind of miracle is this?
Yiyi, one day you might pass by this place again. When the train whistle once again startles this silent land, will we reluctantly tell you about all the hypocrisy, arrogance, rashness and cruelty behind this tragic story?
Yiyi, we should tell you the truth, our country has been this way before. We want to tell you, those adults you see have wondered countless times whether in this era we've forgotten love, caring and basic trust. We're full of complaints, but our anger is only that. We believe without doubt that life will continue on this way.
…
Yiyi, how do we explain to you that, at that time, there were two completely different images of China: one blossoming in the midst of the people, the other hidden in officialdom. We hope that when you've grown up and understand things, when you've learned to see with your own eyes, think with your own mind and encounter this world through your own actions, you will find this has changed.
…
Now, Yiyi, on behalf of you lying there on that sickbed and those lives buried in the ground, people are refusing to give up on finding the truth. Truth cannot be buried – no one plans to give up the inquiry. We know that anything we take lightly today might lead to our rights being violated and our lives being ignored again tomorrow. We reap what we sow. If every fact we seek becomes a secret, we'll never know the truth. If we keep giving up half way in our pursuit of dignity, we will never be treated with dignity.
To live – to live with dignity – is that rainbow you get to see only after suffering through the wind and the rain. Yiyi, when you're older maybe you'll realize that dark night of July 23 was when things started to change. After that day, we won't simply complain, but instead learn how to advocate and act. We understand that we have rights, we respect these rights and are will spare no effort to protect them.
Yiyi, if we're going to promise you and other regular children like you a future, the journey must start from the wreckage of the train collision. That is the best way to remember your parents, and all the others who perished there.
This translation first appeared on the Wall Street Journal's China Real Time Blog.
Original article: [Chinese]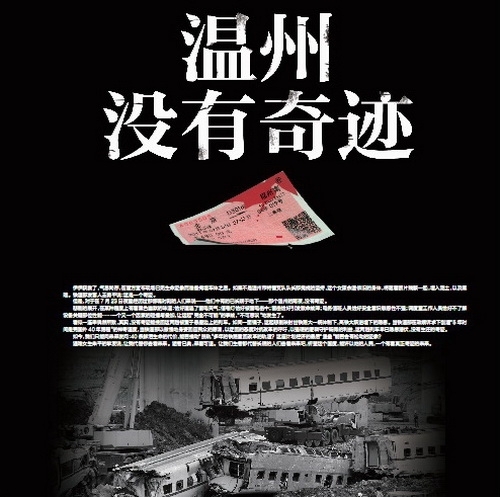 Rail Ministry's Aversion to Reform
Special Rail Crash Supplement, page 9-10
~ The Railways Ministry performs many of the functions of a company.
~ In 2008, it was expected that the Ministry of Railways would come under control of the Ministry of Transport, which would have required the business operations to be separated out from its administrative functions.
~ However, those expectations were never realized, since, according to one railways official, the plan was opposed by Liu Zhijun, who was then Minister of Railways and believed the proposal would complicate rail financing, construction and operation.
~ The Railways Ministry's current structure causes many problems – for example the Shanghai Railway Bureau only spent 25 days to test its signaling system whereas foreign countries would have spent at least three months.
~ Before he was dismissed for corruption, Liu Zhijun accelerated rail construction. For example the Beijing-Shanghai High-Speed Railway which just opened, had been slated to open in 2015. As for speed, Chinese trains only took five years to leap from 100 km per hour to 200 km per hour.
~ Sheng Guangzu, the present chief of the Railways Ministry, had been planning to decentralize power to provinces. This step could have been a step towards separating out the ministry's business functions, but has now been abandoned in order to focus on safety in the aftermath of last week's crash.
Original article: [Chinese]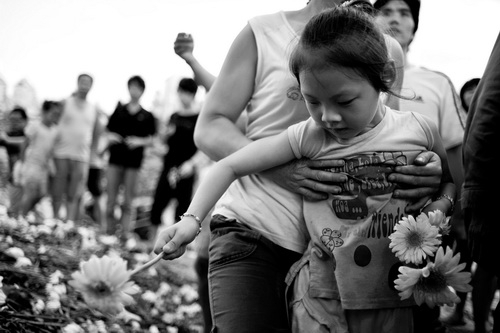 Seven Days in Wenzhou
Special Rail Crash Supplement, page 10
~ Many people in China believe that seven days after a person has died, they return to see their relatives. This diary chronicles the seven days from July 23 to July 28.
Jul 23
Train D301 crashes into D3115 outside Wenzhou.
Jul 24
An off duty rescue worker pulls a two-year old girl from the wreckage. He had ignored the Ministry of Railway's decision to call of the rescue operation.
Jul 25
Relatives of the victims publicly condemn the Ministry of Railway's response to the disaster.
Jul 26
The family of one of the victims agrees to accept compensation of 500,000, in the first such settlement with the government.
Jul 27
The deputy director of the Shanghai Railway Bureau holds private negotiations with victims' families. No agreement is reached.
Jul 28
Premier Wen Jiabao holds a press conference on the site of the accident.
Jul 29
A memorial service is held to greet the returning souls of the victims.
Original article: [Chinese]

Zhu Ping, I Will See the Future for You
Special Rail Crash Supplement, page 11
A friend of Zhu Ping, a college girl who died in the train crash, promises to see the future on her behalf. The writer, who is also a Wenzhou local like Zhu, recalls how much she enjoyed her life. She studied hard, competed in chess tournaments and liked riding bumper cars. The writer describes his agony at losing such a good friend.
Original article: [Chinese]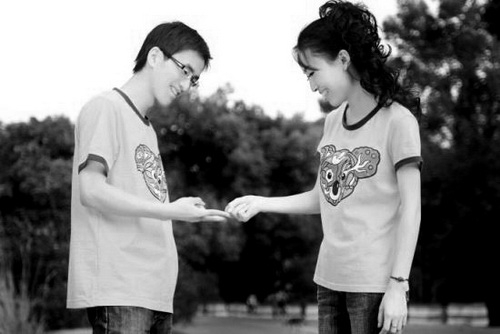 Yiyi's Parents
Special Rail Crash Supplement, page 11
The parents of two-year-old girl, Yiyi, the last survivor pulled from the wreck, both died in the accident. Yiyi's father was a popular Chinese teacher in a Wenzhou high school. According to his colleagues, he was a loving father who filled his mobile phone with pictures of his daughter. Yiyi's mother was also a teacher who had just started writing microblogs on behalf of her daughter. The last one she wrote, only an hour before her death was "You are such a spoiled child, my baby. When will you grow up and be a good girl?" The family was riding on D301 on the way back from visiting Yiyi's grandmother in Hangzhou.
Original article: [Chinese]
Three Lives
Special Rail Crash Supplement, page 11
This article is dedicated to three young women on D301 who lost their lives in the train crash.
~ 22-year-old Italian girl Assunta Liguori was riding D301 with her Italian-Chinese boyfriend during her first visit to China. She was fascinated by Chinese culture and planned to know more about this country during her summer vacation. When the reporter wrote this article, her boyfriend who was receiving treatment in the hospital had not been told about her death.
~ Xu Peipei, a cleaner on the train, had just been transferred to work on D301 because of her excellent performance on her job.
~ Mu Linan, a 23-year-old serviceperson on D301, had barely been married for four months. She felt very guilty about not being able to spend much time with her husband because of her busy work.
Original article: [Chinese]

Six Questions
Special Rail Crash Supplement, page 12

Question 1: Why wasn't it possible to pass on the message that D3115 had lost power?
Official response: There were problems with the design of the signal equipment, when lightning struck the train, the signals failed to turn red. Poorly trained staff at Wenzhou South Station didn't notice the error. They were using new equipment that they didn't fully understand, according to An lusheng (安路生), Director of Shanghai Railway Bureau, speaking at the "7.23" Yong-Wen Line(甬温线) train accident investigation meeting on July 28.
Question 2: What is the final death toll? China Railways knew the names of the passengers - why wasn't a list of the dead released immediately?
Official response: So far there is no clear response to the public doubt about the number of the dead victims. As for the list of names, railways spokesman Wang Yongping (王勇平), said on Jul 24, "We will publish the list of those who died in the accident once we have done enough study into the accident."
Question 3: Why was part of the train buried before the cause of the accident had been identified? Was it an attempt at a cover-up?
Official response: "How could we have hidden the accident when the whole world knew about it? In fact this accident couldn't have been buried, they explained later that this was because the rescue circumstances were very complex, and there was a pond that obstructed the rescue, so the engine was buried and covered with soil in order to make the rescue work easier. You can believe or not, but I believe it." Wang Yongping, spokesman of railway department responded at the press conference on July 24
Question 4: Why was a girl found alive in the wreckage after the rescue operation had stopped?
Official response: "this is a miracle. We did rescue a girl alive later, that's just what happened," railway spokesman Wang Yongping, at the press conference on July 24
Question 5: recently there was a rumor spreading online "the victim's body will be cremated collectively" and "they will be cremated without the consent of their families." What is the real situation?
Official response: Wenzhou Funeral Home responded, it is impossible to do a collective cremation. Public Security department is currently working with the funeral home to identify the bodies of the victims. Many families have already accepted a DNA test. Once the identification is complete, then the bodies will be cremated in batches with the consent of their families.
Question 6: Is high-speed railway still safe?
Official response: "I promised here again, although this accident had an impact on the image of the railway, and also many people think it is a safety issue for high-speed railway, the accident is still under investigation, and certainly it has its special causes. We still want all society to know that Chinese high-speed rail technology is advanced, safe and we still have confidence in it," said railway spokesman Wang Yongping.
Original article: [Chinese]
Who is the Real "Killer"?
Special Rail Crash Supplement, page 13
The train crash might not be caused by the lightening but rather by the technique failure called "red light stripe bug" and the train D3115 was ordered to stop to wait for the problem to be fixed. While fixing the problem, the electricity was disconnected and the light on the whole line was green, or maybe the signal was changed to green because of the forced dispatch, but the following train didn't get any notice and ran at the normal high speed.
Original article: [Chinese]

How to Drive a High-speed Train – an interview with a high-speed train driver
Special Rail Crash Supplement, page 13
Original article: [Chinese]
"The Disaster is 100% Man-Made"
Special Rail Crash Supplement, page 13——An oral account of the crash from the perspective of the head of a large railway station
~ The natural disaster cause explanation is bullshit. It is absolutely caused by human error.
~ The rail departments always clear the scene the day after accidents, and it always thinks firstly about how to shift the responsibility to others. That's their common practice and the only difference this time is that the train crash got huge media coverage.
~ It is no secret that the high-speed rail has poor emergency response capability. But my colleagues and I still feel the signal equipment explanation is fishy.
~ Even if the signal on the ground malfunctioned, according to the contingency measures, there were still many other ways to stop the train.
~ For instance, they can use the automatic protective system (ATP).
~ Or, when knowing there was a stalled train on the line, even if the dispatch department lost signal reception from D301, the person on duty could still notify the driver of the train to stop through wireless communication when the train was passing the Yongjia Station. Was there also a problem with the commutation system?
~ The communication system the Yongjia-Wenzhou link is using should be the Global System for Mobile Communications – Railway (GSM-R) designed by China Mobile specially for the rail system.
~ It might be the communication system problem, or else, even if the railway staff on duty forgot to call the driver, the driver could have called the railway staff. It's impossible that both of them forgot to call.
Original article: [Chinese]

China Railways' Unexplained Insurance Contract
Special Rail Crash Supplement, page 14
~ Few people know that every ticket sold by China Railways includes an insurance fee that accounts for 2% of the ticket price. This compulsory insurance was introduced in 1951.
~ The maximum official compensation - 20,000 yuan – has been unchanged for almost a decade.
~ In the 60 year since compulsory passenger insurance was introduced, China Railways would have collected around 15 billion yuan according to journalists' calculations. However, the Railways Ministry has never offered details of how much money it has collected in this manner.
~ An insurance broker in Jiangsu Province points on that the text printed on the back of each rail ticket doesn't mention the insurance contract.
Original article: [Chinese]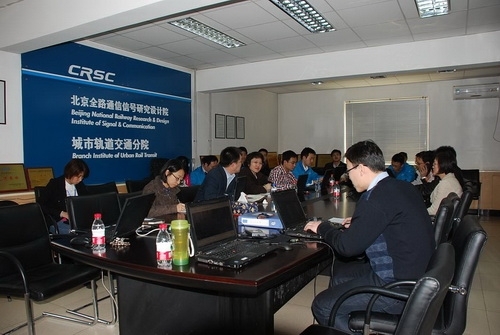 What Will Happen to the Company that Supplied the Signal System?
Special Rail Crash Supplement, page 14
Beijing National Railway Research and Design Institute of Signal and Communication, the company that supplied the signal equipment is likely to suffer major setbacks as a result of the crash. It's unlikely that it's planned listing on the domestic stock market will go ahead as scheduled.
Original article: [Chinese]