By Yang Xingyun (杨兴云)
Nation, page 13, Issue No.537, Sept 19, 2011
Translated by Zhu Na
Original article: [Chinese]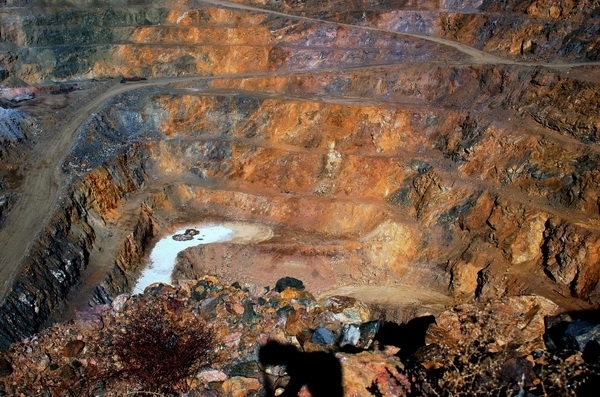 "This rare earth exploiting mining site was stopped by a law enforcement team on August 15," said Ye Jinsheng a villager from Shanghu Town (上户镇) in Luhe County (陆河县), while pointing to a scarred mountain with yellow and white sand and mud exposed.
Tanks used for water storage, leaching and sedimentation were built overlapping each other. Due to the lack of vegetation and recent rainfall causing soil erosion, the profile of the mountain with ravines and guillies looks like a miniature Loess Plateau.
Ye said that the process of mining rare earth ore causes a chemical reaction that flows into the leaching tanks along the pipeline. The waste waters are directly dumped into the ponds at the foot of the mountain, polluting the whole water system, and damaging large amounts of forest, vegetation and paddy fields.
Ye also said that because of pollution, the harvest of his paddy fields reduced to a quarter of the original yield. Currently what worries him most is water safety.
This was not the only case in Luhe county. Similar illegal rare-earth mining sites have spread across the county. There are more than ten such illegal rare earth mining sites covering an area close to 1,000 mu (about 67 hectares) in Shanghu Town, Luhe county, according to the internal statistics from Luhe county's local government.
The illegal exploitation of rare earths in western and northern regions of Guangdong province, such as in cities of Shanwei (汕尾), Meizhou (梅州) and Jieyang (揭阳) with rich rare earth reserves, has increased this year. This was encouraged by the steep rise in rare earth prices internationally due to China's restrictions on rare earth mining volumes and reductions in export allowances.
The cost in exploitation of rare earths in Guangdong is 21,000 yuan per ton, but the sales price is up to 110,000 yuan per ton.
"8.15" Event
In Mid-August, there was widespread rainfall in Luhe county. The large amount of untreated water from rare earth mines flowed into the Xialong River (下垅河) and Xinkeng reservoir (新坑水库), which led to massive deaths of fish and shrimp and an awful stench. Some villagers united in an attempt to destroy the illegal rare earth mines because of concerns with water safety.
Before doing so, on Aug 14 they handed over a written report to the local government of Shanghu Town and said that if the local government was not going to take any action, they would go up the mountain to destroy the illegal rare earth mining site by themselves. When Luhe county and Shanghu Town were informed of the relevant information, they held a special meeting and decided to side with the public in removing these mining sites immediately.
"At 9:00 am on August 15, about 1,000 villagers from several villages in Shanghu Town joined law enforcement officers in destroying the illegal rare earth mining sites," said Ye. Almost all privately-owned buses stopped taking passengers and transported villagers participating in the event for free.
"After the event, villagers gathered at the Shanghu Town's local government to ask for an answer," recalled Ye. Villagers eventually left after Zhong Yucun, the secretary of the Committee of Shanghu Town, promised that he would resign from his position if he didn't completely eliminate the illegal mines.
"But it is hard to be optimistic," said Ye. Previously, the local government took many similar actions, but these illegal mines quickly appeared again. "The major problem is that the leaders and officials at all levels have interests with many mining sites. They are actually protecting the illegal behavior of the exploitation of rare earth."
One problem, which is commonly asked by villagers, is that almost every time before action is taken to regulate illegal rare earth mines, the owners know about the information in advance, so most of their valuable equipment and anything portable are relocated beforehand.
"Collusion" Between Officials and Mine Owners
Some analysts believed that such problems mentioned above are commonly and repeatedly seen in Guangdong.
Che Jianming, an official from the law enforcement and supervision team of Shanwei (汕尾市) Municipal Bureau of Land and Resources, said that in recent years, local governments at all levels have taken weak measures against illegal exploitations of rare earth. Some officials even collude with mine owners directly to take shares in the mines or become bosses behind the scenes.
Guangdong is the second largest province of rare earth. Heavy rare earth elements are mainly located in Shaoguan (韶关) city, Heyuan (河源) city, Meizhou (梅州) city and Shanwei (汕尾) city with reserves accounting for 40% of China's total reserves.
A person familiar with the issue said that in eastern and northeast regions of Guangdong, the problem of collusion between officials and mine owners has attracted close attention from the Guangdong Provincial Discipline and Inspection Department.
The latest news was that two officials from Wuhua county (五华县) of Meizhou city, located in the northwest of Guangdong where rare earth is rich, were investigated and punished as being negligent of their duties, causing local rare earth metals being illegally exploited and forests and vegetation being badly damaged.
In Guangdong province the approved annual rare earth mining volume is 2,000 tons per year, but statistics suggest that the actual mined rare earth is closer to 40,000 tons per year.
Local Government's Response
Recently, a proposal of "Suggestions on the Healthy and Orderly Operation of Rare Earth Mines" was submitted to Guangdong provincial government, which proposed that Guangdong provincial government actively apply to increase the number of rare earth operating licenses, and include their development under the scope of government supervision.
On the other hand, it suggested that the province "actively introduce advanced rare earth mining technology, and raise the utilization rate of rare earth resource, and reduce environmental pollution."
In many rural areas of west and north Guangdong, years of illegal rare earth metals have caused many environmental and ecological issues, with most still unresolved.
In response to the above proposal, an official from Guangdong Provincial Land and Resource Department said that they will include rare earth development into the scope of government supervision, and make scientific and reasonable plans for moderate and orderly operations.