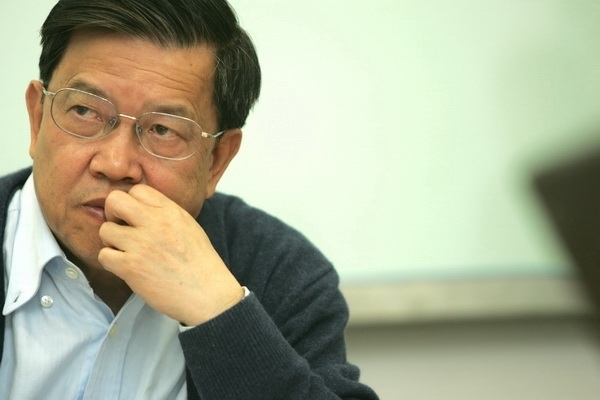 Looking back, Long, 68, argues that accession to the WTO has given force, within China, to the organisation's core values of transparency and co-operation.
By Zhang Bin(张斌)
News, Page 5
Issue No. 538, Sep. 26, 2011
Translated by Li Meng
Original article: [Chinese]
Long Yongtu is serious and straightforward - he stresses repeatedly how China has benefitted from WTO, but his own role in the process was an accident.
It started with "a cameo appearance" in 1991, when Long was temporarily assigned to translate at a meeting between the United Nations Development Program in China and Li Lanqing, who was in charge of China's foreign economic relations and trade.
Shortly after the mission, he was told that he might be asked to join the Chinese team negotiating the country's admission to the General Agreement on Tariffs and Trade, or GATT, the precursor to the World Trade Organization. The position had little in common with his previous work, and Long spent three months reading and rereading the General Agreement. China was part of the UN, IMF and World Bank, and Long believed it had every right to join the GATT. In January 1992, he was appointed China's chief negotiator, and he recalls that "the bitter and intense negotiations required a group of people who are able to argue in English."
10 years of negotiation
The negotiation process lasted for 10 years from January 1992 to December of 2001. Although the period was full of trials and tribulations, Long Yongtu has no intention of dwelling on the ups and downs along the way.
"What was always on my mind were China's core interests in joining WTO," he said. "Various interests were involved at different stages, but no matter how you define them, it comes down to three points."
Firstly, WTO entry raised China's international status. The determination to change China's status from "observer country" to "member country", was what got Long through the tough negotiations. The experience of attending a WTO ministerial conference was still fresh in his memory and he clearly remembered how China as an observer had no say in the discussions. "Although the initial intention of gaining membership was mainly based on political consideration of improving national status and image, later we began to realize that a member country must make plenty of commitments and submit specific agendas."
The second aspect is the improvement of China's external development environment. In Long's opinion, China's entry resolved the issue of the United States' annual review of the country's status as a trade partner with Most Favored Nation status. The US Congress always brought up issues such as human rights and Tibet in the annual renewal process, which China saw as a great injustice to its trade and a major obstacle between the two nations. This came to an end with China accession to the WTO – the US agreed not to invoke general safeguard provisions against China and increased its export of high-tech products to the country. The stabilization of China-US relations owes a lot to the country's WTO accession.
Thirdly, joining the WTO gave a big impetus to domestic reform. Requirements for openness and transparency in government and the "win-win" foreign policy are just a couple of examples of China being subtly influenced by WTO principles.
10 years in WTO
Looking back on the gains and losses over the past decade, Long believes that China's trade and economic strength have incontestably been bolstered since its entry, even though some concessions were made during the process. Compared to the gains, the losses now seem insignificant.
"Some thought we were placed in an unfavorable situation when we just started to open up the market, I think it was a complete misunderstanding. The notion is wrong that opening up is simply a one-sided concession," Long said.
From his perspective, China's opening up process should also advance with the times and go further than just honoring the commitments it made in its accession package. It should be seen against the backdrop of sustainable development and globalization as well as an increasingly powerful Chinese economy.
Regarding the current bottleneck for China's economic development, Long takes the financial system reform as an example and says it's time to make political decisions. Our foreign reserves have exceeded $3 trillion and are still increasing. Relying solely on the yuan's appreciation won't solve the problem and will only result in pushing us back to a more passive position. He claims that the first priority is an immediate and comprehensive reform of the financial system, including a program of opening up capital markets and an agenda that must be followed accordingly. "The existing system cannot cope with the present size and status of China's economy, which is probably where our major weakness lies," Long suggested. "We ought to be bolder and not worry too much. Without wider opening up, there will be no competition driving us to deepen reform."
The next 10 years
Since the year 2011 marks the 10th anniversary of China's entry of WTO, Long has received numerous invitations to all sorts of interviews and forums from home and abroad.
"Actually, I'm not in favor of marking the anniversaries after 10 or 15 years." Long said. "Mr. Deng Xiaoping always likes to talk about long-term commitment. While today it looks like we tend to make changes or adjustments every 5 or 10 years. There always seem to be new trends evolving from each 5-year plan that we make. Why not stick to one plan and simply get things done well? If new plans and goals keep coming up even before one objective is fully realized, how can we possibly achieve any ultimate goal?"
China has matured in the WTO family over the past decade. However the original WTO rules were created under the auspices of western values, and China has inevitably begun to feel out-of-place while trying hard to grow in this new environment.
As a fast-developing member that has reached its 10-year anniversary, what kind of mindset should China have to the WTO's principles? To maintain the status quo or to make changes? To observe them or to challenge them?
In Long's view, core principles such as opening up, non-discrimination, transparency and fair competition should never be changed. As for setting new rules for specific sectors and segments, China ought to play a part, but not necessarily the leading role.
Lao is now Secretary General of the Boao Forum For Asia, a Beijing-based organisation promotes regional economic integration.
Edited by Will Bland.