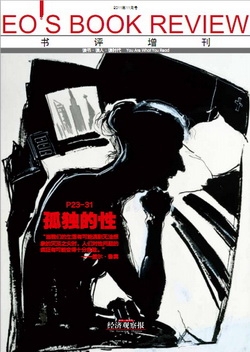 Highlights from the November issue of the EO's Book Review.

You can download a PDF of the whole issue (in Chinese) here.

Solitary Sex - How Inequality is Distorting Relationships in China
[Cover Feature]
By Bai Mo (白墨)
Page 23-31
Original article: [Chinese]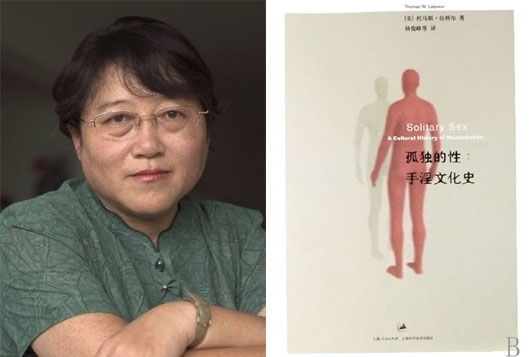 Solitary Sex: A Cultural History of Masturbation (孤独的性)
By Thomas W. Laqueur
Zone Books, 2003
Translated by Yang Junfeng, Huang Jiefang, Wang Dan (杨俊峰 / 黄洁芳 / 王丹)
Shanghai People's Publishing House, Aug 2007
~ The EO's Book Review takes a look at China's "relationship market" and how the less well-off are fairing during the country's sexual revolution. We talk to well-known sexologist Li Yinhe and examine the frustrated online exchanges that are taking place in thousands of cities around the country.
~ While the West was experiencing a "sexual revolution" in the 1960s, China was going through the Cultural Revolution, a violent, repressive attempt to eradicate "capitalist elements" from Chinese society. During the Cultural Revolution, sexual instincts were transmuted into idolatry, but they have now been awoken by the stimulation of materialism. After years of being closed up, the Chinese suddenly realized that there are a lot of wonderful things they have yet to enjoy. Rather than loving the leader, one might as well just love oneself.
~ Chinese sexologist Li Yinhe puts it this way: "The desire for sex is like the craving for food, the more it's suppressed the stronger it gets."
China's relatively rapid economic rise has resulted in a polarization of wealth among its people. Within the last two decades, the concentration of social resources has deepened. Only a small number of people possess power, money and prestige.
~ The sex ratio difference does not help either. Currently in China, the birth ratio between boys and girls is 120:100. In fifteen years time, the male/female imbalance will leave tens of millions of men without any prospect of finding a wife. "The marriage market is a female market," says Li Yinhe. "Sexual equality is particularly related to the social status, the economic and social resources one possesses ... It's certainly a big temptation if a woman can change her living conditions and social status through sex, or marriage."
~ A Chinese matchmaker network hongniang.com confirmed the situation. In a survey posted on Nov. 11, the non-official Chinese "Singles' Day," shows that 43% of young people regard the economic situation and family background as their primary concern when assessing a potential lover, instead of the person's qualities. Modern Chinese marriages are suffering and the divorce rate has skyrocketed in the cities.
~ "When a society's value system is distorted and people worship only money, it is scary," Li sighs. "But the main cause of the psychological and sexual changes lies ultimately in the extremely unequal distribution of wealth."
~ Li Yinhe quotes a statistic that 26% of Chinese women have never experienced an orgasm, a figure which stands around 10% in other parts of the world.
~ In a good society, not only are you satisfied with your food, but you are also satisfied with your sex life. This is the sign of an advanced society. It is also classical Confucianism. The Communist Party of China has resolved the problem of providing food; now is the time to let that other human desire be fulfilled.

Other Highlights from the November issue: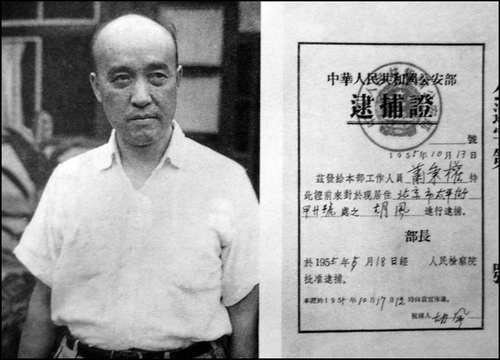 Image source: Wikipedia
Prisoner Hu Feng
[Books & Portraits]
By Su Xiaohe (苏小和)
Page 20-22
Original Text [Chinese]

~ Chinese writer and poet Hu Feng (胡风) spent many years of his life in prison. The first time he was thrown into prison was in 1933 in Japan, when he was detained for three months for his anti-Japanese activities before being sent back to China. The last time was in 1969, when Hu appealed to be released after serving a 14 year jail term, but instead of being released he was sentenced to life imprisonment. The charge for Hu that time, as in the past, was still related to his writing. Since there was no paper in prison, Hu wrote poems out of habit on newspapers, sometimes inadvertantly writing over pictures of Mao, which led to him being charged with writing reactionary poems and writing over Mao's image.
~ As a patriotic young man, Hu dropped out of university to focus on "the interests of the nation". In 1925 Hu had been admitted to Peking University and later transferred to the English Department in Tsinghua University after a year. Three months later when Hu was invited by his classmate to join the revolution in his hometown, he left Tsinghua and went back to Hubei province. Hu thus didn't complete his university education. Subsequently however, during his four years in Japan, he read works on Marxism and on his return to China he joined the Chinese League of Left-Wing Writers (中国左翼作家联盟) in 1933.
~ The middle-aged Hu admired Lu Xun (鲁迅) for his literature and Mao Zedong as his political idol. Hu has been working under the help and guidance of Lu Xun before his death in 1936. In a long poem called Time Began (时间开始了), Hu expressed his worships for Mao - "Mao Zedong, a new-born naked child, the maid in her first love, the pioneer to cultivate the wasteland." Hu was only trying to express his admiration for Mao, however, events began to take a different turn.
~ In 1954, Hu wrote the "Report on the Practice and State of Art and Literature in Recent Years," later, in April, 1955 Hu was criticized by writer Shu Wu (舒芜) and was charged as ""a undercover counter-revolutionist." Hu was to spend 25 years in prison until 1980 when he was rehabilitated.
~ It's hard to imagine years later, that some people still read poems like Time Began as literature. Through his life, Hu only took literature as a weapon for formenting revolution or to express admiration. He struggled for his life in the world between politics and literature but didn't notice literature is about humanity. However, history keeps down these ridiculous details and forgets his passionate poems without hesitation.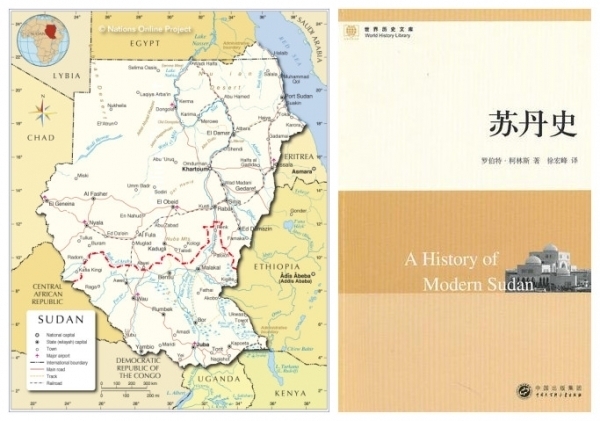 Founding of the Republic of South Sudan
[Focus]
Page 3-7
Li Lingjie (李灵洁)
Original article: [Chinese]

A reveiw of the following book:

A History of Modern Sudan (苏丹史)
By Robert O. Collins
Translated by Xu Hongfeng (徐宏峰),
Encyclopedia of China Publishing House; June, 2010.

In Silence
[Literature]
Page 8-12,
Original article: [Chinese]

Yin Yan (殷宴) introduces Swedish poet Tomas Transtromer, the winner of the Nobel Prize for literature in 2010. The author also reviews a new Chinese translation of Collected Poems of Transtromer -(特朗斯特罗姆诗全集), translated by Li Li (李笠), Nanhai Publishing House, March, 2001.

Patient, Idler, Traveler
Page 13-15
Original article: [Chinese]

Yun Yetui (云也退) presents a new translation of Montaigne's Trip to Italy (蒙田意大利之旅) by Michel de Montaigne , translated by Ma Zhencheng (马振骋), Shanghai Bookshop Publishing House, August, 2011.

Li Bai's "Bed"
Page 16-17
Original article: [Chinese]

He Xi (河西) ponders again whehter the "bed" (床) referred to in a line from one of China's most oft-quoted poems Night Thought (静夜思), is actually a bed or a chair? The line goes "The moonlight is bright in front of my bed" (床前明月光). The analysis is based on the book Furniture Before the Ming-Style (明式家具之前) by Yang Zhishui (扬之水),Shanghai Bookshop Publishing House, January, 2011.

Virtue, Reason and Freedom
[Academic]
Page 32-34
Original article: [Chinese]

Li Wenqian (李文倩) reviews a new translation of The Roads to Modernity: The British, French, and American Enlightenments by Gertrude Himmelfarb (现代化之路:英法美启蒙运动之比较) translated by Qi Anru (齐安儒), Fudan University Press, July 2011.

The Shadow of Hitler
Page 34-38
Original article: [Chinese]

Song Yu (宋宇) introduces German historian Heinrich August Winkler's book Auf ewig In Hitlers Schatten? (永远活在希特勒阴影下吗?) translated by Ding Junjun (丁君君), SDX Joint Publishing Company, June 2011.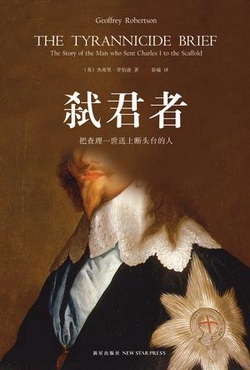 The Spirit of Tyrannicide
Page 38-42
Original article: [Chinese]

Zhang Wei (张伟) reviews Geoffrey Robertson's The Tyrannicide Brief: The Story of the Man Who Sent Charles I to the Scaffold (弑君者:把查理一世送上断头台的人), translated by Xu Xuan (徐璇), New Star Press, April 2009 and Alexis de Tocqueville's Democracy in America (论美国的民主), translated by Dong Guoliang (董果良), The Commercial Press, December 1988 and shows us the legislative revolution in pursuit of democracy and freedom.

Simone Weil: The Sufferer
[My BOOKS & MY World]
Page 43-45,
Original article: [Chinese]

Xiao Ye (小野) revisits Simone Weil's Waiting For God (在期待之中), translated by Du Xiaozhen (杜小真), SDX Joint Publishing Company, January 1997

Classics
[Share Books]
Page 46-48
Original article: [Chinese]

Scholar Lin Guohua (林国华) shares some his favorite books with readers:

Plato's "Crete Excursion" by Wang Heng (王恒), Shanghai People Publishing House, 2008
Macbeth by Shakespeare, translated by Zhu Shenghao (朱生豪) Public Art and Literature Press (大众文艺出版社), 2008
Jian Jin Han Zhi (拣尽寒枝) - No Cold Branches For Residence - by Liu Xiaofeng (刘小枫), Huaxia Publishing House, January 2007
Confessions by Jacques Rousseau, translated by Li Xing (黎星), Fan Xiheng (范希衡), People's Literature Public Housing, January 2003
Averroes on Plato's Republic by Ralph Lerner, translated by Liu Shu (刘舒), Huaxia Publishing House, 2008