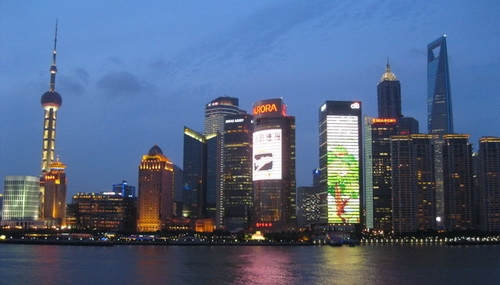 Feb 3, 2012
Translated by Zhu Na

Update: See attached table of provisional GDP per capita figures

According to the Shanghai Bureau of Statistics (SBS), Shanghai's gross domestic product (GDP) was 1.92 trillion yuan last year, an increase of 8.2 percent over the figure for 2010. When taking account of the city's official population of registered residents, per capita GDP for the year came to 82,560 yuan, equivalent to $12,784.

The SBS's chief economist Yan Jun (严军), proudly told the media that "the figure is the highest among the country's provincial-level regions."

Tianjin's GDP reached 1.12 trillion yuan in 2011, an increase of 16.4 percent over 2010. The city's GDP per capita exceeded 80,000 yuan last year, when calculated according to population figures taken from the sixth national census data which was conducted in Nov 2010.

Beijing's per capita GDP also exceeded 80,000 yuan, with estimates putting the figure at 81,584 yuan, equivalent to $12,631.

These rough calculations were based on dividing the recently released provisional provincial-level GDP figures by the population figures that were collected as part of the sixth national census that was conducted at the end of 2010.

"On the one hand, these figures reflect the real development that these cities have experienced over recent years, but, we should also interpret the data with care," said Ding Changfa (丁长发), an associate professor of Economics at Xiamen University.

Mr Ding went on to note how when compared to other developed regions around the world, Tianjin, Beijing and Shanghai all lagged in terms of both industrial structure and income distribution.

For example, the per capita disposable income of Beijing urban residents exceeded 32,900 yuan in 2011, which only accounted for 40 percent of GDP per capita. If we assume that the average price of urban residential housing in the city is more than 13,000 yuan per square meter, then we can see that urban residents cannot even afford to buy 3 square meters of residential floor space in the city every year.

Currently, China's provincial economies can be classified into three groups according to per capita GDP.

The first group includes the three cities mentioned above. The gap between them is very small, but Beijing's per capita GDP is more that 20,000 yuan higher than that of the fourth-placed Jiangsu province.

The second group takes in everything from the fourth-ranked Jiangsu to the 10th-ranked Shandong. Of these seven provincial-level regions, Jiangsu, Zhejiang, Guangdong, Liaoning, Fujian and Shandong are all relatively well-developled eastern coastal provinces - with per capita GDP of over $7,000. The one outlier is the Inner Mongolia autonomous region which is a coal-rich area in western economic region of the county, that has witnessed very rapid development over recent years. Last year, its GDP exceeded 1.4 trillion yuan, an increase of 15 percent over the previous year, with GDP per capita of 56,700 yuan.

After overtaking Guangdong in 2010, Inner Mongolia is now rapidly closing in on the fifth-placed Zhejiang, which has a per capita GDP of 58,791 yuan.

The third group of regions encompasses the areas that make up the final 20 positions in the list, from the 11th-placed Jilin to the poor southwestern province of Guizhou which rounds out the list of 31 provincial-level regions.




Links and Sources
China Business News: 各省市人均GDP盘点:京津沪稳居第一集团
China News Service: 全国各省市人均GDP数据出炉 25个省份超4000美元