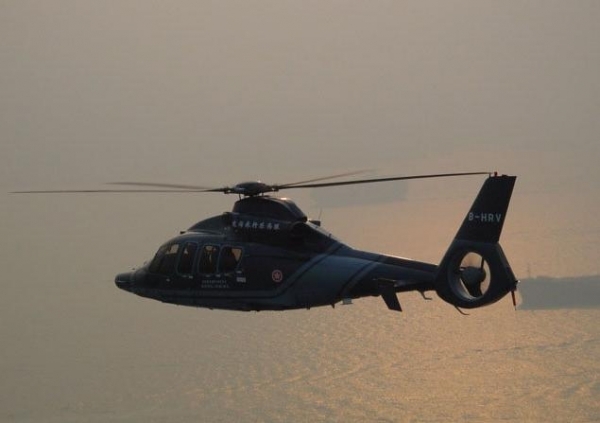 State oil and gas companies have been using aircraft like the twin-engined EC 155 B1 for twenty five years but the market has suddenly widened up.
Source: Eurocopter

By Will Bland

Many businesses won't yet know exactly how the twelfth five-year-plan is going to affect their revenue in China, but 70% year-on-year growth was a pretty good clue for Eurocopter, the world's largest helicopter maker.

The Marseille-based firm, which is a unit of European conglomerate EADS, last year made $75 million in China, helped by the sale of 17 helicopters for "business and general aviation," compared to just three orders in this category during 2010.

The five-year plan includes reforms for the way the country's lower altitude air space is managed. Until now, practically the only way that a private buyer could get any mileage on his helicopter was by making "Hei Fei," black flights, so-called because they're not cleared by the aviation authorities.

If China does open up its lowers skies, its helicopter market will have some catching up to do – there are only 300 choppers in civil use in China, whereas Europe, with a similar area and a smaller population, has 8,000.

For now, apart from having a few million dollars spare, would-be helicopter buyers in China will still need some good guanxi if they want to get their choppers off their front yard.

Ultimate control over China's airspace rests with the People's Liberation Army. The air-space reforms allow aircraft to make flights at altitudes below 1,000 meters without providing a detailed flight plan – for now, they're being piloted in handful of cities, such as Chengdu, Jinan and Nanjing, all of which host regional PLA headquarters.

Eurocopter's top executive in China, Bruno Boulnois said that the authorities' quicker processing of flight applications is making a real difference to helicopter owners.

"Previously, it was a question of one week [to get permission]. Now, it is becoming a day and soon it will be a couple of hours," he told the Economic Observer in a telephone interview from Shanghai.

Of course, a weeklong wait for flight approval would rule out many of the principal uses of helicopters – search and rescue, police and emergency medical treatment – but aircraft providing these services have been operated by local governments and so have been exempt from the laws.

In fact, helicopters have been used to run search and rescue missions on the Chinese coast for around ten years.

Before that, the only significant orders for helicopters came from oil and gas firms who use larger models to get workers and equipment to their offshore rigs. Eurocopter has been serving this market for some twenty-five years through sales to state-controlled Citic Offshore Helicopter Co. Ltd. (COHC).

COHC, which services the likes of Sinopec and China National Offshore Oil Corporation, bought eleven aircraft for domestic use in 2011, and Boulnois says this section of China's market has stopped growing.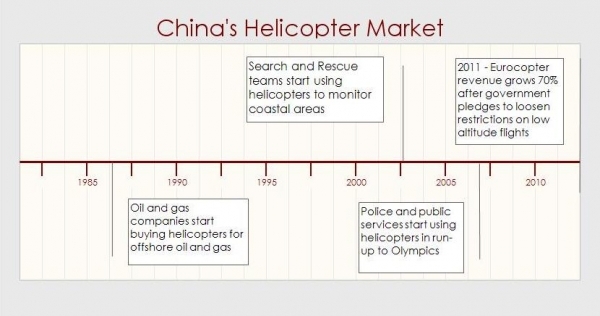 For the last five years, Eurocopter's sales growth in China has been driven by public service buyers, such as police forces and fire fighters, who began to think about acquiring helicopters at around the time of the Beijing Olympics.

The year of the games, 2008, also saw China's most severe natural disaster of the last decade, and, if western China hadn't been short of helicopters, more victims of the 7.9-magnitude Sichuan earthquake could have been airlifted for surgery.

Eurocopter's China business has also sold helicopters to two electricity companies, who fly over high voltage cables with infrared detectors looking for damage, and an affiliate of HNA Group, the owner of Hainan Airlines, bought two six-seater aircraft in autumn to takes tourists over the Great Wall. Eurocopter China also says it sold around six helicopters for medical evacuations in 2011.

That last market – for emergency medical rescue - has only just started to develop. Its growth is restricted by a lack of landing pads at hospitals and the scarcity of insurance policies covering air rescues in China.

The medical market's step-by-step progress shows why it's unreasonable to expect Eurocopter's sales to keep growing at 70% a year. Bulnois says he's "not sure" whether we can look at last year's sales as "a new era," and points out that China's decision to open up the airspace also represents a "challenge."

Although the causes are still being examined, last summer's crash of a police helicopter, which killed four people, will have reminded authorities of the need for rigorous pilot training programs and helicopter maintenance checks.

Bulnois declined to comment on the causes of the crash – which involved a helicopter made by rival firm AgustaWestland – but he notes that one of the key factors determining the market's growth will be effectiveness of pilot training programs.

With this in mind, Eurocopter is about to install China's first flight simulator as part of a joint venture with COHC, the firm that caters to oil and gas clients.

As well as a lack of qualified pilots, Bulnois points to China's shortage of infrastructure for helicopters.

The CCTV Tower, one of Beijing's best known buildings, has a very conspicuous helipad, which might mislead foreign observers into imagining that that there are choppers ferrying the country's busiest people across the city and away from its gridlocked streets.

However, major Chinese airports aren't like European ones, which have helicopters on standby to carry wealthy passengers to nearby destinations.

Bulnois says China is taking small steps in this direction, such as the opening of private airports.

The Europter China Chief Executive, who manages a team of 120 employees, has just finished promoting his goods at the inaugural Asian Business Aviation Conference & Exhibition.

The conference organizers, who also have a long-established European version, would have been mindful of the China's estimated 271 billionaries, when they picked Shanghai as the venue.

Eurocopter would also have been targeting the country's superrich with its EUR6.5 million EC135 Hermes, for which the French fashion house designed the interior and recommended a flatter landing ski, which makes access easier for women in high heels.

In Numbers
300 civil helicopters flying in China
8,000 civil helicopters flying in Europe
125 Eurocopter aircraft flying in China
30 helicopters ordered from Eurocopter in 2011
17 helicopters ordered for "business and general aviation" in 2011 (compared to around 5 a year previously)
$75 million - Eurocopter China's revenue in 2011 (up 70 percent from 2010)
40 percent - Eurocopter's share of China's civil helicopter market