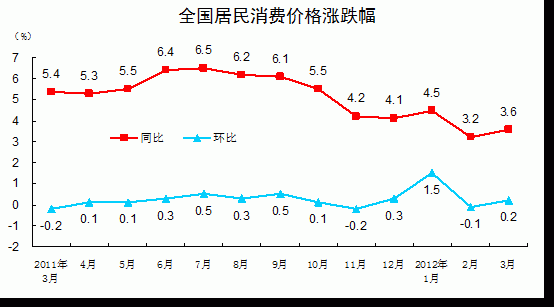 Apr 9, 2012
Translated by Pang Lei
The National Bureau of Statistics announced earlier today that China's consumer price index (CPI) rose 3.6 percent year-on-year in February, a slight increase on the pace of growth registered in February, when the index rose by 3.2 percent compared to 12 months earlier.
The statistics agency also announced that the CPI had increased by 3.8% over the first 3 months of the year.
The CPI was up 5.4 percent in 2011 from the previous year, well above the government's full-year inflation control target of 4 percent. China's Premier Wen Jiabao once again set the target inflation rate at 4 percent for 2012 when delivering his annual work report to the National People's Congress last month.
The indicator hit a 37-month high of 6.5 percent in July 2011, according to the NBS data.
According to the NBS, the CPI rose 3.6 percent in urban areas and 3.6 percent in rural areas. The rate of year-on-year increase in food prices picked up to 7.5 percent in March from the 6.2 percent increase registered in February, contributing 2.39 percentage points to the overall growth in the indicator. 

The price of meat, poultry and related products increased 11.3 percent year-on-year, contributing 0.78 percentage points to the overall increase in CPI. This was less than the 12.9 percent year-on-year increase in the price of meat, poultry and related products registered in February.

According to the NBS, the pace at which the cost of housing increased remained steady in March. Housing-related prices were up by 2.0 percent, which was slightly less than the 2.1 percent rate registered in February.
According to the NBS's estimate, of the 3.6 percent growth in the index measured in March, the carryover effect from last year's price rises accounted for 1.9 percentage points, while new price rising factors from this year accounted for 1.7 percentage points.

The producer price index (PPI), another measure of inflation at the wholesale level, fell 0.3 percent in March year-on-year, the first time the indicator has seen negative year-on-year growth since December 2009.
In the first quarter of this year, the PPI climbed 0.1 percent, compared to the first three months of 2011.
The NBS is set to announce first-quarter GDP data on Friday morning.

Links and SourcesNational Bureau of Statistics:
2012年2月份居民消费价格变动情况
National Bureau of Statistics:
2012年2月份工业生产者价格变动情况