By Liu Zhiming (刘志明)
Nation, page 12
Issue No. 579
July 23, 2012
Translated by Zhu Na
Original article: [Chinese]

With the Qixi Festival (七夕节) just around the corner, officials in Hubei Province's Yunxi (郧西) County are busy preparing the town for an extravagant festival, undeterred by the evictions, beatings and massive debt that have made it all possible.

Qixi Festival, also known as Chinese Valentine's Day, celebrates the ancient Chinese love story of Niulang and Zhinü - a cowherd and weaver girl who were torn apart by a goddess and put on opposite sides of the Milky Way Galaxy "river." They're only allowed to meet once each year when a bridge of birds forms across the river on the seventh day of the seventh lunar month.

The birthplace of the legend isn't really known, but Yunxi, a "National-level Poverty-Stricken County," has tried since 2009 to use the story for developing a tourism industry based on a local river named "The Milky Way" (天河).

"Using tourism to develop Yunxi and focusing on Qixi culture was an idea hit upon by the current and former local government," said Huang Jiangping (黄江平), vice director of the Yunxi County Tourism Bureau.

This year Aug 23 marks the holiday and the beginning of the "Third China Yunxi Milky Way Qixi Culture Tourism Festival." A local taxi driver surnamed Wang told the Economic Observer that the county leaders said this year's festival will be ten times grander than the previous ones.

This is the third time that the festival will be the centerpiece of the town's drive to attract tourists based on Qixi culture.

The county has been transforming itself since Dec 2009, building a series of scenic sites costing over 66 million yuan so far. These include the 21,300 square meter Qixi Square, a Qixi theme park, a series of bridges over the Milky Way River, an artificial moon that sits atop a nearby mountain, and the world's largest bronze ox.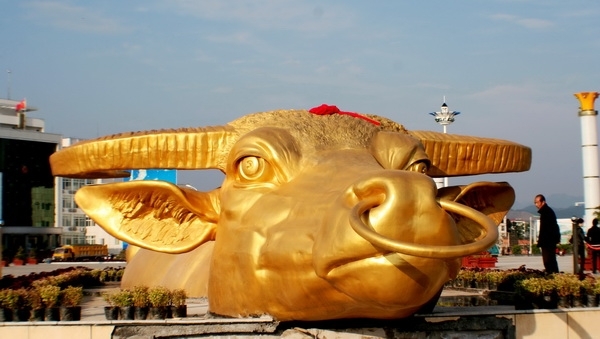 Following the Money

According to an official document, Yunxi was left with little choice but to make tourism its prime method of development. It's a poor mountainous county with a weak industrial foundation and limited agricultural opportunities. It's also located by a key water source for the South-North Water Transfer Project that directs water to Beijing. So Yunxi is barred from following the same highly-polluting industrialization model that many other counties have pursued.

Several locals said they've felt big changes in the county's appearance since the Qixi culture tourism initiative kicked off. A cadre from Yunxi County said, "Among the six counties under the administration of Shiyan (十堰) City, Yunxi's environment is better than the other five, but in terms of fiscal revenue, Yunxi is worse off."

An official from the county's local taxation bureau revealed that in 2011, Yunxi County only had about 100 million yuan in revenue - the lowest among the counties under Shiyan City's administration – and one of the measures that allows it qualify as an official "National-level Poverty-Stricken County."

When construction suddenly began in late 2009, the propaganda department said that the Qixi tourism project would cost 200 million yuan. Later, that figure was raised to 1.4 billion yuan – 14 times Yunxi's annual revenue.

Zhong Jianhua (钟建华), vice director of Yunxi County's propaganda department, said that the large investment is necessary to make the attractions well-known. He admits that the government doesn't have nearly enough money to cover the costs, but says it can be raised through other channels.

"Yunxi has a very good resource: we're home to many succesful businessmen" he said. "Last year, one businessman donated 2 million yuan, and another 3 million yuan was made through ticket sales. So the government investment was very small."

Chen Yonggang (陈永刚), who was originally from Yunxi but now lives in Shiyan city, is pessimistic about the tourism project.

"Tourism development won't last long by playing the Qixi culture card," he told the EO. "Even people with little education know the fairy tale isn't real. Now you take it over, make it seem true, and try to make it reality. It's too farfetched."

Many of the tickets for the festival's evening show are bought in mass by government and party organs. During the 2011 Qixi Festival, a cadre in Yunxi County got a third-class ticket through his work that cost 788 yuan. "My workplace spent several hundred thousand yuan on buying tickets," he said. In the end he opted to sell his ticket for 500 yuan rather than see the show.

Land Lost

47-year-old Deng Xuanzhao (邓宪召), a local farmer in Yunxi's Dongying (东营) rural community, has experienced the violent side-effects from the Qixi tourism drive. His family owns two patches of land for growing vegetables; one of which sits by a tributary of the Tianhe or Milky Way River.

The local government built a road alongside the river and planned to construct an "ancient-style" business and commerce center. To make way, farmers like Deng had their land expropriated one after another. Last year Deng was informed that 0.28 acres of his family's land would be taken for 30,060 yuan per mu (0.16 acres).

Like most other villagers, Deng thinks the 30,060 yuan price is too low for his land considering that it was later to be sold to developers for 1.45 million yuan. After several negotiations, he still refused to sign the deal.

According to villagers, last December developers came with more than 100 people wearing helmets and carrying shovels to deal with the holdouts. They proceeded to beat whomever they saw and Deng, along with about 10 others, was later hospitalized. The conflict lasted nearly two days, but Deng still refused to sign.

The following May it happened again, only this time, Deng's mother ended up in the hospital with him. They still wouldn't sign, but their vegetable gardens were dug up anyway.

These kinds of conflicts haven't just happened in Dongying.

"Almost every village surrounding the county has experienced land expropriation," a local farmer from Wujiaying (吴家营) told the EO.

"The land is mainly used for the Qixi Festival projects and property development."

Deng Xuanzhao is still at a loss as to why his land was needed. "Just overnight Yunxi became the hometown of the cowherd and the weaver girl," he said. "It really confuses me."

This article was edited by Eric Fish