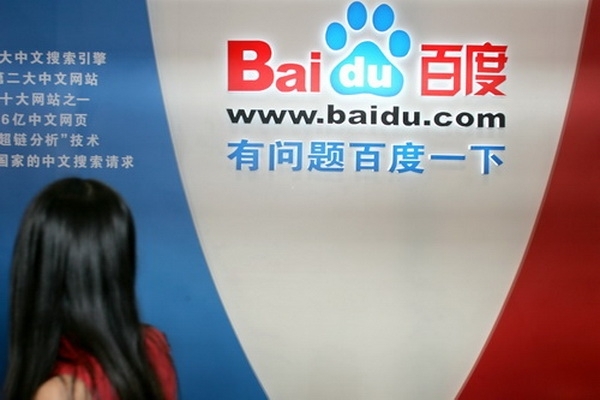 By Yan Wei (闫威)
Corporation, page 25
Issue 579, July 23, 2012
Translated by Tang Xiangyang
Original article: [
Chinese
]
It's been a good first half of the year for Baidu.com, Inc., China's largest internet search engine.
The Nasdaq-listed company announced this week that its share of the online search market in China had reached almost 80 percent in the second quarter. The company also revealed that profits had jumped 70 percent in the second quarter amid continued growth in its advertising revenue which rose almost 60 percent over the three months to the end of June to 5.5 billion yuan.
Despite the impressive figures, some investors, drawing on a recent report, are beginning to ask questions about the future direction of the company.
Profits in a Mobile Era
A recent Morgan Stanley report into Baidu's prospects has some investors worried.
The report noted, that although Baidu will continue to be the largest Internet company in China, in an era when mobile internet is eating into traditional traffic from desktop computers and in an environment where the model for advertising services is continually changing, considerable pressure from other companies is forcing Baidu to transform both its services and company structure.
Web traffic from mobile devices now accounts for about 20 percent of all Baidu's web traffic. However, traffic from mobile devices is not as easy to monetize as that from desktop computers.
For Baidu, the 20 percent of their web traffic that's coming from mobile devices is probably only contributing single digits to their overall profit growth.
"The 20 percent of Baidu's web traffic that comes from mobile devices is probably only contributing single digits to its overall growth."
People are now starting to use mobile applications rather than relying on search engines and web browsers as they did in the past.
More and more people are going online via their mobile phones and more and more applications are being run from the "cloud" rather than an end terminal.
Some investors are asking whether Baidu, given its reliance on the web-based search engine, can maintain its dominance in the Internet industry when mobile applications and specialized search tools are beginning to whittle away at the company's traditional strength.
They wonder how Baidu will be able to maintain a quarterly growth rate of over 70 percent given the gradual fragmentation of the industry into separate spheres such as online shopping, online video and online gaming.
Baidu's Plan
Baidu has said that it plans to embrace such change and that it will find a way of melding its current operations with the two trends described above.
The company also said that it will go beyond simply "embracing" these trends and will actually "expand" its cloud computing platform to share technology, data, traffic and innovative advantage with web developers.
Though the new service may lift market share, it cannot solve the problem of monetizing traffic.
At this year's
Baidu Union Conference
, Robin Li (李彦宏), the CEO of Baidu, said mobile Internet was very different from desktop Internet - it's harder to commericalize or make money of it.
A New Arena
Mobile Internet represents a new playing field with new rules and it's one that no Internet company can afford to lose.
Baidu doesn't possess any natural advantages in the mobile arena. Other seach engines like Tencent's Sousou (腾讯搜搜) are more intergrated into social networks and have put greater emphasis on mobile search.
Baidu's strategy has been to cooperate with telecommunication carriers and device manufacturers.
The results so far have been encouraging. The EO learned that in March, after Apple's new CEO Tim Cook visited Beijing, Baidu signed a contract with Apple which will intergrate the search engine with Apple's iOS 5 mobile operating system, which means that the Baidu search box will come installed on the new iPhone 5.
Baidu is not expecting to gain profits in the short-term from its sizable investment in various partnerships in the mobile Internet market.
In reply to a question from the EO, a Baidu representative said, "Mobile devices have smaller screens and people use them intermittently, so mobile Internet is not as highly valued by advertisers as browsing done via a desktop computer. Even in advanced Internet and mobile Internet markets, the capacity for it to be commercialized is always much lower than that of desktop traffic."
Baidu hopes that it can take advantage of the various parterships it has entered into and throught the use of applications, divert traffic that might have otherwise flown to other search engines back to the Baidu search box.
While accessing the internet via desktop computers, consumers are not restricted by the size of their screens, bandwidth and time online, and thus they tend to open lots of windows at the same time and they don't worry about about download limits. However, such restrictions do matter to those using mobile devices and this will impact on their willingness to click on links.
Yu Xiaoguang (于晓光), an analyst with HIM Investment Management Company (东方港湾投资管理公司) who just finished completing a report on Baidu, told the EO that as the number of mobile internet devices increases, and as mobile Internent begins to take an ever bigger slice of the internet pie, the overall profit margin of internet companies will decline.

Content Barriers
Investors are also concerned about Baidu's ability to retain access to all the content that can be accessed via the company's search engine. For example, with the market becoming more concentrated, it's a distinct possibilty that Sina will stop allowing Baidu to access their content for searches, in the same way in which Facebook refuses to open its content to Google's search capability.
Already, some well-known online shopping sites do not allow Baidu access to their data.
In terms of content, Baidu is already under pressure from the growing strength of various specialized search platforms.
If we look at the state of China's Internet market, we can see that it's currently divided along the following lines: Tencent is strong in gaming and social networking platforms, Taobao and 360 Buy dominate the online retail platforms, Youku and Tudou dominate online video and Sina is strongest in social networking platforms.
As all these companies have control of one kind of specialized platform with rich content, they can provide specialized search services which have greater focus than Baidu's general search.
Taobao search is already the largest internal search engine among all of China's online shopping platforms. Alibaba invested one billion yuan in developing etao.com (一淘), a specialized search engine for online retail and especially Taobao, the data that etao.com searches is not open to Baidu.
Of course, other major online shopping sites, like 360buy, have refused to open their data to etao.com.
Unlike Facebook, which is the dominant social network in America, Sina Weibo still faces competition and thus remains willing to make its content available to Baidu.
"But it's possible that, as the market becomes more consolidated, Sina will cease to allow Baidu access to its content, just as Facebook doesn't open its content Google," said Yu Xiaoguang.
Yu also noted that as Sina Weibo is also facing difficulties in making profits from its traffic, it's possible that the company will also look to make money from search in the future.
However, Dong Xu (董旭), an analyst with Analysys International (易观国际), doesn't agree. Dong told the EO that, although specialized search platforms in some areas such as online shopping and video are attractive to some users, it still takes some time for users to acquire this habit. On the contrary, as a general search engine, Baidu is closer to users. Meanwhile, Baidu is deepening its search services by developing
Box Computing
and Baidu Search Open Platform (aka
Baidu Aladdin
) and investing more in content.
Content is King
Given that the company doesn't really have an advantage when it comes to content, Baidu has been investing more and more in content providers.
Last year, it invested $306 million in Qunar (
去哪儿网
), a leading travel site and Baidu also invested in Iqiyi (
奇艺视频
), an online video site.
Observers say these partnerships will not only help to improve the experience of Baidu users but it will also give the company more say when negotiating with other content providers.
What worries investors is Baidu's involvement in content provision might weaken its ability to make profits in the long term.