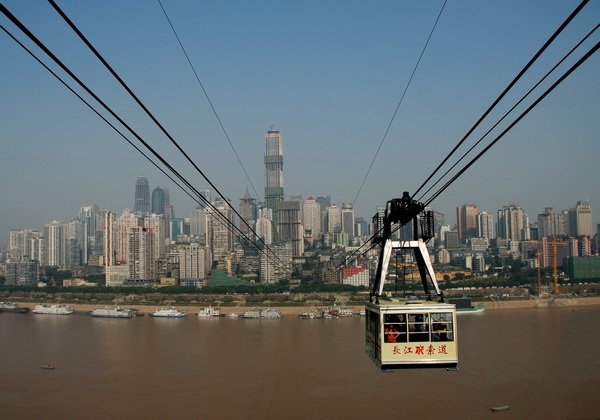 By Du Yuan (杜远)
Issue 585, Sept 6, 2012
Nation, Page 14
Translated by Tang Xiangyang
Original article:
[
Chinese
]
In late August, the southwestern metropolis of Chongqing joined a growing tide of local governments by releasing a stimulus package aimed at "stabilising growth."
The city aims to double industrial output by the end of 2015 by ploughing 1.5 trillion yuan of investment into the economy.
Unlike many of the other cities that have announced similarly ambitious goals, Chongqing has attempted to explain where the capital to finance the plan is coming from.
At a ceremony to mark the beginning of work on
a $600 million car plant
back in August, Chongqing's mayor noted how the investment would be an important driving force in the city's efforts to "maintain growth and sustain investment."
Chongqing's Local Stimulus Package
Since July, Guangdong, Tianjin, Chongqing and other local governments have all announced plans to prop up local economic growth by lifting industrial investment.
By the end of August, the entire amount of investment that had been announced as part of these local stimulus plans was being
widely reported
as having already reached some seven trillion yuan, according to a rough estimates based on incomplete data.
The cities of Chongqing and Tianjin, who topped the national rankings for GDP growth in the first half of this year, both wheeled out huge 1.5 trillion yuan investment plans.
Chongqing has been busy putting together it's investment plan together for quite some time now. There were signs back in June that a new push to industrialize the city was in the cards. At a meeting of the city's municipal party committee at the time, leaders made it clear that developing industry would be given the top priority and that big projects involving big companies were on the table.
A month later at a forum attended by senior city leaders, the city's new party secretary Zhang Dejiang (张德江) again made it clear that when it came to economic planning, Chongqing was going to put an emphasis on developing industry.
Chongqing has good reason to issue such an investment plan.
Though data from the Chongqing Economics and Information Commission (重庆经济和信息化委员会) revealed that a 148.4 billion yuan of industrial investment had been ploughed into the city from January to July, up 25.2 percent on the same period last year, other indicators show that some areas of the municipality haven't been doing so well.
From January to March, 14 of the city's 38 districts and counties saw investment fall. Three areas which traditionally received a lot of industrial investment - Changshou, Yubei and Yongchuan - saw investment fall dramatically for five consecutive months.
Chongqing's new investment plan was formally launched on Aug 20. Over the coming 2 years or so, the city will establish seven new multi-million dollar industry clusters centered around electronic and information engineering, automobile manufacturing, equipment, chemicals, materials, energy and consumer goods.
By 2015 the city plans to double annual industrial output to more than three trillion yuan.
This new industrial push represents a real shift in policy for the city. For the past three or four years industry hasn't been the focus of they city's development plan - the previous buzzwords that peppered official reports referred to making the city a financial center and modern service industry hub - goals regarded as every bit as important as manufacturing.
Pu Yongjian (蒲勇健), a professor with Chongqing University and deputy director of the city's development research center, explained it to the Economic Observer by drawing on the international situation. Professor Pu noted how America now plans to "re-industrialize" and although Europe is in the midst of a soverign debt crisis, Germany has been able to maintain good economic growth, to some extent, due to its advanced manufacturing industries. Pu sees lessons in these examples for Chongqing and argues that the city needs to re-build its manufacturing industry and develop advanced industries.
Where Will the Money Come From?
Chongqing, like many of the cities that have put out similar stimulus plans, is being asked to explain where the money is coming from. It appears that bank loans will remain the major financing channel for this round of investment. There is hope that private capital will also play a larger role than in the past, though private funds will be guided by local government and only serve a supporting role.
According to the city's investment plan, around 25 percent of the 1.5 trillion yuan will come from enterprises, 45 percent will be raised via bank loans, around 10 percent from a combination of IPOs, private equity funding and venture capital, a further 15 percent from trusts, rents and bonds and only the remaining 5 percent will come from government finances.
Chongqing's mayor said that the city's industrial economy is a zone in which the market already plays a dominant role and as industrial investment is market behaviour, the city can't rely too much on government investment.
The mayor predicted that the ratio of non-public economy (非公经济) in the city would increase from the current 61.7 percent to 65 percent by the end or 2015. In the industrial sector that figure will be even higher, perhaps reaching 75 percent or more. Of this figure, more than 50 percent will come from private domestic business with an additional 25 percent or more coming from companies established or co-established with foreign capital.
Pu Yongjian said that we'll need to wait and see if the funding ratios put forward in the plan are reasonable or not. Though the government can control the actions of the local state-owned enterprises, it has less ability to determine the investment decisions made by private or foreign companies and can only offer guidance.
Risk of Overcapacity
The focus on re-industrialization in Chongqing's stimulus plan sets it apart from other local governments who have directed large amounts of capital to big infrastructure projects like road, rail and airport construction.
Professor Pu points out that Chongqing made a lot of these big investments in infrastructure in the first 10 years that it operated as a city directly under the control of the central government after being hived-off from Sichuan Province.
Since 2007 it's shifted towards investing more in manufacturing and this shift to new advanced industries makes a natural progression. If the city was to go on investing in transport infrastructure and the like, it's obvious that the returns would be minimal.
Though Chonging appears to be heading in the right direction, it needs to take the threat posed by overcapacity seriously.
Currently China steel and cement industries are already producing more products than there is demand for and in another three to five years, the same situation could well exist in the auto industry.
The city's mayor said that if Choingqing's annual industrial output reached three or even five trillion yuan, overcapacity would be inevitable. Mayor Huang Qifan says that the city will puruse a sustainable industrial policy that invests one third of capital in expanding capacity, one third in updating technology and another third in research and development.
Chongqing has also included detailed measures aimed at warding off the threat posed by overcapacity into each industry specific plan. For instance, the city's computing industry will focus more on developing software rather than trying to compete in the laptop computer market and it's auto industry will look at making larger cars like SUVs.
Another point worthy of attention is that in the past much has been made of the city's intergration of rural residents into the urban areas, with hopes that this will play a role in lifting consumer demand.
The city has already relocated three million rural residents. Officials once estimated that these new city dwellers could boost urban consumption by over 30 billion yuan a year.
However, it seems officials will be waiting a long time for this bump in consumer spending.
As Pu Yongjian explained, according to new research, these new urban residents are spending much less than people had predicted. A large portion of the new urban residents have begun spending more on consumer goods but this has come at the cost of a reduction in their spending on industrial products.
Links and SourcesEconomic Observer Online:
Local Governments Lead Investment Charge
Economic Observer Online:
Beijing Pledges Cash To Chongqing