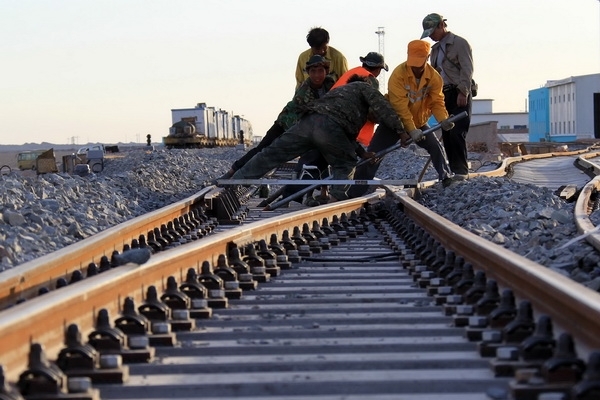 By Chen Yong (陈勇) and Sun Li (孙黎)
Issue 585, Sept 3, 2012
News, page 6
Translated by Zhu Na
Original article: [Chinese]

This article is part of an ongoing series related to the opening up of more areas of China's economy to private investment.

"The railway business is getting worse every year, cost pressures are rising, it's very difficult. No one is taking the decision to invest lightly."

This is how Fang Bin (方斌), chairman of One Engineering Company Ltd., recently described the investment situation in China's railway sector.

Fang, who has worked in the railway-engineering field for more than 20 years, says that last year was the most difficult time ever for the industry. In the middle of that year, many railway projects were suspended because of funding shortages. Then the deadly Wenzhou train crash in July reduced overall construction even further.

The situation started to improve in November, but as of Mar 31 this year, the Ministry of Railways' debts totaled 2.43 trillion yuan and there is a serious shortage in the amount of funds set aside for construction.

The government and the Ministry of Railways are now shifting strategies and are trying to attract private capital to invest in the railway sector.

At a meeting of the State Council's standing committee in late July, Premier Wen Jiabao said that a series of major projects that allow private investment should be introduced as soon as possible. These include projects in the railway industry, energy, telecommunications, finance, health care, education, and other fields.

The "New 36" (新36条), an updated list of regulations which are aimed at encouraging private investment which was launched in 2010, has outlined various categories of railway investment that should be opened up to private capital. These new fields include encouraging investment in the construction of main railway lines, railway extension lines, station facilities, coal transportation channels, passenger lines, inter-city lines, and other projects.

Fang said he was keen to invest in these areas but the whole situation was still a little unclear to him.

Skeptical Investors

On May 7, 2012, Beijing Equity Exchange Ltd. announced that an 8 percent stake in Taizhongyin Railway (太中银铁路) was being offered for sale. However, there was little interest in purchasing the shares.

Fang said he went to inquire about it, but gave up because the profit margin seemed too low and because private investors would have little say in the project.

Sun Yongle (孙永乐) from Beijing Equity Exchange said that many people had inquired about the sale, but not many people were actually interested in buying. So far, no substantial negotiations or transactions have taken place.

The Taizhongyin Railway, which stretches 942 km and connects Shanxi, Shaanxi and Ningxia, opened in Jan 2011. It's sometimes called the "Golden Channel" (黄金通道) since it passes through resource-rich cities like Taiyuan.

Since construction began in 2006, the line has attracted a lot of attention.

An audit document revealed that Taizhongyin was constructed according to a Build-Own-Operate business model. The Ministry of Railways and local governments jointly invested in the project.

At of the end of 2011, Taizhongyin Railway Company's total assets were 43 billion yuan, with debts totaling 31 billion yuan.

"I have done some research and the overall situation is not optimistic." Fang said.

"Some factors will influence investors' confidence," Fang said, going on to add that labor costs this year increased 30 percent and interest rates on loans have also increased.

During an audit of Taizhongyin Railway, the National Audit Office discovered illegal activities in the construction process like false inspections and project funds being diverted into personal bank accounts.

Wang Mengshu (王梦恕), a high-speed rail expert, believes that in order to win the favor of private investors, real market competition must be introduced, as well as diversifying investments and reducing the role of the state.

Winning Confidence

Essence Securities Analyst Zhang Zhongjie (张仲杰) said that the Ministry of Railways is currently undergoing reform. By listing on the stock exchange, the funding problem may be solved. Zhang believes that more railway assets will soon appear in the capital market.

However, private investment in railways isn't entirely new.

In 2005, the Ministry of Railways issued guidelines aimed at encouraging and supporting private investors to participate in railway construction and operation. The guidelines specified that railways are open to private capital in four areas: railway construction, railway transportation, equipment manufacturing, and diversified operations.

Later, some private enterprises started to become involved in railway investments, but in the end it proved unsuccessful.

For example, in 2005 a privately-owned enterprise in Zhejiang province, Coslight Group (光宇集团), gained a 34 percent stake in the privately-owned Quzhou-Changshan railway (衢常铁路). However, one year later, when the Zhejiang Railway Group also became a shareholder, Coslight Group's holding was diluted to 18.9 percent. In 2007, Coslight Group completely withdrew from the investment.

Whether or not profits can be made is a major issue. Although private investors invest money, they don't have the right to decide prices and arrangements related to the operation of railways. Simply completing rail lines is insufficient, the lines must be integrated into the greater rail network in order to have an effect. If there aren't enough suppliers of trains and carriages, for example, there will be little reward for private investors from the railway lines they've built.

Li Hongchang (李红昌), a member of the expert panel with China International Engineering Consulting Corp., said, "If we don't reshape the current thinking and rebuild the market competition mechanism, then we can't talk about private investors making any money."