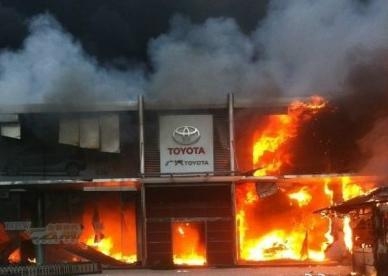 By Zhou Heshuang (周和双)and Yang Xiaolin (杨小林)
Issue 590, Oct 15, 2012Z
Automobile, page 33
Translated by Zhu Na
Original article: [Chinese]

This is a translation of a story from this week's edition of The Economic Observer, for more highlights from the EO print edition, click here.

It's now the golden autumn season in China, but for Japanese cars, winter has come early.

Vehicle sales data from September released by China Association of Automobile Manufacturers (CAAM) shows that sales of Japanese cars dropped 40.8 percent compared to the same period last year. Meanwhile, sales of German, American, South Korean and French cars increased by 13.8 percent, 15.1 percent, 9.4 percent and 9.2 percent respectively. Sales of domestic brands increased 7.5 percent.

The industry generally attributes the sales decline to the Diaoyu Island dispute, which triggered boycotts of Japanese goods.

In several cities, Japanese cars were destroyed and their owners attacked by demonstrators.

"All we can do now is just stay low-key," said a worker with a Japanese car company, who wished to remain anonymous.

The statistics show that in September sales of the seven Japanese branded cars sold in China all fell. Sales of Mazdas and Nissans dropped by more than 30 percent, while sales of Toyota, Honda and Suzuki branded vehicles dropped by over 40 percent. Mitsubishi and Subaru branded cars were the hardest hit, with sales declining more than 60 percent in September.

Employees at a Beijing Guangqi Honda (a joint venture between Guangzhou Automobile Group and Honda Motor Co., Ltd.) dealership told the EO that in the past, its monthly sales were around 80 to 100 vehicles. But over September, it only sold about 20. Staff at the dealership also estimated the number of visitors dropped by more than 50 percent.

Reduced Production

Niu Yu (牛煜), director of Toyota's corporate public relations office for China, told the EO that "the company's 2012 sales target of one million vehicles set at the beginning of the year hasn't been reduced, but there will be an adjustment."

"We really don't have any way of telling how much of the decline in sales is due to a boycott of Japanese goods. As a company, we feel that there is little we can do to change the current environment, aside from waiting, it seems there's nothing we can change," said another Toyota employee.

"The sales pressure may be more than we imagined, I guess that it will be hard to maintain the 900,000 sales that we achieved last year. Due to the sharp decline in demand, Toyota's joint-venture in China has reduced production. Orders for imported cars have also been cut."

Honda has similarly reduced production at its two joint-venture factories in China, but didn't say how big that reduction was. Honda China spokesperson Zhu Linjie (朱林杰) told the EO that Honda hasn't planned to adjust its sales targets for China this year.

Suspended Marketing

In addition to boycotts and driver fears of being targeted by violent protestors, a lack of advertising may also be playing a role in reduced sales. In order to avoid becoming a target of anti-Japanese sentiment, Japanese car companies chose to suspend marketing and PR activities.

In September, a grand ceremony to mark the establishment of Guangqi Mitsubishi, a new joint venture between the GAC Group, Mitsubishi Motors and Mitsubishi Corporation, was cancelled.

Guangqi Honda also cancelled a press conference to launch the 2013 Honda Accord. Toyota and Nissan similarly canceled a number of planned activities like factory visits and test drives while Dongfeng Nissan, a joint venture between Dongfeng Motor Corporation and Nissan Motors, has opted not to launch any marketing initiatives for the past month.

A person in charge of public relations for a Japanese-Chinese joint venture auto company said that executives responsible for setting sales targets have started to get restless.

"[They] don't want to sit back and watch sales slide into the abyss step-by-step," the source said. "And they're concerned that continued sluggish sales will cause investors to withdraw on a large scale. But rescue measures can't be too obvious, so all remedial measures can only be carried out quietly."

The Japanese joint ventures involving Toyota and Honda have begun to quietly support dealers in providing free maintenance for vehicles damaged in the protests. This policy was first carried out in Qingdao, Changsha and Xi'an, where there were especially violent demonstrations. However, the manufacturers say that this is part of normal after-sales service.

"In terms of business policy for dealers, so far, [we] indeed haven't received any official document for adjustment," an inside source at Guangqi Honda told the EO last week.

According to the source, in dealing with this crisis, Honda did launch some emergency measures like compensation and free repairs to stores and car owners who had property damaged or stolen. All such measures have been carried out privately without any publicity.

Restoring the Faith of Customers

After visiting and interviewing a few dealers, an EO reporter found that even with the current slump, no big discounts were being offered on Japanese cars. "Under such an environment, even with a reduced price, customers still won't buy," one Toyota sales consultant told the EO.

At a Dongfeng Honda store in Beijing, a customer who'd originally intended to purchase a Honda CR-V opted not to buy after two visits to view the car. "Cars can be repaired if smashed, but if a person gets injured in an attack, repairs might not come quick enough," the customer said.

The owner of a dealership in Shanghai's Pudong district told the EO that in the past they sold about 3 or 4 cars every day, but for the past two months they were lucky to sell 40 to 50 cars a month.

The owner told the EO that he was quite pessimistic about the outlook for sales, noting that if diplomatic relations between China and Japan don't improve, than the fall in the sales of Japanese-branded cars was likely to continue and that dealerships devoted to selling Japanese cars are likely to close on a comparatively large scale.

Guangqi Honda in a written reply to an EO journalist said:
"Dealerships are joint ventures established with Chinese companies or citizens, they provide quality service to Chinese consumers, pay taxes to local government, contribute to employment and make positive contributions to local social and economic development. These recent incidents have not only caused huge losses among investors, they've also caused difficulties for people employed at the dealerships and to a greater extent caused unnecessary damages to customers who brought their cars to the service centers for repairs. We will give the support needed to the dealerships that suffered losses and help them get through their difficulties."

Since Oct 8, a few Japanese joint ventures such as FAW-Toyota (一汽丰田), GAC-Toyota (广汽丰田), Guangqi-Honda (广汽本田) and Dongfeng Nissan (东风日产) have resumed manufacturing, albeit with reduced production.

An insider at the FAW-Toyota joint venture told the EO that manufacturers and dealers are no longer waiting passively, but jointly taking more active market measures to rebuild customers' faith.

"The suspended advertisements have basically resumed," the source said. "A marketing campaign will also be launched gradually."

Lexus and Infiniti have also started to resume normal marketing activities.

Ge Ran, public relations director of Infiniti, told the EO that the Infiniti JX will still enter the China market in the fall as planned.

When asked whether these Japanese auto companies will ever be able to recover, Zhang Xin (张欣), chief automotive analyst with Guotai Junan Securities, replied that although the woes facing Japanese auto companies cannot be solved by the companies on their own, there are some measures they can take. "They'll have to make some kind of payment in order turn things around, such as reducing prices," he said.

This means that the Guangzhou Auto show which is set to take place in November will very important. The auto show, which was already a stage on which Japanese brands could display their wares, could now perhaps decide the future of Japanese car sales in the Chinese market.