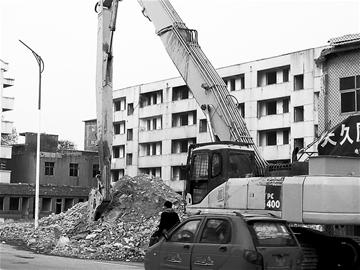 By Liu Jinsong (刘金松)
Issue 614, April 8, 2013
Nation, page 10
Translated by Zhu Na
Original article: [Chinese]

On Mar 27, following a disagreement over compensation, Song Heyi (宋合义) from Zhongmu (中牟) County, Henan was crushed to death by a tractor on his property while protesting against the company who'd seized his land.

Three days prior to the incident, Shi Guoqi (史国旗), who's factory was demolished in Zhongmu, talked at a law forum held by Beijing University about how hard it is to protect your rights during demolition cases.

Then, the day after Song died, Li Min (a pseudonym), who lives in a Zhongmu residential block, had just come back from petitioning at the Henan provincial government with over 20 other residents. The residents were carefully watching over their own homes, worried that they too could be demolished at any time by a crew sent by the local government. They never signed the compensation contract, but water and power had already been cut off.

The incident involving Song Heyi was related to farmland being requisitioned for a modern agriculture construction project, while Shi Guoqi's conflict was over a project to expand roads and tree planting. Li Min's dispute was over a business development in her block.

These projects were all part of ten new local urbanization initiatives in Zhongmu. This once largely agricultural county is remodeling itself under the banner of promoting urbanization. With the launching of these projects, conflicts caused by land requisition and housing demolition are becoming more frequent and more intense.

A Controversial Death

At Xichungang (西春岗) Village in Zhongmu County, Song Heyi's 1.6 acre plot of farmland was sought by Hongyi International Agriculture Technology Co., Ltd (弘亿国际农业科技股份有限公司). The company offered 8,000 yuan for the plot, but Song refused and never signed the contract he was given.

On the afternoon of Mar 27, Hongyi sent a tractor onto Song's land to forcibly carry out construction. Song and another villager named Song Changhai (宋长海) were standing behind the tractor trying to stop it. According to Song Heyi's son Song Hongxin (宋宏欣), there was a person instructing the tractor who yelled to the driver not to drive backwards when he saw the two men. But the tractor didn't stop. When he realized it was coming toward them, Song Heyi pushed Song Changhai aside and was run over.

The next day, the Zhongmu local government responded on its official Weibo account saying that after a preliminary investigation, it appeared the event was an accident. It also said that the local public security bureau had started an investigation and that the driver had been detained.

That afternoon, Song Hongxin said in an interview that, from Henan's capital of Zhengzhou down to Zhongmu County, not a single person from the government had come forward to deal with the matter, nor had anyone from Hongyi. He went on to say that Hongyi had money and power, and accused the company of bribing authorities at all levels.

Song Hongxin then posted three statements on his Weibo. First, he said his father was possibly run over deliberately, as there were crowds at the scene who screamed warnings at the driver beforehand. Secondly, he said that the driver responsible was the developer's cousin and had no driver's license. Thirdly, he appealed for help from a warm-hearted lawyer.

According to information from the Hongyi company website, it's an agricultural company established in 2011 that mainly produces strawberries. The project relating to Song Heyi concerns between 490 and 820 acres of land.

Based on the news from the company's website, leaders at all levels in Henan Province, Zhengzhou City and Zhongmu County have visited the company to learn about the project. Company Chairman Wang Shengkun (王胜坤) told Henan Daily, "The progress of the project has gone smoothly, which was beyond our expectation. The reason is that we gained great support from leaders at all levels."

Wang also said that the land issue, which is critical for the project, can be solved well by relying on local leaders' coordination and on local people's understanding and support.

However, villagers have another interpretation of this "understanding and support."

"[Hongyi company's] people are so terrible," said one villager. "The wells dug by farmers were all destroyed, making people unable to farm."

"Who dares stop them?" said another villager. "They beat you and it's not a big deal for them. They'll just give you some money if need be. Many people in the village were beaten by them."

Based on currently available information, there were no government employees on the scene when Song Heyi was killed. But some local residents report that it's common for government to back developers during land requisition and housing demolition for some key projects.

Safeguarding Rights

At the end of January this year, business owner Shi Guoqiang was disappointed to receive the judgment from Zhengzhou's Guangcheng District People's Court. It had rejected his lawsuit requesting a reversal of the Zhongmu County government's demolition compensation decision.

Shi had a factory in Zhongmu County located in the area slated for a road expansion project. According to Shi, at that time the Zhongmu government simply issued a demolition announcement. It had neither gone to the site for evaluation, nor issued a formal written compensation decision. It just gave the go-ahead for demolition.

Shi says that there must be a formal evaluation report, and that the demolition can only commence after a compensation agreement has been made based on that evaluation.

At the height of the conflict over demolitions, Shi climbed to the top of his factory building and threatened to jump. In the end, the demolition team dug a deep pit in front of his factory and left. After the road was blocked, water and power were also cut off. Shi's factory became an isolated island.

According to Shi, he went to the office in charge of project construction to negotiate, where he was issued a written compensation decision. Shi insisted that they can only talk about compensation after an evaluation is completed. However, people in the office said that if he didn't like the decision, Shi was welcome to take the case to court. He was told that no matter where he went to sue, he wouldn't win.

On Feb 16, 2012, Shi petitioned to the Zhengzhou government for administrative reconsideration. Two months later, the government upheld the original compensation decision.

After that, Shi hired a lawyer to sue the Zhongmu County government. He appealed for the revocation of the written compensation decision and the announcement of the road expansion project.

The Zhengzhou Intermediate Court accepted the first appeal, but refused the second, saying the announcement was an administrative action. Even though the Henan high court issued a notice asking the Zhengzhou Intermediate Court to accept the case, it still hasn't done so.

After dealing with several judges, Shi got the feeling that they also faced pressure. In a video he provided, a judge from the Zhengzhou Intermediate Court said, "I'd also like to accept the case. There are many demolition cases like this. Under normal circumstances, such a case can certainly be accepted. But now, isn't it an abnormal situation?"

Local Government's Fiscal Troubles

Li Min was also left unsatisfied with her compensation. Her home was to be cleared away for a new business district. The demolitions would involve 1,988 households.

Li Min had two choices for her compensation. She could receive a new house of equal size or take cash based on the evaluation price. Because a new house wouldn't be ready for three years, Li Min chose to take the cash. "Who knows what it will be like in three years," she said. "Not to mention the new house's quality. And we don't even know where it will be located."

It's not uncommon for more than two years to pass after demolition for resettlement homes to even begin construction.

However, Li Min felt she'd suffered a loss with the 3,900 yuan per square meter she was given as compensation. The average price for a home in a newly built residential block near hers was over 5,000 yuan per square meter. Li hoped her compensation would at least allow her to buy a home in the same area. But she felt the government deliberately kept the cash compensation price down so people would choose the new apartment option instead.

Rumors circulated among households slated for relocation that the Zhongmu County government was out of money. In the other parts of the county involved in housing demolition and relocation, some farmers had been issued "IOUs" for their compensation.

Ren Chengwei (任程伟), the deputy mayor in charge of the new business district project, denied that the government was out of money. He said as long as households slated for relocation sign the compensation agreement, the money would be put into their account immediately.

A staffer at the local demolition and relocation office said that his branch had already paid out tens of millions of yuan in advance of requisition. Although, he said, some offices with a weak financial situation have issued IUOs, which isn't surprising.

The staffer went on to say people now have big "appetites" for compensation. They often point to Beijing, saying when residents there have their home demolished, they can get compensated the worth of several homes.

"Beijing is Beijing, Zhongmu is Zhongmu," the staffer said. "Zhongmu has its own situation."

Liu Haibo (刘海波), a researcher with the Chinese Academy of Social Sciences, says that with the urbanization drive, these illegal seizures in Henan have started to increase. Compared to urbanization in coastal and first-tier cities, he says the illegal activities in central areas are even worse and the frequency is higher. The conflicts are also more intense.

Liu says that this is related to fiscal difficulties facing local governments in central provinces. when urbanization takes place in eastern and first-tier cities, the growing migrant population allows more room for land to appreciate in value. Therefore, local residents benefit from it and people can sometimes even get rich when their house is demolished. Thus, the resistance to urbanization is smaller. But for central regions, there is neither industry nor a floating population to support the costs of urbanization.

Liu says that during the process of urbanization, wealthier areas should transfer payments in order to balance local fiscal revenue. In this way, the impacts of urbanization can be shared equally across the country.