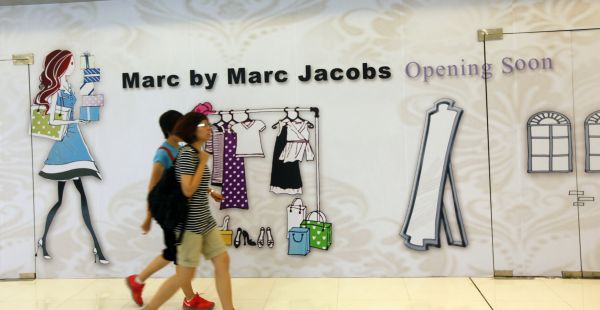 By Wang Fang (王芳), Ma Jinke (马巾坷), Chen Xiao (陈骁), Jiang Yanjun (姜艳君)
Issue 617, April 29, 2013
Corporation, page 29
Translated by Yu Menglu
Original article: [Chinese]

Because of the economic downturn and the internet's influence on consumption habits, many department stores and shopping malls are having trouble attracting new customers and retailers.

In response, many of these outlets in big cities like Beijing, Shanghai and Tianjin have started shaking up their layouts.

Jewelry stores on the first floor have been moved to the second floor to make room for luxury brands. Meanwhile, clothing businesses on the third and fourth floors have been scaled back dramatically in order to develop dining areas, children's centers, cinemas and other entertainment venues. And because China's consumers are climbing up the value ladder, low-end domestic brands are being squeezed out in favor of outlets like ZARA and H&M.

These adjustments are expected to continue over the next few years across the country. But compared to the heated shakeup in first-tier retail outlets, changes in the second and third-tier cities are still up in the air.

The Post-80s Generation Nightmare

In March, Ipsos MORI, a global market research company, conducted 24 phone interviews with leaders in Chinese companies and real estate experts that all deal with issues related to development. The survey found that one of the greatest concerns is the lack of good market and consumer surveys to help in developing retail in second and third-tier cities. Another worry is the lack of new outstanding brands. However, the top fear found in the survey is the threat to the brick-and-mortar retailers brought by growing internet sales.

"People who were born in the 1980s and 1990s don't go shopping in department stores," said Xiao Ying (肖英), general manager of Beijing Huaguan Business Management Co., Ltd. (北京华冠商业经营股份有限公司). "Now people born in the 1970s are even influenced by them and aren't coming either."

Many luxury department stores are trying to lure these people back by making a more enjoyable shopping environment and catering to certain tastes.

"These problems echo many markets in the world," said Jeremy Salmon, a board member of Ipsos Group Co. "The threats posed by online shopping in China have recently resulted in some major brands closing their stores and stepping out of the market."

Brands like ZARA, Starbucks, Prada and Max Mara are popular among this generation. However, it's not always easy to attract these stores to a shopping complex. According to Xiao Ying, international chain brands usually have strict requirements for the location and layout of their shops, which is part of their commercial strategy to build brand image and keep customers in stores as long as possible.

Changing Department Stores

The first floor of department stores has always been a battleground for retailers, and the trends throughout China have gone through many different phases. When Xiao Ying first worked in a department store in Beijing in the 1980s, cloth products were sold on the first floor. Then cosmetics took over. Then, because of the impact of e-business, cosmetics were replaced by jewelry in order to bring more commission revenue for department stores. Now it seems another change is in order.

"It's been more than 30 years," Xiao said. "Now business has returned to its original ecology – those who interact with the consumers can do their business well."

Xiao's Huaguan Department Store (华冠天地) has now cut 90 percent of its original clothing brands. It replaced 30 percent of that space with food and entertainment and 10 percent with international stores like Uniqlo and Muji.

From 2007 to 2008, Xiao Ying found that the number of Huanguan's stores was increasing but actual sales growth was stagnant. Through cooperation with the Dutch retailer SPAR, Huaguan found that it suffered by having no unified standard between different locations, which weakened its brand. It also had issues in managing its supply chain. Xiao realized that it was unwise to blindly open new stores in order to boost development.

Now, many department stores like his are revamping and cautiously looking to new markets in second and third-tier cities. Xiao noted that the market changes so quickly, if you can't keep up, you'll either be knocked out or die on the spot.

EO journalists Jiang Haifeng (姜海峰) and Yang Tingting (杨婷婷) also contributed to this report.