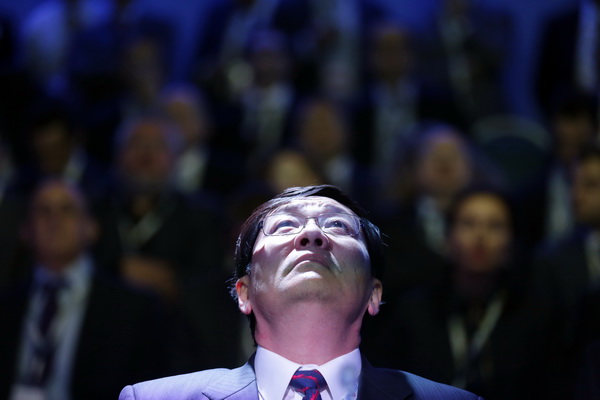 By Ouyang Xiaohong (欧阳晓红)
Issue 622, June 2, 2013
News, page 6
Translated by Zhu Na
Original article: [Chinese]

China's leaders are anxious to find a new chairman for China Investment Corporation (CIC), the country's $500 billion sovereign wealth fund.

The former head, Lou Jiwei (楼继伟), left the fund after he was appointed as the country's new finance minister back in March. Since Lou's departure, there's been no official announcement of who is going to take his place over at CIC.

"I guess in the end it will still be Tu Guangshao (屠光绍), the deputy mayor of Shanghai," a person close to CIC's senior management told the EO on May 29 with a tone of exasperation in his voice. The unspoken message seemed to be that the people charged with making the decision would look around for another candidate for a while, before returning to their original choice.

When questioned about rumors that he had been tapped to lead CIC at a business conference on May 28, Tu Guangshao simply replied that "I'm still in Shanghai."

On May 27, CIC announced that Li Xiaopeng (李晓鹏), former vice president of Industrial & Commercial Bank of China Ltd. (ICBC), had been appointed as the new Chairman of the company's Board of Supervisors. When asked when the CIC Chairman position would be filled, a spokesperson for China's sovereign wealth fund said there was no detailed information that could be released to the public at this time.

A source close to CIC told the EO that returns on the company's investments had exceeded 10 percent in 2012 and that Lou Jiwei was full of confidence in his annual report, noting that not many newly-established investment companies can report an average annual rate of return of over 5 percent.

Andy Xie (谢国忠), an independent economist and well-known business columnist, told the EO that the difficulty in finding a person to fill the position is related to the nature of the system, "it's hard for a government investment agency to produce someone like Warren Buffett."

Zhu Lijia (竹立家), an academic with the Chinese Academy of Governance, told the EO that the system that China currently uses to locate and hire professionals is probably unable to attract the sort of market-oriented, high-end investment personnel that the company needs.

Who Will be the Next Chairman of CIC?

A person close to CIC told the EO that "It's become an open secret among executives working in China's financial industry."

Not long ago, decision makers decided to appoint Tu Guangshao as the next Chairman of CIC, but it seems that Tu turned down the position.

Those in charge of filling the position began to look for alternative candidates among current employees of the Central Bank, China Development Bank and ICBC, but it seems nobody was really keen to take up the position.

Zhu Lijia said that "high risk, a feeling of being at the center of the storm, performance-based orientation and the contradiction between seeking market reforms while working in an organization with a bureaucratic system" were some of difficulties faced by high-level employees at CIC.

Perhaps the biggest headache for management at CIC is the requirement that they achieve a rate of return on investment of at least 5 percent every year.

In addition, compared to other state-owned financial institutions, CIC has a few shortcomings: the company's institution network (机构网络), management team (经营团队), investment platform (投资平台) and stable client relations (稳定的客户关系); as well as a non-market orientated operation mechanism (非市场化运行机制).

High-level professionals are often not willing to go there and the work is difficult.

Moreover, "Half of CIC's funds are operating in international markets and there is a huge amount of pressure and risk. It is not like the domestic arm (Central Huijin Investment Ltd.) which can rely on the contribution of several major banks for stable returns and can easily achieve their pre-set profit targets," the above-mentioned source told the EO.

When CIC was established in 2007, Lou Jiwei was shifted from his position as deputy secretary-general of the State Council to lead the new company. The newly-established sovereign wealth fund was charged with deepening reform of the country's foreign exchange investment system, expanding the use of channels for national foreign exchange reserves and improving the long-term returns of the country's rapidly expanding foreign exchange reserves.

According to Lou Jiwei, CIC has basically achieved these goals and has also formed its own investment style and management mode along the way.

But if CIC is in such good shape, why is no-one willing to accept the position of chairman?

Hot Potato

Zhu Lijia explained that it's because the public has such high expectations of CIC that there is so much "risk" associated with the position.

"I believe that only a person who is really proficient in all kinds of investment will go on to take up the position. But to a certain degree, it's difficult for China's employment mechanism (用人机制) to select and recruit the kind of person that CIC needs."

Ding Zhijie (丁志杰), a professor at the University of International Business and Economics (UIBE) in Beijing, also said that whoever takes up the position could easily be "burned."

The Two Challenges Facing CIC - Capital and Personnel

Two preconditions for the long-term profitability of CIC are adequate financial and human resources.

However, up until now, CIC has not had a fixed long-term funds injection mechanism, relying instead on occasional inputs from the state. In addition, CIC has also had to deal with the loss of qualified personnel.

"These so-called investment risks and pressures, including returns on investment, are not an issue. These are not important, because the whole world wants to help you. The core problem is the mechanism," said Andy Xie. "Once there is a good market mechanism, will CIC still be worried about not being able to attract professionals?"