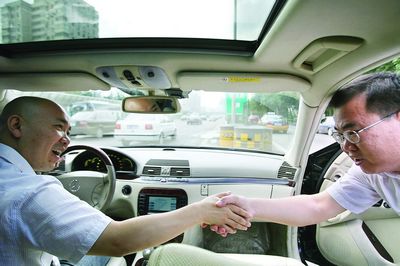 Photo: Brandcn.com

By Xie Liangbin (谢良兵)
Issue 627, July 8, 2013
News, page 1
Translated by Mandy Li
Original article: [Chinese]

While driving on a rainy night in Hunan in 1998, Wang Yong (王永) passed an old woman slogging along the side of the road getting splashed by passing cars, so he pulled over and offered her a ride. He still remembers the warm feeling he got when the old lady and her family expressed their appreciation upon arriving home.

Wang, who now lives in Beijing and serves as secretary-general of Brand China Industry Union (品牌中国产业联盟), says that warm feeling rekindled the childhood memory of a man in his village who would always give other villagers a lift into town. Remembering how the man was so highly revered, Wang was inspired to continue offering free rides under the slogan "Sharing Brings Warmth" (分享带来温暖). It was an idea that would spin into something much bigger than he expected.

In the beginning, Wang's idea didn't bring the warm feelings he'd hoped for. Whenever he drove past the bus station near his home or on his way to work in the city, he'd simply roll down the window and shout out offers of a free ride to waiting passengers. People responded with indifference, suspicion and even hostility. It was rare that anyone actually got in his car.

Wang was upset by people's rejection of his generous offer, so he turned to a newspaper's hotline to vent in 2000. The media started to pick up his story and he soon became known as the kind-hearted bald man offering free rides in his Mercedes. Since that rainy night in 1998, Wang estimates he's given rides to more than 10,000 people.

He later thought about branching his idea out to get more drivers involved, but initially, he worried this would be risky. In addition to the social trust issue, there were no policies or rules to regulate this type of service. He was also concerned that the government would consider it illegal if it turned into a carpool with passengers sharing costs with drivers.

But since traffic congestion and air pollution are worsening in Beijing, the government is exploring all kinds of solutions, including carpooling.

According to a recent study by Wang's Shunfengche Public Benefit Foundation (顺风车公益基金) at two expressway tollgates, 80 percent of the private vehicles passing through had no passengers other than the driver.

Wang Yong explained that there are currently 5 million vehicles in Beijing, of which 1 million are taken off the road each day due to the city's license plate scheme. If just 10 percent of the remaining 4 million took up carpooling, that would reduce traffic by an additional 400,000 cars every day. This would result in roughly a 30,000 ton reduction in carbon emissions in the city.

Branching Out

The data gave Wang Yong enough confidence to promote the normalization of carpooling. Nevertheless, due to a lack of precedents, his pitches to relevant government agencies fell flat in both 2009 and 2010. So Wang and his fellow campaigners decided to set a precedent.

During the Chinese New Year holiday travel rush in 2011, Wang teamed up with the organizers of the popular "free lunch" (免费午餐) campaign to organize the Shunfengche carpooling campaign (春节回家顺风车活动) on Weibo, which attracted sponsorships from a law firm and an insurance company. The law firm offered legal services for potential disputes during the campaign and the insurance company helped address insurance coverage issues.

During the one month campaign, 18,000 people got involved on Weibo and more than 1,000 passengers were matched with about 500 drivers. The following year, the service moved beyond Weibo to the Shunfengche campaign website (www.shunfengche.org), smartphone apps and SMS. During the 2013 New Year holiday, 402,429 people got involved through the four platforms and as many as 9,678 people eventually participated directly in the carpooling.

Through the campaign, Wang was given the "Beijing Youth Role Model" award in September 2012, which gave him the opportunity to meet Beijing's mayor and make his pitch. He was then given the chance to present his ideas to relevant government officials.

Wang suggested that carpoolers should be exempt from tolls, certain taxes and the license plate scheme, as well as be allowed to use the bus lane. Given that the actual implementation of this proposal would involve too many different government departments and interest groups, he was advised to revise it and draw up a simpler solution.

In May of this year, a formal report that elaborated on his carpool campaign was submitted to the Beijing Municipal Government. One week later, Wang was given permission to start a pilot program in the Huilongguan area.

Making Progress

Although the city government had given the green light, Wang soon realized that he had to go through many cumbersome formalities which could set his vision back years. To get the campaign up and running sooner, Wang and his team decided to employ the funds from the Shunfengche Public Benefit Foundation to cover the express toll payment for carpoolers. Any private car that displays a special Shunfengche sticker and carries at least three people when entering the Beijing-Tibet Expressway through either the Huilongguan (回龙观) or the Xicanqi (西三旗) entrance will be exempt from the toll.

There are various other issues needing to be addressed, such as locations for issuing toll exemption passes, designated carpool lanes, advertising and setting up traffic police patrols. But Wang says he's now become more skilled at dealing with officials and truly feels his efforts are being taken seriously.

Since the three-month campaign officially started on June 17, ten billboards have been put up along the route to Huilongguan and several volunteers have been stationed in various locations to hand out pink toll exemption passes.

Wang hopes that the data drawn from this pilot will help expand the carpooling campaign throughout the city and make a convincing argument for the introduction of an official carpooling policy from the Beijing municipal government. He believes this will happen before the end of the year.