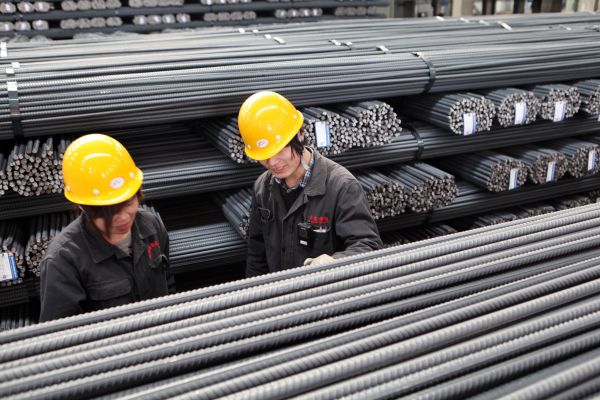 By Zhang Xiangdong(张向东)
Issue 629, July 23, 2013
News, page 1
Translated by Zhu Na
Original article: [Chinese]

Right now it's hard to find companies in worse shape than those in China's steel industry.

In May, medium and large-sized steel companies made a profit of just 149 million yuan, a year-on-year drop of 89.4 percent. But this dismal performance hasn't stopped production.

In June, crude steel production across China reached 64.67 million tons. From January to June, crude production totaled 390 million tons and another 550 million tons of rolled steel. This has pushed prices ever lower. At the end of June, the prices of eight major steel varieties monitored by China Industry and Steel Association (CISA) all continued their decline.

A Downturn

China's leading steel company, Baosteel, is expected to see a 50 percent fall in net profits in the first half of 2013. It's also forecast that that China's largest private steel company, Jiangsu Shagang Co., Ltd, will see a 65 to 95 percent drop, and Hebei Steel, which has the largest production capacity in China, is expected to see profits drop by between 70 and 90 percent.

Delong Steel, which had one of the best performances among Chinese steel companies during the first half of the year, is still experiencing an obvious decline. Ding Liguo (丁立国), Delong's chairman, told the Economic Observer that this is mainly caused by China's steel production overcapacity.

National Bureau of Statistics data shows that from January to June this year, crude steel output was 390 million tons, representing 7.4 percent growth. Since this comes amid falling demand, prices and profits can only drop. Ding says this situation will be the norm for a long time and that the steel industry is entering a depression.

Coping With the Problem

"To solve the problem of overcapacity is the most important thing of all in the steel industry this year," a former official from the Ministry of Industry and Information Technology (MIIT) told the EO. "Based on this principle, relevant supporting measures will be taken as soon as possible to support the development of steel companies that meet standard requirements, promote regional restructuring, and help transform and upgrade the steel industry."

Premier Li Keqiang has also emphasized that the macro-control's task is to restrain serious overcapacity and blind expansion. The State Council has strictly prohibited banks from giving loans to steel companies illegally launching new projects, but it is planning to put aside funds for promoting restructuring and mergers of steel companies.

In addition, the State Council is encouraging domestic steel companies that have the capability to go abroad to find other markets to address their overcapacity.

The National Development and Reform Commission (NDRC) is also planning to launch measures to eliminate production capacity by shuttering illegal steel producers. According to data from MIIT, there's currently about 400 million tons of steel producing capacity – comprising 55 percent of China's total - that never got approval from the NDRC or obtained various other legal documents.

An NDRC official said that some of these illegal steel producers will be allowed to go through the relevant procedures and become legal, but others will be shut down completely.

In April, MIIT gave local governments the task of eliminating outdated production capacity for 19 industries. This included 2.63 million tons of iron smelting capacity and 7.81 million tons of steel smelting capacity.

However, this measure seems to have been in vain. Xinjiang, which already has over 40 million tons of steel production capacity, added nearly 20 new blast furnaces in the first half of the year, according to the steel industry analysis group Custeel.

According to data from Liu Haimin (刘海民), director of China Metallurgical Industry Economic Research Centre, in 2012 there were plans to build at least 58 more blast furnaces across China with production capacity exceeding 80 million tons.

"Among these blast furnaces, the majority are new projects," Liu said. "That means increased production capacity. The projects aimed at actually implementing the policy of eliminating capacity and restructuring are very few."

According to investigations by NDRC and MIIT last year, as of the end of 2012, the national steel production capacity reached 970 million tons. Li Xinchuang (李新创), president of China Metallurgical Industry Planning and Research Institute, estimated that 200 million of those tons represent overcapacity.

A Blind Eye

According to Hu Yanping (胡艳萍), an analyst from Custeel, many cities just turn a blind eye toward illegal steel projects thinking they'll boost economic development and fiscal revenue. Launching these projects first and then seeking permission later has become common.

"The expansion of steel capacity these days mainly comes from private companies," said Liu Haimin. "Although the government has exercised control over bank loans for new steel projects, most private steel companies can still get funding through various channels."

A senior manager from Hebei Steel Group told the EO that solving the overcapacity problem will take a long time, and it's impossible to solve in the short-term through government policy. "In order to resolve overcapacity, the government shouldn't intervene as it did before," the manager said. "The policy should mainly consist of guidance, but still rely on market means to allow enterprises to solve the problem themselves."

Li Xinchuang says that steel overcapacity is caused by various factors like bad investment, overestimating steel consumption and an unreasonable industry structure. Relying on administrative means to stop capacity expansion doesn't work, he says.