POLICY
Published: 2008-02-13
China Policy Barometer 2008
With the US economy on the verge of declining and China bracing for its own economic adjustments, the Year of the Rat now looks more likely to be a Year of Uncertainty. Under these circumstances, companies and entrepreneurs need to put out their antennae and pick up the signals of change so as to be better prepared to brave the challenges ahead. Besides the global market, changes that will impact a business' survival most are government policies introduced within the countries they operate in. Be they monetary or fiscal, environmental or for land use, policy changes will continue to influence corporate decision-makers in China. In view of this, the EO has put together a list of central government ministers and commissioners that matter most, including a brief analysis of the core issues these policy-makers are working on. We hope the information, compiled at the beginning of the year, can serve as a barometer for those doing businesses in China in 2008.
Original article: [Chinese]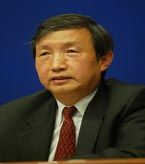 Ma Kai, Director of the National Development and Reform Commission (NDRC)
"To improve macro economic control through the "two preventions" and avert price hikes."

At a national working conference on development and reform, Mai Kai said that the Commission's top priority in 2008 is to prevent the accelerating economy from overheating and the current structural price increases from evolving into inflation. He also noted that moderate fiscal policies and tighter monetary policies should be adopted in the meantime, and closer attention should be paid to the improvement of people's wellbeing and social harmony in order to enhance a healthy and fast-growing economy.

Key phrase: two preventions

Core concern: The NDRC will try to limit the "blind expansion" of high-consumption and high-emission industries, to strictly control new energy-intensive projects, to push forward the adjustment of structural adjustments in industry, and to stabilize prices.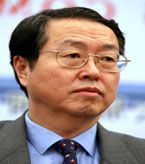 Zhou Xiaochuan, President of the People's Bank of China (PBOC)
"A sudden shift in policy is rare; actually, monetary policies are always implemented gradually. "

At the annual meeting of Caijing Magazine on December 11th 2007, Zhou Xiaochuan discussed the shift in monetary policy from "moderate" to "moderately tight while maintaining stability" to finally, "tight". China needs further and deeper adjustment in fiscal and monetary policies, he said, adding that before implementation, each new policy should be scrutinized to make sure that the target issue has been correctly analyzed and the policy is the right counter measure.

Key phrase: tight monetary policy

Core concern: The past year has witnessed unprecedentedly strong and frequent monetary measures, including six interest raises, ten reserve requirement hikes, the launch of special treasury bonds, and special deposits. Despite all the moves, pressure from excessive liquidity didn't ease, nor did calls for yuan appreciation calm. As the trade surplus enlarged and inflation accelerated, the central bank tried hard to maintain a balancing act. In 2008, how will monetary policy stay generally tight while also ensuring what Zhou has called "effective support for support-demanding areas"? How will he keep a balance between steady domestic prices and a stable exchange rate? These questinos remain to be answered.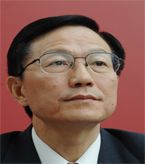 Xie Xuren, Minister of Finance
"To correctly foresee treasury income and expenses in 2008 is the precondition for good fiscal management."

When questioned about the wide gap between the budgeted and actual revenue growth in 2007 at a national fiscal working conference, Xie Xuren claimed that he would work to improve supervision and use of government revenues.

Key phrase: restrain inflation through fiscal policy

Core concern: Fiscal policy is playing a significant role in preventing economic overheating and inflation. Potential inflation is the main reason why the Resource Tax Reform Plan failed to pass in the end of last year. And to avoid a food supply shortage and subsequent price increases, policies including abolishing export rebates for raw grain and corresponding products as well as levying an interim tax of 5% to 25% were adopted successively within ten days.

With restraining inflation, controlling overheating, and energy-saving and emission-reduction as key concerns for the fiscal year of 2008, obstacles will be inevitable for the value-added tax (VAT) reform to be introduced nationwide, since it is considered a tax-reducing policy that encourages investment.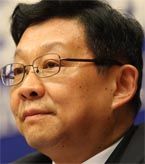 Chen Deming, Minister of Commerce
"This year might be a period of conflicts. We should prevent various disadvantages from piling up and becoming the focus of the world."

Yuan appreciation, a global economic slowdown, and tighter export policies that emerged last year present uncertainty for foreign trade this year, said Chen Deming in the annual Ministry report.

Key phrase: adjust import-export structure, ensure market supply

Core concern: Trade surplus reduction was the chief concern of China's foreign trade in 2007. According to the national commercial working conference on January 17th 2008, the main concern of Ministry of Commerce in 2008 would be on optimizing import and export structures, maintaining a stable export policy, and expanding imports. Stabilizing prices and ensuring market supply are considered the critical priorities of macro-economic regulators this year. Adjusting the import and export structure will remain the major method to balance international income and expenses. Exactly how to upgrade industries while reducing the trade surplus is not only a challenge for the ministry, but demands the cooperation between it and other branches of government as well. The same is true of ensuring market supply.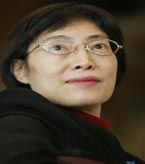 Hu Xiaolian, Director of State Administration of Foreign Exchange (SAFE)
"Strictly supervising and administering capital flow, reinforcing foreign exchange reserves and improving international income and expense balances."

During a conference of foreign exchange administration, Hu Xiaolian expressed her belief that in 2008, the double surplus in international payments will continue, and uncertainty will increase. She said that preparation must begin for dealing with the complex situations and emergencies ahead.

Key phrase: hot money

Core concern: China's foreign exchange reserves reached 1.53 trillion US dollars in 2007, 43% more than the year before, adding pressure for the yuan to appreciate. The possibility of flow reversal remains, as the US economy still faces the risk of recession. SAFE is responsible for maintaining and increasing the value of mostly foreign exchange assets. Whether or not more foreign exchange assets will be invested in the China Investment Corporation should be watched closely.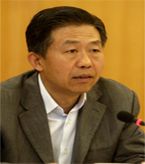 Xiao Jie, Director of State Administration of Taxation (SAT)
"In 2008, we will focus research on real estate taxes as part of a larger property tax reform."
At a national conference on taxation on December 15th 2007, Xiao Jie stressed a new focus on the real estate tax system and the desire to intensify pilot work of certain real estate tax assessment schemes.
Key phrase: increase property tax income for local government
Core concern: Reform of local property tax system, making it more based on property and resource taxes, is a major goal of tax reform bodies in 2008. If, as is hoped, the new resource tax reform is implemented in 2008, then local tax income will increase significantly--four or five times the current amount.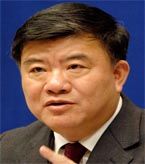 Chen Zhu, Minister of Health
"The doctors of hospital can never become slaves of multinational companies"

Key words: the medical reform countdown

Core concern: One of the topics most closely followed last year was the new national medical reform program. The Ministry of Public Health announced that they expect the reform framework to come out by the end of March 2008.


Tian Chengping, Minister of Labour and Social Security (MOLSS)
"Tightly focus on enterprise employment and the development of labor disputes."
In a conference on labor security held on December 20th 2007, Tian Chengping said that with the Labor Contract Law and the Law on Employment Promotion having already been implemented, the labor security system had already taken shape. Looking ahead, the Law on Labor Dispute Mediation and Arbitration will be implemented on May 1st 2008, and the Social Security Law has been handed over to the National People's Congress for scrutiny for the first time.

Key phrases: labor contract law, medical care, wage reform

Core concern: Labor security is the focus in 2008 under the framework of constructing a "harmonious society". Labor Contact Law will improve the employment environment, but forthcoming amendments and clarifications will greatly influence the ultimate effects of the law. After the medical reform program is issued, the MOLSS will take charge of and manage the public basic medical and insurance system. How the government will keep wages following rising prices and economic growth while simultaneously respecting the freedom of businesses to distribute revenues will be worth watching in 2008.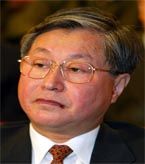 Wang Guangtao, Minister of Construction
"While making efforts to solve the housing problem for the lower income groups, (we also) encourage the local authorities to actively explore and develop the public rental housing to help the middle-income families."

At the National Construction Working Conference on December 28th 2007, Wang Guangtao discussed a two-pronged approach in meeting the housing needs across social strata.
Key phrase: housing security

Core concern: Following two years of efforts, China has developed a basic low-income housing security system. In 2007, however, the prices of real estate have skyrocketed, causing increased difficulties for the people to own houses. In most countries, the priority in resolving housing problems is usually given to lower-income groups before attending to the needs of middle-income ones. The latter group in reality presents a much more complicated problem, as their demands have more influence over the development of the real estate sector and require changes in the overall welfare policy.
The price-control houses and public rental houses – whereby the Chinese government sets a ceiling price and provides houses for rent at discounted price – are among the flexible measures adopted by local governments to stabilize the real estate market. However, the country is in need of a long-term and sustainable mechanism.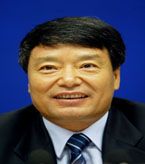 Xu Shaoshi, Minister of Land and Resource
"Many cities are not facing a shortage of land, they simply do not make good use of the land."

At the National Land and Resource Management Conference on January 30th 2008, Xu Shaoshi stressed on the needs for balancing development and resource conservation. He directed local authorities to adhere strictly to maintaining the bottom-line of 1.8 billion mu (each mu is 1/15 hectare) of land for agriculture purposes. He also called for measured and reasonable manner in cultivating and developing land resources.

Key phrase: clearing unused land

Core concern: Xu has been the minister since April 2007. He has once said "controlling the sluice gates of land use plays an important role in the making of macro-economy policy". At present, the real estate industry is keenly watched by not only the developers but also the public. The Ministry of Land and Resource holds the key to efficient land use, it is determined to clear up idle land by April and re-zone it by June.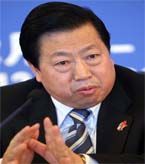 Zhou Shengxian, Director of State Environmental Protection Administration
"2008 will be a crucial year."

Zhou Shengxian referred to the environmental conservation tasks to be carried out under the 11th Five-Year-Plan of Chinese government with the above statement, issued at the National Environment Protection Conference held on January 22nd 2008. He stressed the need for altering the economic development model, building a society that is more environmentally conscious and willing to conserve resources.

Key phrase: water and soil pollution prevention

Core concern: The year 2007 has seen a decrease in air pollution emission, but water pollution, including rivers, lakes and sea, has taken a turn for the worse. Establishing a comprehensive pollution prevention, control, and enforcement system is on top of the agenda this year. The next three years are crucial in achieving the environmental goals set under the 11th Five-Year Plan. Cutting down air pollution emission, preventing water pollution, upping environmental standards, monitoring conservation works in key industry sectors, projects and rural areas are among the focuses of the administration.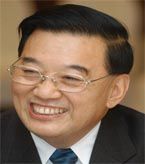 Li Jinhua, Auditor-General of National Audit Office
"Every morning, as I walk in the street, I often see janitors clearing the numerous small advertisement posters pasted everywhere. These posters are like a psoriasis plaguing the city--they re-appear soon after a clear-up exercise. Thus, one has to do the clearing daily and persistently, no matter how tiring, to keep the city clean."
The above statement came as Li Jinhua took questions from the netizens during an online interview hosted by a government website. He used the above to draw comparisons to the work of audit office.

Li believes that many social problems cannot be solved through one audit session, but require repeated auditing, investigation, rectification, and punishment to gradually deliver results.

Key phrase: targeted auditing, performance auditing
Core concern: The public expects the Audit Office to adhere to its principles and make full disclosure of the audit results.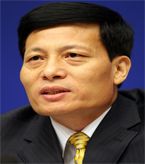 Xie Fuzhan, Director of National Bureau of Statistic
"Perfect the statistics system and make sure social data is more accurate and objective."

On January 16th 2008, at the National statistics Work Conference, Xie Fuzhan pointed out that in 2007 what Chinese cared most about was price fluctuations and the rising consumer price index. Xie said in 2008 the bureau would establish and improve statistics dealing with the livelihoods of Chinese citizens, and establish an urban citizen's basic living cost index as well as improving the calculation of the urban housing price index.

Key phrase: improve the statistical system

Core concern: With the stock market's ups and downs in 2007, macro-economic data has become the focus of the market attention. How to make the data more transparent, authoritative, scientific and accurate has become the focus of mass debate.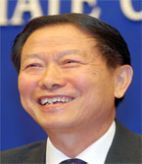 Li Rongrong, Director of State-owned Assets Supervision and Administration Commission (SASAC)
"It's been five years since the Commission was formed. Next year, in 2007, we will experience our first true test...Only when times are tough can we really see how strong our state-owned industries are."

Li Rongrong recently spoke to the heads of 152 state-owned enterprises (SOEs) at a year-end conference. In 2007, Chinese SOEs made record high profits, a phenomenon that hasn't reassured Li. With inflation and tight monetary policy bearing down on them, they will face new challenges next year.

Key phrase: all the central enterprises listed in the stock market

Core concern: The ultimate goal of SOE reform by SASAC is to build up a "national team" consisting of 100 SOEs, which are under the care of Central Government, by 2010. How SASAC controls the pace in which the central enterprises list on stock exchanges will have great impact on the capital markets; and how SASAC defines itself will prove to be one of the most significant deciding factors for private enterprises longing to carve a share of monopolized industries.