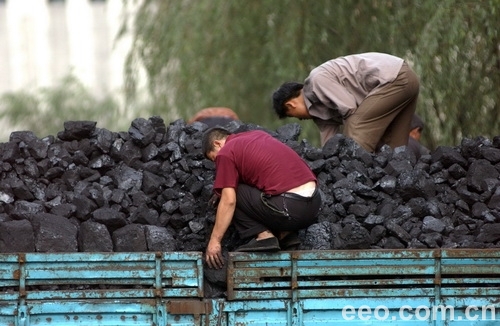 News, Page 5,
June 20, 20011
Translated by Song Chunling
Original article: Chinese
Who profits from expensive coal? The EO tracks the price of a ton of coal as it travels 1,000 kms from a pit in Shanxi. We hear from one experienced trader who remembers the easy money of the '90s and complains that profit margins are now below 1% as local administrations impose every charge imaginable.
Zhou Jin is an experienced coal trader. Last month, he took 20,000 tons of thermal coal from a mine in Qizhou, Shanxi province and sold it in Shandong - between those two points, the price per ton increased by 210 yuan from 620 yuan to 830 yuan, Zhou only earned a profit per ton of 5 yuan. He has a warning for people who thinks he earns an easy living: if you don't understand the coal industry, you won't earn anything.
The price is 760 yuan a ton before it can leave the mine, incorporating 140 yuan in taxes, fees and tariffs.

click on image to see a larger version
The Taxes
There are four taxes on the coal trade: value-added tax (VAT) of around 100 yuan, 17% of the price per ton; a payment to the coal fund of around for 20 yuan; and two other levies that total around 18 yuan per ton - service fees at 2% of the price and administrative fees at 1%.
There are regular checkpoints to assess ensure that all of these taxes have been paid.
The cost of transport
"Firstly, there's the short-distance transportation from the pit to the wagon yard, which costs 0.8 yuan per ton per kilometer." says Zhou.
After that, the coal is loaded into wagons, attached to locomotives and transported to customers, such as those in Shandong. That is the biggest single cost.
You have to pay a loading charge as well as the labour cost. On top of this, there are grey charges to pay for use of the wagons - in Shanxi these are around 100,000 yuan to 150,000 yuan in peak season and 50,000 yuan off-season.
Thus on average, it costs somewhere between 70 yuan and 80 yuan to transport a ton of coal by train from Shanxi to Shandong. The price per ton of coal has now risen to around 830 yuan, leaving Zhou without any profit.
In fact, unless unless he avoid some of the 140 yuan in taxes, Zhou can hardly make any profit out of a ton of coal. The coal industry has been transformed since the time when he started trading.
Easy Money in the Early Days
Zhou arrived in the capital of Shanxi in the late 1990's on a friend's truck. He neck was covered in coal dust and his eyes were dark with exhaustion. Two years later, Zhou was immersed in the coal trade.
With the help of a friend from his hometown in Shandong, Zhou was awarded a supply contract for a local steel plant. "In those days, there weren't so many charges - only the transportation fees, coal funds and VAT. Sometimes you could even bluff it with fake documents." On his first deal, Zhou earned 80 yuan.
It has been getting tougher ever since. "The profit per ton became 60 yuan, then 40 yuan and now it's a maximum of ten yuan, with all these additional charges. We now rely on the large quantities to make trading profitable," says Zhou.
He says that there are counties where you can't trade coal, and Guxian county in Shanxi province is one of them. There are so many charges that you're more likely to make a loss than a profit, he says.
The Entrepreneurs Association Fees
In Guxian county, one ton of coal also costs 620 yuan at the mine. However in addition to the four taxes, there's also a special finical accounting system.
If you want to buy a ton of coal from Guxian county, you need to pay supplementary fees of 6.9 yuan a ton. These go to four official bodies: the Ministry of Land and Resources, the State Bureau of Coal Industry, the Ministry of Environment Protection and the Water Conservation Bureau. The principle being that coal mining consumes water, pollutes the environment, takes up the land and uses up resources.
There is also a regulation in Guxian requiring coal buyers to contribute 103 yuan a ton to a body called the Entrepreneurs' Association. One coal dealer in Guxian claims that these funds are in fact channeled into the county's special account.
Adding these county levies to the national ones, takes the price of coal from to 866 yuan a ton, and that's before transportation. "It's not viable," says the Shanxi trader.
"There's no such an association as the Entrepreneurs Association. The local government made it up," he adds.
Guxian county has proven coal reserves of 4.90 billion tons, with around 5.1 million tons of coal extracted each year from 53 mines. "The region is heavily focused on the coal industry and the local administration relies on its taxes," a local insider says.
By discouraging traders from exporting coal out of Guxian, the mandatory contribution to the Entrepreneurs' Association also supports the six local businesses that convert the coal into coke. If they want to export coke, traders only need to make a contribution to the Entrepreneurs Association of 3.85 yuan a ton.
The coal dealer in Shanxi says that local coal buyers in Guxian are exempted from mandatory contribution to the Entrepreneurs Association.
Where does the money go?
One industry insider says that much of the cash flows to the local and national government, adding transport companies also profit, as do traders.
"Compared with the government, traders make huge efforts and investments, but I'm still glad to earn 5 to 10 yuan per ton," says Zhou.
Earlier this month, the National Development and Reform Committee held a meeting to plan for the "summer peak" in electricity demand. One insider says that this year's meeting was different to previous ones because the delegates wanted explanations for the rising coal prices. They plan to outlaw unreasonable charges such as protective regional and provincial tariffs.
This article has edited by Will Bland.