Issue Wrap, No. 530, Aug 1, 2011
Highlights from this week's newspaper:

Special Feature: There Were No Miracles in Wenzhou - click here to read translations of the articles that appeared in our 9-page feature on the Wenzhou train disaster
State-owned Assets Administrators Meet to Discuss Outlook for COE
News, page 2
~ On July 28, the administrators of China's 100-odd centrally-administered state-owned enterprises or COE, met with executives from the companies under their supervision and officials from local branches of the State-owned Asset Supervision and Administration Commission (SASAC) in Daqing, a city in the northeastern province of Heilongjiang.
~ This was the first time that officials from the central SASAC met simultaneously with both the executives of COE and local officials of State Asset Supervision and Administration Commission (SASAC). Meetings of the two parties used to be held separately, but in an effort to improve communication between local officials and COE and also simply to cut costs, SASAC decided to hold one meeting and invite everyone along.
~ According to data announced ahead of the meeting, total revenue of COE in the first half of the year was almost 9.7 trillion yuan, an increase of 24.2% over the same period last year. Net profit of all COE in the first half of the year was 457 billion yuan, up 14.6% on last year.
~ At the meeting, Wang Yong, the director of SASAC, emphasized the need for COE to pay attention to financial pressures and the importance of ensuring cash flow. Wang also warned that the external environment may continue to deteriorate, resulting in a complex and volatile international environment which would likely put pressure on many state-owned companies.
~ Another highlight of the mid-year conference was the news that more details of the "Five Strategies" that will serve as the basis of SASAC planning over the coming 5 years are likely to be announced in Sep or Oct this year. The five strategies are: "transformation and upgrading; technological innovation, international development & management, attracting high-quality personnel and harmonious development."
Original article: [Chinese]

China Investment Corporation Wants Cash Injection
News, page 3
~ China Investment Corporation, the country's four-year-old sovereign wealth fund, published an annual report showing that the share of its portfolio held in cash fell to 4% in 2010, from 32% in 2009. Over the same period, the share of its portfolio held in equities has risen to 48% from 36%. The fund is now seeking more cash from the government.
~ Its case has been strengthened by its impressive 11.7% return in 2010. That figure is similar to returns in 2009, but a big improvement from the 2.1% loss in 2008.
~ The share of CIC's portfolio held in fixed-income assets was 27%, from 26% in 2009. The proportion held in other investments grew to 21% from 6%.
Original article: [Chinese]
VAT to Replace Business Tax in Pilot Project in Shanghai
News, page 4
~ The EO has learned from an authoritative source, that a project aimed at trialing tax reform will be launched in Shanghai soon, the pilot aims to reduce company tax rates by increasing the amount of revenue raised through value added Tax (VAT). The reform will focus on the transportation industry.
~ It's estimated that the pilot project will result in Shanghai government revenue being reduced by 10 billion yuan this year. The city government will be expected to bear the cost without central government support.
~ The purpose of the reform is to eliminate the double taxation of business and thus encourage the development of service industries.
~ One potential problem with the initiative is the way that revenue from VAT is shared between jurisdictions. According to some provincial officials, if there is no change to the way VAT revenue is shared between central government and local governments, then there will be little motivation for local governments to collect the tax.
~ Currently, VAT revenue is shared according to the ratio of 75:25 between central government and local governments. On the other hand, business tax is a local tax which has accounted for more than a quarter of all local tax revenue since 1995. Once VAT replaces business tax and three quarters of that revenue flows to the central government, local government tax revenue will be severely impacted.
~ According to some officials, most local governments are pushing for the tax sharing ratio to be adjusted to 50:50.
Original article: [Chinese]



Dam Disaster Could Result in Bankruptcy for Mining Company
News, page 4
~ Six senior officials of Xinyi Zijin Mining Group (信宜紫金矿业有限公司) are currently standing trial on charges related to a deadly accident involving the bursting of a dam that took place in Guangdong Province last Sep.
~ This is the first time that a Chinese company has been taken to court in relation to compensation claims resulting from a mining accident.
~ A heavy rainstorm led to the bursting of a dam that was storing waste ore from the mine. The incident resulted in 22 deaths and damage to a nearby hydropower plant.
~ The mining company, noting the severity of the weather conditions, claimed that it was a natural disaster. However, an investigation team from the Guangdong Provincial government produced a report that pinned the blame for the disaster to human error, including flaws in the dam's design.
~ Zijin Mining Group, the parent company of Xinyi Zijin, requested that the court not support calls for it to accept responsibility for the disaster. "Zijin Mining Group is only the shareholder, not the culprit for the dam bursting," said the legal representative of Zijin Mining group.
~ If the parent company is not held accountable, then Xinyi Zijin will be required to pay as much as 340 million yuan, the amount of compensation currently being demanded by the Xinyi municipal government, such a large pay-out would likely drive the company into bankruptcy.
~ Before the disaster, Xinyi Zijin had only been operating the mine for a short period and hadn't made much profit. The company's mining permit was also revoked in June, meaning that production ceased.
~ If the company is declared bankrupt, the families of those killed or who had property damaged in the accident are also likely to lose out as they'll have to wait their place in line with other creditors.
~ Also, if Xinyi Zijin is forced to close, this would also lead to a loss for Zijin Mining Group, since it invested 389 million yuan in the company.
Original article: [Chinese]
Regulator Order Insurers To Limit Exposure At Non-state Banks
Market, page 20
~ Insurers that hold cash on deposit at non-state banks may be forced to reallocate their holdings, after a new ruling by the industry regulator.
~ China's insurers hold around four fifths of their assets in fixed-income instruments. Around a third of these fixed-income instruments are bank deposits.
~ Banks, suffering under China's tighter monetary policy, have been offering high interest rates to attract deposits from insurance companies.
~ The China Insurance Regulatory Commission's new policy 《保险公司资本保证金管理办法》 prohibits insurers from holding more than 20% of their bank deposits at a single non-state institution.
~ The new requirements are a response to the last year's scandal at Qilu Bank. The Shandong-based lender was charged with fraud. Insurers with deposits at the bank lost a total of 2 billion yuan, although people familiar with the matter say that the companies later received compensation.
Original article: [Chinese]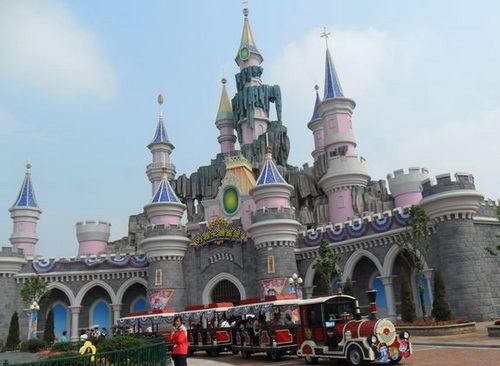 Qingdao Theme Park Seeks 5 Million Visitors A Year
Corporation, page 26
~ Conglomerate Shenzhen Huaqiang Holdings (深圳华强集团有限公司) last week opened its sixth theme park and hopes to recover its initial 2 billion yuan investment within 10 years.
~ Fantawild Dreamland (方特梦幻王国), located in Qingdao, is set to receive another 3 billion yuan next year and Huaqiang hopes to attract 5 million visitors to the park each year.
~ The company already operates theme parks in Chongqing, Wuhu, Shantou and Tai'an.
Original article: [Chinese]